Welcome!
Thank you for your interest in school, home school, and teacher programs at the Norman Rockwell Museum.
Our interactive programs are designed to provide students with meaningful, common core curriculum-based experiences that use original works of art to encourage discovery relating to the visual arts, history/social studies, and language arts, emphasizing distinct learning connections. Don't see what you are looking for? We are happy to customize our programs to meet the needs of your group.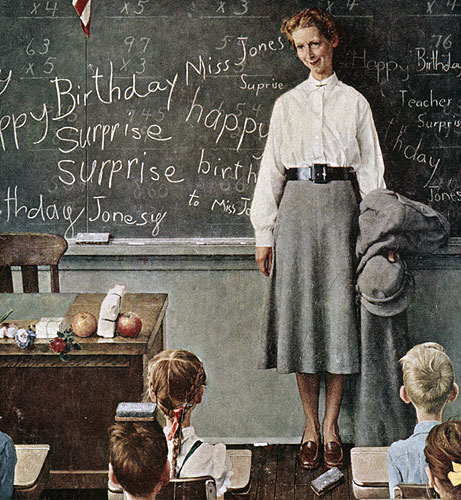 Norman Rockwell (1894-1978), Happy Birthday Miss Jones, 1956. Cover illustration for The Saturday Evening Post, March 17, 1956. Private Collection. © 1956 SEPS: Curtis Licensing, Indianapolis, IN. All rights reserved.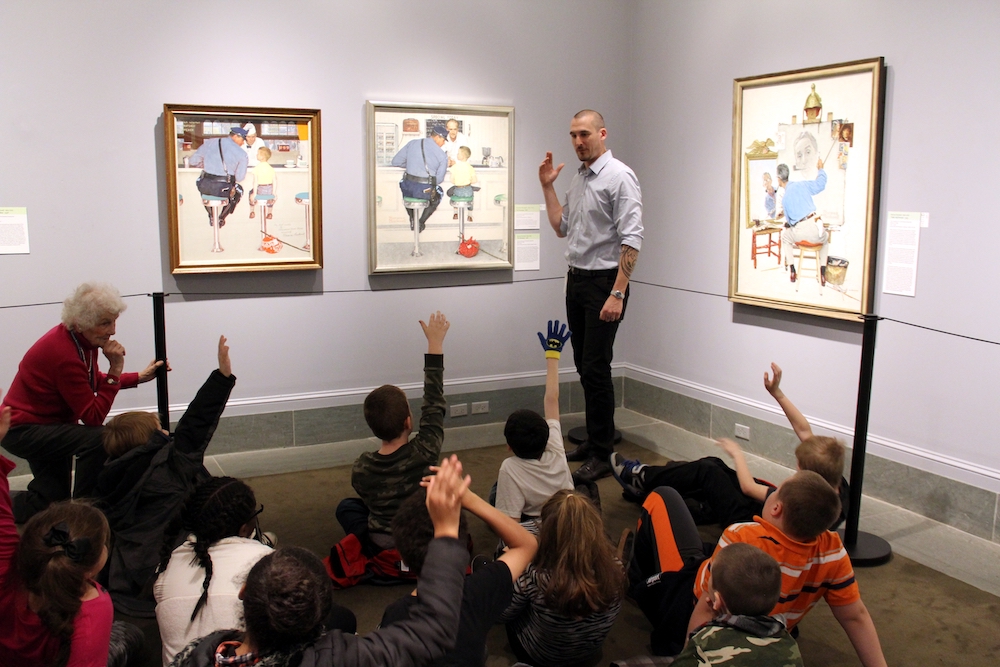 We're here to help!

Need field trip programs that support your teaching goals?…
We create guided tours and activities, art experiences, and archive visits that directly support the standards you identify.
With 3 exciting new exhibitions, plus Rockwell favorites!
From the Art of Adventure, to Cultural Traditions, and the iconic Rockwell imagery; Norman Rockwell Museum is ready to create a meaningful learning experience for your students.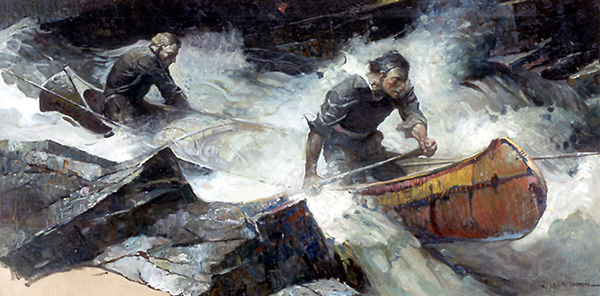 Frank Schoonover:
American Visions
Explore legendary narrative paintings from Heidi, Robinson Crusoe, Ivanhoe, & more.
Fully-guided visits are $5 per student, with free admission for teachers and chaperones.
Funding is available for Title I schools based on availability.
THE ROCKWELL EXPERIENCE
Curriculum Connections: Interactive Tours
Engaging museum-educator led tours that inspire learning through discussion and interactive gallery activities.
Language Arts
NARRATIVE AND NUANCE
Investigate the narrative aspects of Norman Rockwell's art and discover the wide range of stories communicated through illustrated images. The artist's use of character plot and setting will be explored through discussion and hands on experiences
History/Social Studies
MOMENTS IN HISTORY
Discover American history through the art of Norman Rockwell, who chronicled a changing society by painting images of historical and cultural significance during the 20th century, including President Roosevelt's Four Freedoms to the Civil Rights Movement.
Studio Arts
ART AND INSPIRATION
Examine Norman Rockwell's artistic process, and the techniques that he used to create his illustrations. Students will investigate how the elements of art and design, from concept and composition to the use of color, shape, rhythm, texture, line, and perspective contribute to the impact of a work of art.
Available: Monday through Friday
Grades: K through 12
Length: Approximately One Hour
Cost Per Student: $5/Teachers and Chaperones Free
Maximum Group Size: 90
 Ready to get your school involved with the Norman Rockwell Museum?
Advanced Art Tours
Advanced high school or college art students are invited to explore the art and working methods of Norman Rockwell and other noted illustrators featured in the Museum's special exhibitions. Stimulating discussion and hands-on drawing and writing in the galleries will inspire new ways of seeing and working.
Available: Monday through Friday
Grades: High School and College
Length: Approximately Two Hours
Cost Per Student: $6.50/Teachers and Chaperones Free
Maximum Group Size: 25
In-School Presentations
Let the Museum come to you! Lively discussion-based presentations by professional Museum educators can be conducted at your school, introducing students to the art of Norman Rockwell and a variety of curriculum connections that the art of America's most beloved illustrator inspires. Presentation themes, which can be designed to meet your needs, include:
The Art of Visual Storytelling
The American 20th Century
Anti-Bullying and Character Education
American Democracy and the Civil Rights Movement
Available: Monday through Friday
Grades: K through 12
Length: 45 to 60 Minutes
Cost Per Presentation: $125 plus travel expenses; two presentations for $200 plus travel expenses.
Maximum Group Size: Variable
 Ready to get your school involved with the Norman Rockwell Museum?
STUDENT PASSPORT PROGRAM
Berkshire County Student Passport Program provides a full 360-learning opportunity for local 3rd and 4th grade students. This program includes an in-classroom introduction to the art of Norman Rockwell, including an interactive drawing experience with a Museum educator, and a curriculum-inspired interactive visit to the Norman Rockwell Museum. A third program component features a special Family Day experience that invites children and their parents and caregivers to enjoy the Museum together. Participating students will also receive a special Student Passport for a free return visit with their families. All gallery and classroom experiences are available free to program participants.
PLANNING YOUR VISIT
To Schedule Your Visit
We look forward to welcoming your group! Please submit your reservation request at least two weeks in advance. You will receive a confirmation of your program by e-mail.
Contact our Visitor Services Office at:
413.931.2221
reservations@nrm.org
Please notify the Museum prior to your visit if someone in your group requires special assistance. Wheelchairs are available.
Chaperones
Please bring at least one chaperone for every ten students. There is no charge for teachers and chaperones.
Arrival
Please plan to arrive ten minutes before your scheduled visit time. If your arrival is delayed, or if you need to cancel your tour, please contact us to let us know.
Food
Outdoor picnic tables are located near bus parking for seasonal use. During the winter months, please let us know if you would like to eat lunch in the Museum classroom. Please download the Order Form / Menu , print, then mail in or call Leslie at (413-298-4100 ext 225)
Museum Galleries and Rockwell's Studio
After your tour, you are free to enjoy all of the art on view in the Museum's Permanent Collection and Special Exhibition Galleries. Thank you for walking through the galleries in small groups that are accompanied by a chaperone. From May through October, Norman Rockwell's Studio is open to the public.
Museum Grounds
Enjoy a stroll on the Museum's bucolic 36 acre site, which is great to picnicking or just enjoying the view in the beautiful Berkshires. Climbing sculptures by Peter Rockwell, Norman Rockwell's youngest son, are on view.