---
Rockwell Society
---
Join the family
Keeping the American narrative tradition alive.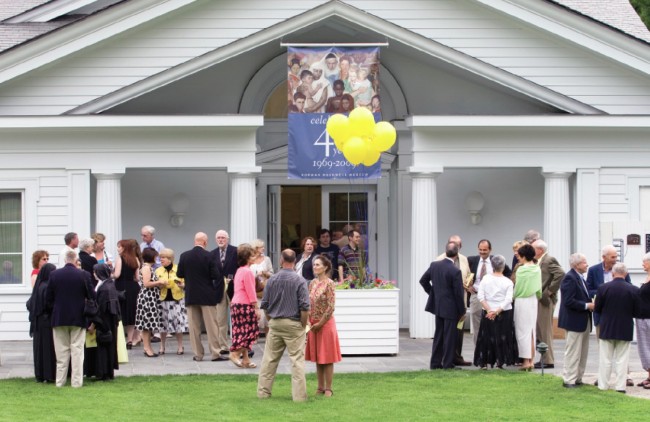 In honor of Norman Rockwell Museum's 50th Anniversary, a new circle of proud supporters is being formed—the Rockwell Society—those who make gifts of $1,000 or more will receive special benefits, exclusive invitations and up close and personal opportunities with inspiring art.
Upcoming Rockwell Society Events
Rockwell Society: Benefactor's Circle Dinner
Friday, September 13, 6 p.m.
Member/Donor Exhibit Opening
Finding Home: Three Immigration Stories
Saturday, November 9, 5:30-7:30 p.m.
Rockwell Society: Reception
Monday, November 18, 6-8 p.m.
At Bonhams, 80 Madison Ave, New York, NY 10022
Member/Donor Holiday Party
Friday, December 13, 5-7 p.m.
---
Rockwell Society Giving Circles & Benefits
---
Rockwell Society members enjoy exclusive benefits at Norman Rockwell Museum. Take advantage of free admission for you and your friends, access to over 1,000 museums nationwide, and access to today's trending artists and thought-leaders.
Rockwell Society members also receive all of the benefits of Norman Rockwell Museum membership, which include:
• Complimentary general admission for four
• Four one-time guest passes
• 10% discount in Museum Store
• Recognition in the Annual Report
Artist's Circle $1,000 or more
• One additional unlimited admission pass to share with friends and family
• Invitation to the Annual Rockwell Society Reception
Curator's Circle $2,500 or more
Artist's Circle Benefits plus
• Invitation to Annual Curator's Talk
• Two additional unlimited admission passes
Benefactor's Circle $5,000 or more
Curator's Circle Benefits plus
• Choice of reserved Season Sponsor recognition opportunities
• Invitation to Annual Director's Luncheon
Patron's Circle $10,000 or more
Benefactor's Circle Benefits plus
• Invitation to Annual Patron's Circle Dinner
• Ability to choose from reserved list of
on-site Season Sponsor or exhibition recognition opportunities
President's Circle $25,000 or more
Patron's Circle Benefits plus
• Two tickets and preferred seating at the Annual Gala
Chairman's Circle $50,000 or more
President's Circle Benefits plus
• Preferred seating at programs and events
• Ability to be Season Sponsor of main galleries
Rockwell Society Giving Circles are based upon your aggregate giving to Norman Rockwell Museum for the previous calendar year. Upgrade at any time to a new Circle and receive additional benefits.
Rockwell Society Sign up Form