Norman Rockwell Museum Presents
Gloria Stoll Karn: Pulp Romance 93-year-old artist of pulp fiction to be honored during exhibition opening on February 10
Manager of Media Services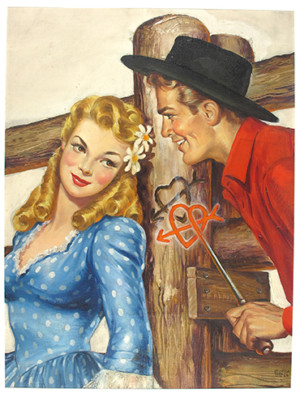 Gloria Stoll Karn, [Couple with heart branding iron], 1940s.
Oil on canvas, 24″ x 20 1/4″. ©Gloria Stoll Karn. All rights reserved.
Stockbridge, MA, January 9, 2018—Norman Rockwell Museum presents Gloria Stoll Karn: Pulp Romance, an exhibition of works by Ms. Stoll Karn, one of just a few female illustrators working during the heyday of popular romance and dime store magazines of the 1940s. On view at the Museum from February 10 through June 10, 2018, the exhibition will look at the artistic contributions that Stoll Karn made to the pulp fiction industry, and her unexpected journey in a world previously assigned to male artists.
Born in 1923 to an artistic family in New York City, Gloria Stoll Karn graduated from the High School of Music and Art in 1940. After graduation, she took a position as an insurance agency clerk to help support the family following the death of her father. Discouraged that her efforts to find employment as an artist did not come to fruition, Stoll Karn attempted to burn and throw out her portfolio, leaving it by the trash chute in her apartment building. Instead of discarding it, the janitor shared it with Rafael DeSoto, a famous pulp artist who was also a resident there. Impressed by what he saw, DeSoto referred Stoll Karn to Popular Publications, one of the largest publishers of pulp magazines, who gave the young artist her start—a steady stream of assignments followed, allowing her to establish her professional career.
During the first half of the twentieth century, inexpensive fiction magazines were described as 'the pulps' for the wood pulp paper that they were printed on, in contrast to the glossies, which were published on high quality stock. Sensational subjects—from romance and western to crime and detective stories—were popular fare for the genre.
"During the 1940s, when Gloria Stoll Karn's dynamic and sometimes provocative artworks were featured on the covers and pages of America's most popular pulp magazines, female illustrators more frequently worked in educational publishing or created published work focused on domesticity and themes relating to childhood or motherhood," notes exhibition curator Stephanie Haboush Plunkett. "We are honored to share and celebrate her inspiring story, and the exceptional artworks that connect us to another era in society and the history of popular art."
"As a freelance artist, I often traveled New York subways carrying wet canvases," notes Ms. Stoll Karn. "Starting in my teens, ideas for romantic scenes came easily as the influence of Hollywood's 'boy meets girl' movies was significant… Moving on to painting covers for mystery and detective magazines involved a radical conceptual switch. It was a surprise when I came up with gruesome ideas and concluded that within the human psyche, there is a shadow side of which we are often unaware. I am grateful that my work struck a balance which uncovered the dark side within along with the light side depicting the joys of romance."
Gloria Stoll Karn: Pulp Romance will feature more than 50 original artworks and vintage publications. Including student work, pencil on paper sketches, and final paintings, the exhibition will explore Stoll Karn's many images for romance, western, and detective stories, that appeared regularly in such titles as Black Mask, Dime Mystery, Detective Tales, All-Story Love, Romance, and Argosy. In addition, the artist's commentary will be featured on video in the exhibition galleries, and a catalogue featuring essays by Norman Rockwell Museum curators Jesse Kowalski and Stephanie Haboush Plunkett will be available. 
Now in her nineties, Ms. Stoll Karn is scheduled to appear at a special exhibition opening reception to be held at Norman Rockwell Museum on Saturday, February 10, from 5:30 to 7:30 p.m., with opening commentary by Jeanne Torlidas Willow, an attorney and an avid admirer of Gloria Stoll Karn's work who first connected the artist with the Norman Rockwell Museum. Stoll Karn will then join exhibition curator Stephanie Haboush Plunkett for a conversation about her creative live and career, and continued involvement with visual art. A reception will precede and follow the commentary. Guests interested in attending are asked to RSVP by February 3, by contacting rsvp@nrm.org or 413.931.2265.
Exhibition-Related Programs
VALENTINES DAY PROGRAM
Happily-Ever-After Love Stories…More of Less
Wednesday, February 14
5:30 p.m.
Join storyteller Carol Birch, as she tells of the distant paths by which love travels, the wonder love may work beneath disharmony, and love's transforming power.  Free for Museum members, or included with Museum admission. Free for children 18 and under.
Tea Talk: Curatorial Conversations
Friday, February 16, 1:30 p.m.
Enjoy this illustrated talk about Gloria Stoll Karn's work with exhibition curator Stephanie Haboush Plunkett. Free for Museum members, or included with Museum admission.
High Drama: Pulp Magazines and the Artists Who Worked for Them
Saturday, March 10, 2 p.m.
Join illustration historian Terry Brown for a look at the popular mid-century fiction magazines described as "the pulps," the high-drama artworks that appeared on their covers and pages, and the talented artists who satisfied public demand. Free for Museum members, or included with Museum admission.
About Gloria Stoll Karn
Gloria Stoll Karn graduated from New York's High School of Music and Art in 1940. At age seventeen she began her career doing black and white interior illustrations for pulp magazines. This evolved into painting covers along with interior illustrations. Many of her covers were for Rangeland Romances magazine; she also did covers for All-Story Love, New Love, Love Book, Love Short Stories, Love Novels, Romance, and Thrilling Love magazines. Her work also included covers for Black Mask, Dime Mystery, Detective Tales, and New Detective. In addition, she did interior illustrations for Argosy magazine. She continued working in the hey-day of the pulps until 1949.
As a freelance artist Stoll Karn was able to finance further art education at New York's Art Students League. Classes in anatomy printmaking, and watercolor enabled her to balance commercial work with fine art in lithography, etching, and watercolor.
Stoll Karn's marriage to Fred Karn in 1948 introduced her to country life. They had three children and seven grandchildren. She continued with etching, teaching art classes, and painting in oils, which evolved into an abstract mode. A one-artist show at the Carnegie Museum of Art was a highlight. An etching received a purchase award in Brooklyn Museum's National Print Annual. A consistent prizewinner, she won third place in the Pittsburgh Watercolor Society's Aqueous Open International Exhibition in 1998. Her work is in the permanent collections of Yale University, the Carnegie Museum of Art, Westinghouse Corporation, Speed Art Museum Brooklyn Museum of Art, Pittsburgh Public Schools, and many private collections. She is listed in Who's Who in American Art.
Learn more about the artist's work at: gloriastollkarn.com