Highlights from the Permanent Collection – Hi, I'm Norman: The Story of American Illustrator Norman Rockwell
September 27, 2019 through December 9, 2019

This exhibition highlights artwork for Hi, I'm Norman: The Story of American Illustrator Norman Rockwell , an artist's biography for young people,
written by Robert Burleigh and Illustrated by Wendell Minor.
Award-winning illustrator Wendell Minor drew his way through childhood in Aurora, Illinois, inspired by America's heartland and the richly illustrated magazines that were so much a part of life at the time―from nature-themed favorites like Outdoor Life and Field & Stream to the vastly popular Saturday Evening Post, which showcased the work of Norman Rockwell and many others. Determined to forge a career as an artist, he sold his beloved 1955 Chevy to pursue his studies at the Ringling School of Art and Design in Florida, and moved to New York in 1968 with little more than his portfolio in hand. Since then, his striking visual narratives and elegant designs have appeared on nearly two thousand book covers and scores of children's books inspired by his love of art, history, science, and the natural world.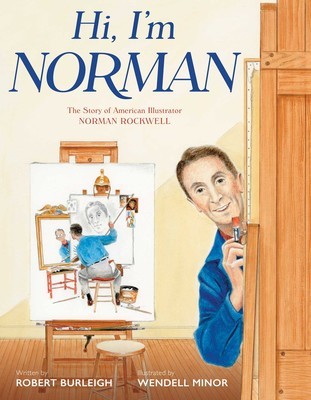 Wendell Minor. Cover artwork for Hi I'm Norman: The Story of American Illustrator Norman Rockwell ©Wendell Minor, All rights reserved
Hi, I'm Norman brings Rockwell's legacy forward for new generations, inviting young readers to learn about this legendary illustrator's life and career, and the historical events that were interpreted through his eyes. The accomplishments of noted Americans are featured in a series of picture book biographies by Minor in collaboration with author Robert Burleigh, including painter Edward Hopper, author Henry David Thoreau, aviator Amelia Earhart, and president Abraham Lincoln. We are honored to feature the original artworks in this exhibition among the permanent collections of the Norman Rockwell Museum.
ABOUT THE ARTIST
Wendell Minor is nationally known for the artwork he has created for over fifty award-winning children's books. His many collaborators include Jean Craighead George, Robert Burleigh, Buzz Aldrin, Tony Johnston, Mary Higgins Clark, and last but not least, his wife Florence. In 2009 Wendell and Florence's If You Were a Penguin, was chosen by Pennsylvania for their "One Book, Every Young Child" 2009 early literacy program, and they enjoyed the month they spent speaking to children in Pennsylvania's libraries, schools, Head Start facilities, and Museums.
Wendell is also the cover artist and designer of over two thousand books for authors Pat Conroy, David McCullough, Fannie Flagg, and Nathaniel Philbrick among many others. His portrait of "Truman" for the cover of David McCullough's book is in the permanent collection of the National Portrait Gallery in Washington DC
RELATED EVENTS
There are no upcoming events at this time.
MEDIA
There are no media highlights at this time.
VENUE(S)
Norman Rockwell Museum, Stockbridge, MA      June 8 through October 27, 2019
RELATED PRODUCTS
There are currently no related products for this exhibition, check back soon!
DIRECTIONS
Norman Rockwell Museum
9 Route 183
Stockbridge, MA 01262
413-298-4100 x 221
Download a Printable version of Driving Directions (acrobat PDF).
Important note: Many GPS and online maps do not accurately place Norman Rockwell Museum*. Please use the directions provided here and this map image for reference. Google Maps & Directions are correct! http://maps.google.com/
* Please help us inform the mapping service companies that incorrectly locate the Museum; let your GPS or online provider know and/or advise our Visitor Services office which source provided faulty directions.