Norman Rockwell: Private Moments for the Masses
June 8 through October 27, 2019

This special 50th Anniversary exhibition offers a behind-the-scenes look at the autobiographical aspects of Rockwell's art through beloved imagery that conveyed, in both subtle and direct ways, his own interests, anxieties, and real-life experiences.
An astute visual storyteller and a masterful painter with a distinct, personal message to convey, Norman Rockwell created fictional realities that offered a compelling picture of the life that many Americans aspired to. His carefully-constructed artworks for the covers and pages of popular publications engaged an appreciative audience for decades—but few would have imagined all that his art revealed about the inner workings of his personal and professional life.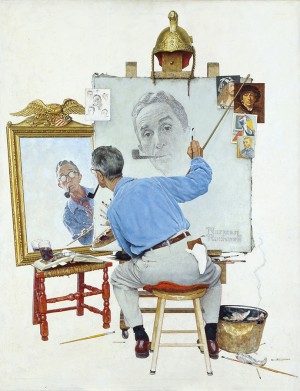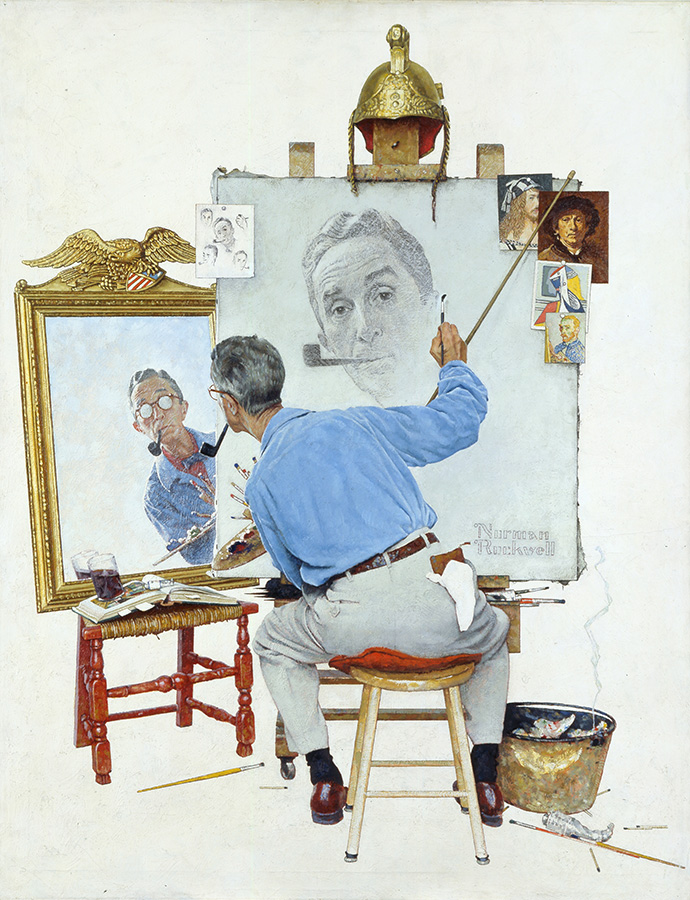 Norman Rockwell (1894-1978). Triple-Self Portrait, 1960. Cover illustration for The Saturday Evening Post, February 13, 1960. Norman Rockwell Museum Collections. ©1960 SEPS: Licensed by Curtis Publishing, Indianapolis, IN
Rockwell's reality made unwitting appearances in his imagery throughout his prolific career—recalling the gleeful pranks of childhood, his art school and fledgling professional years, and the joys and challenges of being a husband and father. For Rockwell, a strong visual story concept was "the first thing and the last thing," and almost any subject could serve as inspiration for his highly visible art. As noted by Rockwell's eldest son, Jarvis, his family felt that they were "living out the cover of a Saturday Evening Post," perhaps no surprise, as perceived authenticity was a mark of success for the artist.
Works spanning Rockwell's career will be featured, including The Stay at Homes (Outward Bound), a poignant illustration created for the October 1927 issue of Ladies' Home Journal. In 1903, when Rockwell was nine, his paternal grandmother, Phebe Rockwell, died. To ensure that his grandfather would not be alone, the Rockwell family moved from their 103rd Street apartment in New York to St. Nicholas Avenue and 152nd Street, where John Rockwell resided. They remained together even after a 1907 move to Mamaroneck, New York—until 1911, when Rockwell's mother, burdened by the hardship of caring for her father-in-law, prompted a move to a New Rochelle boarding house. Though Rockwell's grandfather may not specifically appear as a model in his many pictures of elderly men, the tender grandfather-grandchild relationship is abundant in his work.
Friends and family are prominent in such work as his 1948 Christmas Homecoming, a joyous scene that captures the entire Rockwell clan in a moment of reverie. Youngest son Peter (with eyeglasses) looks on from the left corner; middle son Tom, in a plaid shirt, is all smiles; and wife Mary heartily hugs the couple's oldest son, Jarvis, who has just arrived home from art school. The artist himself, seen with his signature pipe, looks on with pride, as do fellow artists Grandma Moses and Post illustrator, Mead Schaeffer and his family, who lived within close proximity during his Arlington, Vermont years.
Rockwell's 1960 Triple Self-Portrait, a hallmark of the exhibition, considers the artist's identity at a time when the term "identity crisis"—coined by Rockwell's own therapist, Erik Erikson―entered the lexicon of the day. In this work, Rockwell acknowledges his role as an illustrator while affirming his debt to fine artists. Though distained by the midcentury art world, Rockwell was revered by his illustration peers and remained in the public eye for half a century. Humor and humility were essential aspects of his character, so when asked to do a self-portrait announcing the first of eight excerpts from My Adventures as an Illustrator, his autobiography, he created a self-deprecating Post cover offering a lighthearted look at both the inner and outer man.
Many Rockwell favorites will be on view, including No Swimming (1921), The Runaway (1958), and other iconic paintings and drawings, as well as rarely-seen early works, candid photographs, personal affects and correspondence, and personal date book diaries. We look forward to sharing this biographical exhibition with you―it also highlights the exciting re-release of Rockwell's autobiography, My Adventures as an Illustrator, first published in 1960 and re-released by Abbeville Press.
Major sponsors:
Audrey and Ralph Friedner
and
TD Bank

ABOUT THE ARTIST
Born in New York City, Norman Rockwell always wanted to be an artist. At age 14, Rockwell enrolled in art classes at The New York School of Art (formerly The Chase School of Art). Two years later, in 1910, he left high school to study art at The National Academy of Design. He soon transferred to The Art Students League, where he studied with Thomas Fogarty and George Bridgman. Fogarty's instruction in illustration prepared Rockwell for his first commercial commissions. From Bridgman, Rockwell learned the technical skills on which he relied throughout his long career.
Rockwell found success early. He painted his first commission of four Christmas cards before his sixteenth birthday. While still in his teens, he was hired as art director of Boys' Life, the official publication of the Boy Scouts of America, and began a successful freelance career illustrating a variety of young people's publications.
At age 21, Rockwell's family moved to New Rochelle, New York, a community whose residents included such famous illustrators as J.C. and Frank Leyendecker and Howard Chandler Christy. There, Rockwell set up a studio with the cartoonist Clyde Forsythe and produced work for such magazines as Life, Literary Digest, and Country Gentleman. In 1916, the 22-year-old Rockwell painted his first cover for The Saturday Evening Post, the magazine considered by Rockwell to be the "greatest show window in America." Over the next 47 years, another 321 Rockwell covers would appear on the cover of the Post. Also in 1916, Rockwell married Irene O'Connor; they divorced in 1930.
The 1930s and 1940s are generally considered to be the most fruitful decades of Rockwell's career. In 1930 he married Mary Barstow, a schoolteacher, and the couple had three sons, Jarvis, Thomas, and Peter. The family moved to Arlington, Vermont, in 1939, and Rockwell's work began to reflect small-town American life.
In 1943, inspired by President Franklin Roosevelt's address to Congress, Rockwell painted the Four Freedoms paintings. They were reproduced in four consecutive issues of The Saturday Evening Post with essays by contemporary writers. Rockwell's interpretations of Freedom of Speech, Freedom to Worship, Freedom from Want, and Freedom from Fear proved to be enormously popular. The works toured the United States in an exhibition that was jointly sponsored by the Post and the U.S. Treasury Department and, through the sale of war bonds, raised more than $130 million for the war effort.
Although the Four Freedoms series was a great success, 1943 also brought Rockwell an enormous loss. A fire destroyed his Arlington studio as well as numerous paintings and his collection of historical costumes and props.
In 1953, the Rockwell family moved from Arlington, Vermont, to Stockbridge, Massachusetts. Six years later, Mary Barstow Rockwell died unexpectedly. In collaboration with his son Thomas, Rockwell published his autobiography, My Adventures as an Illustrator, in 1960. The Saturday Evening Post carried excerpts from the best-selling book in eight consecutive issues, with Rockwell's Triple Self-Portrait on the cover of the first.
In 1961, Rockwell married Molly Punderson, a retired teacher. Two years later, he ended his 47-year association with The Saturday Evening Post and began to work for Look magazine. During his 10-year association with Look, Rockwell painted pictures illustrating some of his deepest concerns and interests, including civil rights, America's war on poverty, and the exploration of space.
In 1973, Rockwell established a trust to preserve his artistic legacy by placing his works in the custodianship of the Old Corner House Stockbridge Historical Society, later to become Norman Rockwell Museum at Stockbridge. The trust now forms the core of the Museum's permanent collections. In 1976, in failing health, Rockwell became concerned about the future of his studio. He arranged to have his studio and its contents added to the trust. In 1977, Rockwell received the nation's highest civilian honor, the Presidential Medal of Freedom.
RELATED EVENTS
There are no upcoming events at this time.
VENUE(S)
Norman Rockwell Museum, Stockbridge, MA      June 8 through October 27, 2019
RELATED PRODUCTS
There are currently no related products for this exhibition, check back soon!
DIRECTIONS
Norman Rockwell Museum
9 Route 183
Stockbridge, MA 01262
413-298-4100 x 221
Download a Printable version of Driving Directions (acrobat PDF).
Important note: Many GPS and online maps do not accurately place Norman Rockwell Museum*. Please use the directions provided here and this map image for reference. Google Maps & Directions are correct! http://maps.google.com/
* Please help us inform the mapping service companies that incorrectly locate the Museum; let your GPS or online provider know and/or advise our Visitor Services office which source provided faulty directions.