Illustrator Katie Atkinson To Present Art, Mindfulness, and Self-Reflection Workshops at Norman Rockwell Museum
Manager of Media Services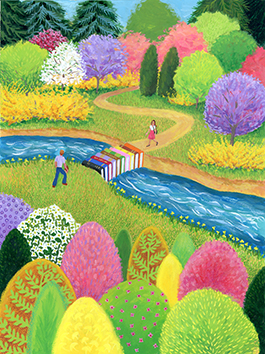 Katie Atkinson, illustration for "Bookmarks" magazine,
April-May 2018. ©Katie Atkinson. All rights reserved.
Stockbridge, MA, April 4, 2018—Norman Rockwell Museum will present a series of art and wellness workshops to be held on Saturdays, May 5 and June 30, from 5 to 7 p.m. Katie Atkinson, an illustrator who focuses on themes of wellness, personal growth, and transformation, will guide participants in an exploration of art as a means for achieving a state of flow, mindfulness, and self-reflection. "I find creating art is another pathway to self-expression and healing," notes Atkinson, who also teaches workshops at recovery and wellness centers. "t is a natural springboard to finding a deeper connection with self and others." Festive "mocktails" and treats will be served during the programs, which each cost $20, $15 for Museum members. To register, contact the Museum at 413.931.2221 or register@nrm.org.