Norman Rockwell Museum Celebrates Art Museum Day on May 18 with Free Admission
Manager of Media Services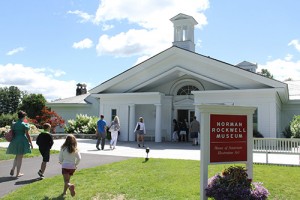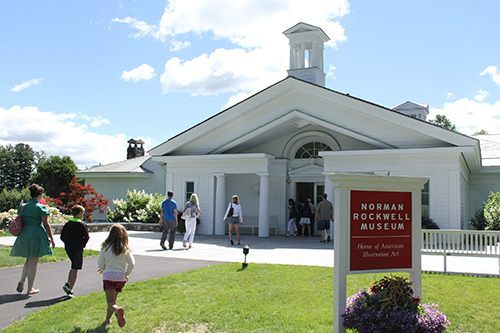 Stockbridge, MA, April 11, 2018—To celebrate the 9th annual Art Museum Day, Norman Rockwell Museum announced today that it will offer free admission on Friday, May 18, 2018. An initiative of the Association of Art Museum Directors (AAMD), Art Museum Day gathers hundreds of institutions from across North America to recognize the arts and the important role that art museums play in their communities. 
This year, Norman Rockwell Museum is presenting exhibitions on the art of Norman Rockwell, pulp fiction artist Gloria Stoll Karn, as well as the final days of Never Abandon Imagination: The Fantastical Art of Tony DiTerlizzi; Museum curators will give a special tea and talk about the DiTerlizzi exhibition at 1:30 p.m. Norman Rockwell Museum will also opened Norman Rockwell's Stockbridge studio, located on the Museum's grounds, for public viewing during the summer and fall seasons. Regular Museum gallery talks will also be provided at 11 a.m., 12:30 p.m., and 2:30 p.m. A number of digital interactive components will also complement the Museum's exhibitions and programs. 
The theme for Art Museum Day 2018 is Hyperconnected Museums, a recognition of the many ways in which museums serve as central points of connectivity within their communities, both online and in person. Art museums are often anchors for public spaces and neighborhoods, and they partner with school systems and civic organizations in ways that make their towns, cities, and regions better places for everyone who lives and works there. Hyperconnected Museums also serve as engines for the creative economy, tapping the human creativity embedded in works of art—whether thousands of years old or as recent as 2018—to inspire new ideas and ways of thinking.
"Norman Rockwell Museum is proud to take part in Art Museum Day," notes Museum Director/CEO Laurie Norton Moffatt. "Throughout his career, Norman Rockwell championed the concepts of community and tolerance. Our Museum strives to advance social good through the civic values of learning, respect and inclusion, and hope that you can join us to celebrate the affirming power of illustration art."
"I am thrilled that Norman Rockwell Museum is again participating in Art Museum Day, an opportunity to bring communities together to experience great art and special programs, both in the Berkshires and across North America" said Christine Anagnos, Executive Director of AAMD. "Art is vital to our lives, a reflection of both the incredible diversity of humanity and the many common elements that unite us."
Norman Rockwell Museum invites visitors to share their experiences on Art Museum Day via social media, with the hashtag #ArtMuseumDay. 
AAMD's Art Museum Day is an opportunity to focus attention on the role of art museums in North America, an extension of the International Council of Museums's (ICOM) International Museum Day. AAMD represents 240 art museums across the United States, Canada, and Mexico—from regional museums in small towns to large museums in major urban centers. Last year, YOUR INSTITUTION—along with more than 161 other AAMD member museums—participated in Art Museum Day. A comprehensive list of participating AAMD member art museums will be available on the AAMD website. Note that while AAMD's Art Museum Day and ICOM's International Museum Day are formally held each year on May 18, some institutions shift their celebrations to adjacent dates.