Norman Rockwell Museum Announces New Research Fellows in American Illustration
Fellows to Contribute to Development of Academic Discipline in History of Published Images from 1800 to Present
Manager of Media Services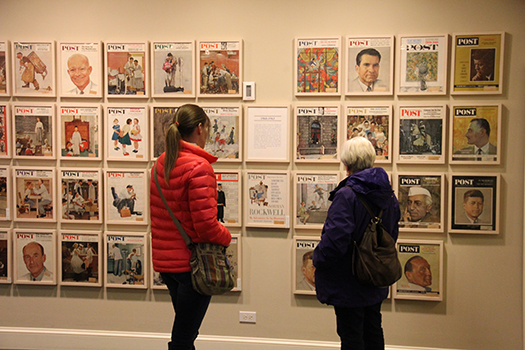 Stockbridge, MA, February 19, 2018—Norman Rockwell Museum's Rockwell Center for American Visual Studies, the nation's first research institute dedicated to American illustration, announces its new Society of Fellows. Established to bring leading thinkers and fresh perspectives to the study of American illustration art between 1850 and the present, the Society of Fellows will explore the history and criticism of this understudied field, to more fully develop the language and discourse of an academic discipline devoted to published art. In addition to scholarly writings, the Society of Fellows will convene twice a year to engage in discussion and debate, posing key questions related to this emerging area of illustration studies.
The 2017/2018 Society of Fellows include: Senior Fellow D. B. Dowd, Professor of Art and American Culture Studies, Sam Fox School of Design, Washington University, St. Louis, curates and writes on illustration and cartooning; Michele Bogart, Professor of American Visual Culture Studies, State University of New York at Stonybrook, writes on advertising, illustration, and public sculpture; Erika Doss, Professor of American Studies, University of Notre Dame, writes widely on American visual culture and modernism; and Christopher Lukasik, Professor of English, Purdue University, writes on illustration and literary print culture in the nineteenth century.  
Michele H. Bogart. Ph.D. has taught art history and American visual culture studies at Stony Brook University since 1982. Bogart is author of Public Sculpture and the Civic Ideal in New York City, 1890-1930 (1989/1997), recipient of the 1991 Charles C. Eldredge Prize; Artists, Advertising, and the Borders of Art (1995); The Politics of Urban Beauty: New York and Its Art Commission (2006), and Sculpture in Gotham: Art and Urban Renewal in New York (2018). She has been a Guggenheim Fellow and Terra Foundation Visiting Professor of American Art at the JFK Institut, Freie Universität von Berlin. From 1999 through 2003 she was Vice President of the Art Commission of the City of New York (since renamed the Public Design Commission), the City's design review agency, and presently serves on the PDC's Conservation Advisory Group.
Erika Doss, Ph.D., is a professor in the Department of American Studies at the University of Notre Dame. Her wide-ranging interests in American art and visual culture are reflected in the breadth of her publications, including Benton, Pollock, and the Politics of Modernism: From Regionalism to Abstract Expressionism (1991, recipient of the Charles C. Eldredge Prize), Spirit Poles and Flying Pigs: Public Art and Cultural Democracy in American Communities (1995), Elvis Culture: Fans, Faith, and Image (1999), Looking at Life Magazine (editor, 2001), Twentieth-Century American Art (2002), The Emotional Life of Contemporary Public Memorials: Towards a Theory of Temporary Memorials (2008), Memorial Mania: Public Feeling in America (2010), and American Art of the 20th-21st Centuries (2017). She is also the recipient of several Fellowships and Fulbright awards.
D.B. Dowd, Senior Fellow, is Professor of Art & American Culture Studies at Washington University in St. Louis, where he also serves as the Faculty Director of the D.B. Dowd Modern Graphic History Library, which was renamed in his honor. He writes, lectures, and curates exhibitions on the history of illustration and cartooning, and is also active as a practitioner. Dowd's book Stick Figures: Drawing as a Human Practice will be published by the Rockwell Center for American Visual Studies in 2018. He was the consulting curator for Mac Conner: A New York Life, a traveling exhibition organized by the Museum of the City of New York (2014). In addition to teaching studio courses in drawing and illustration, he has taught courses art theory, popular visual culture, and the history of illustrated press. His blog Graphic Tales (http://www.dbdowd.com/graphic-tales-blog/), has been available online since 2007, and publishes the illustrated journal Spartan Holiday.
Christopher J. Lukasik, Ph.D., is an Associate Professor of English and American Studies at Purdue University. His research has received over twenty fellowships, including long-term awards from the National Endowment for the Humanities, Fulbright Scholar Program, American Antiquarian Society, Boston University Humanities Foundation, Purdue Research Foundation, and Harrison Institute for American History, Literature, and Culture at the University of Virginia. He has presented over eighty papers on three continents and his work has been published in over a dozen journals. He is the author of Discerning Characters: The Culture of Appearance in Early America (2010), and is currently working on a new book project entitled The Image in the Text: Intermediality, Illustration, and Nineteenth-Century American Literature.
Additional Rockwell Center Fellowship Awards
Annual fellowships are also awarded in support of scholars who are undertaking topics and themes that advance understanding of the role of published images in shaping and reflecting culture. The following fellowships were made possible by the Lehman Foundation:
2017/2018 Rockwell Center Dissertation Fellows include: 
Sarah Litvin, Graduate Center, City University of New York, for her thesis: Landscape of a Lady: The Parlor Pianist in Published Illustrations, 1890-1920; Tracy Stuber, School of Arts and Sciences, University of Rochester, for her thesis: Photography on the Ground: Four Artists in the American Landscape, 1973-1982.
2017/2018 Rockwell Center Senior Fellows include: 
Lenore Miller, Director of Luther W. Brady Art Gallery, George Washington University, for her thesis: Commerce and Fantasy in 20th Century America: Tony Sarg and Popular Culture; and Barbara Lupack, former Academic Dean and Professor of English at SUNY and current New York State Public Scholar, for her thesis: The New Woman in American Popular Culture. 
The Rockwell Center Fellowship Program is led by Stephanie Haboush Plunkett, Deputy Director/Chief Curator at Norman Rockwell Museum.
Rockwell Center for American Visual Studies
The Norman Rockwell Museum has established the Rockwell Center for American Visual Studies to enhance knowledge and deepen understanding of the art and cultural significance of illustration art. The first research institute of its kind in the nation, this Center supports sustained scholarship and establishes the Museum's leadership in the vanguard of preservation and interpretation relating to this important yet understudied aspect of American visual culture.