NORMAN ROCKWELL MUSEUM PRESENTS:
Home Run! An All American Baseball Day
Manager of Media Services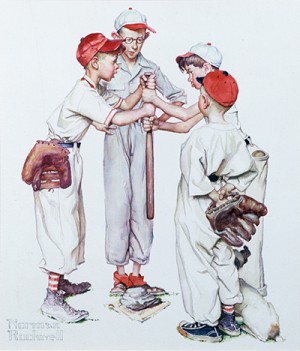 Norman Rockwell (1894-1978), Four Sporting Boys: Baseball, 1949.
Watercolor on board, 13 1/2″ x 12″. Lent courtesy of the Williams
High School Alumni Association. Brown and Bigelow. All rights reserved.
Stockbridge, MA, June 23, 2017—In celebration of summer and "America's favorite pastime," Norman Rockwell Museum will present Home Run! An All American Baseball Day on Saturday, July 8, from 1 to 5 p.m. The family festival will pay tribute to the sport and artists, including Norman Rockwell, who captured the excitement of the game. Among the many highlights: artists John Broderick and Joseph Farnham will offer insights into their baseball-inspired work; Larry Moore, Museum and Outreach Educator from the National Baseball Hall of Fame, will explore the history and evolution of baseball equipment; Sherri Buxton and friends will entertain with baseball-themed music; and author Kevin Larkin will discuss the recent book Baseball in the Berkshires. Representatives from the Pittsfield Suns and North Adams Steeple Cats will also be on site to meet visitors, and the Berkshire County Adult Baseball League will offer a game of catch on the Museum lawn. Other activities will include hands-on art making, tours, and special displays throughout the day. The event is free for Museum members, or included with Museum admission.