Norman Rockwell Museum's Four Freedoms Forum  Looks at Freedom of the Press and American Journalism Today
Manager of Media Services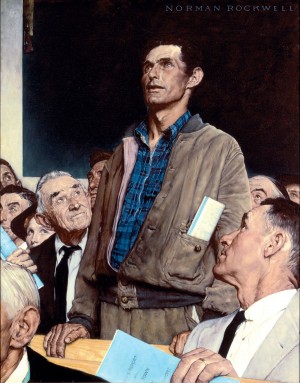 Norman Rockwell (1894-1978), Freedom of Speech, 1943. Oil on canvas, 45 3/4″ x 35 1/2″
Story illustration for The Saturday Evening Post, February 20, 1943
Norman Rockwell Museum Collections
©SEPS: Licensed by Curtis Licensing, Indianapolis, IN
Stockbridge, MA, May 25, 2017— Norman Rockwell Museum's Four Freedoms Forum returns on Thursday, May 25, at 5:30 p.m., with a look at freedom of the press in today's journalism. Free speech and a free press are core American values—imbedded in the Constitution's First Amendment by our nation's founders—and the United States has long served as a strong advocate for those principles. In light of recent events, American journalism faces one of its greatest challenges. This latest public forum will discuss the role of the press in our times. Featured speakers will include: Jennifer Browdy, Ph.D, Associate Professor of Comparative Literature, Bard College at Simon's Rock; Tammy Daniels, Managing Editor, iBerkshires.com;Bill Densmore, Consulting Fellow, Reynolds Journalism Institute; and Jim Levulis, Associate News Director, WAMC Northeast Public Radio. Community conversation at the Four Freedoms Forums is free and open to the public.
Jennifer Browdy, Ph.D. is an associate professor of comparative literature, gender studies and media studies at Bard College at Simon's Rock, where she just piloted a new course, "Just the Facts: Media Production and Consumption in the Age of Fake News and Alternative Facts." Dr. Browdy has worked as a reporter and editor for various publications in the Berkshires and New York City, and is the founding director of the Berkshire Festival of Women Writers and the Butterfly Leadership Program for teen girls; she advocates for women of all ages writing and speaking out on the issues they care about. Her new memoir, What I Forgot …And Why I Remembered: A Journey to Environmental Awareness and Activism Through Purposeful Memoir, is accompanied by her writer's guide, The Elemental Journey of Purposeful Memoir: A Writer's Companion, and she offers writing workshops and author coaching for purposeful memoirists. Browdy holds an MA and PhD in Comparative Literature from New York University, and BA (magna cum laude) in English and Journalism from Bard College at Simon's Rock.
Tammy Daniels is the Managing Editor of iBerkshires.com, an online media source covering Berkshire County. Daniels joined the locally owned company after nearly a decade working for New England Newspapers Inc. publications, most recently as managing editor of the North Adams Transcript. Daniels is a Berkshires native now living over the border in Stamford, Vt., and a graduate of Massachusetts College of Liberal Arts.
Bill Densmore, a consultant and researcher on the future and sustainability of journalism, is an expert on Internet information technologies and business models. He is a consulting fellow to the Donald W. Reynolds Journalism Institute (RJI) at the Missouri School of Journalism and director of its Information Trust Exchange project. He is author of the white paper "From Paper to Persona," and also serves as a board member on Journalism That Matters. Densmore holds a B.A. from the University of Massachusetts-Amherst in environmental policy and communications.
Jim Levulis has been WAMC's Associate News Director since October 2016. Before that he worked as the station's Berkshire Bureau Chief for three years. He previously worked as a reporter, producer and anchor at WAER, an NPR affiliate in Syracuse, NewYork. Levulis also has experience in Top 40 radio and spent time with NPR-affiliate WBFO and CBS-affiliate WIVB-TV, both in Buffalo. Jim holds a BA in Broadcast Journalism and History from Syracuse University.
Jenn Smith is a reporter for The Berkshire Eagle. A former substitute teacher, she serves as the Eagle's community engagement and education reporter, covering pre-kindergarten through higher education and other youth and family initiatives. Ms. Smith also conducts journalism workshops with local grade schools and colleges, and mentors students through the Monument Mountain Regional High School student journalism program. She holds a BS in Magazine Journalism from Syracuse University.
About Four Freedoms Forums: 
Town Hall Meetings at the Norman Rockwell Museum
Join us to share your thoughts on the most compelling issues of our day. This series of Town Hall conversations inspired by Norman Rockwell's Four Freedoms paintings will explore aspects of our democracy and important social concerns in a rapidly changing and increasingly global world. Noted commentators will offer observations and inspire community discourse, with a reception to follow. 
The tradition of Town Hall meetings has it roots in the founding of our nation where small New England communities would gather to invite citizen opinion and vote on matters of importance to the town. A town meeting is a form of direct democratic rule, used primarily in portions of the United States since the 17th century, in which most or all the members of a community come together to legislate policy and budgets for local government.
The Four Freedoms Forums are free and open to the public.