HANNA-BARBERA: The Architects Of Saturday Morning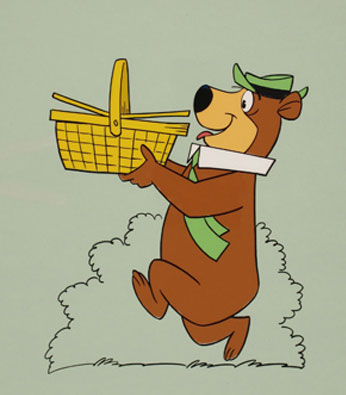 November 12, 2016 to May 29, 2017
Before the rise of basic cable, Saturday mornings for many children in America were spent watching cartoons on one of three available television channels. From 1958 through the 1980s, a majority of those cartoons bore the Hanna-Barbera imprint. Creating scores of popular series such as The Flintstones, The Jetsons, Jonny Quest, Scooby-Doo, Super Friends, and The Smurfs, Hanna-Barbera was an animation powerhouse.
Hanna-Barbera: The Architects of Saturday Morning is the first museum exhibition on the world's most successful animation partnership.  The exhibit provides a glimpse of the extraordinary story of how two astute businessmen reacted to a dying film animation industry and revolutionized a new format for their product, while hiring the best talent in the business, and explores how their product transformed over the years and adapted through government restrictions, corporate changes, and changing viewing habits.
Hanna Barbera: The Architects of Saturday Morning was developed in partnership with Warner Bros. Consumer Products and has been sponsored, in part, by Keator Group, LLC, and the Max & Victoria Dreyfus Foundation.
In business together longer than most marriages, two men from very different backgrounds created a company that would come to dominate Saturday morning television.  Partners for over 60 years, William Hanna and Joseph Barbera possessed a relationship that would last through the rise and fall of two cartoon studios and the creation of thousands of characters and hundreds of animated and live-action TV shows, films, and specials. In addition to receiving commercial and critical acclaim, their ground-breaking animation work was awarded with 7 Academy Awards (and 8 additional nominations), 8 Emmys, and numerous other awards.
Together, animators Hanna and Barbera created one of the most memorable cartoons in history – Tom and Jerry. During the rise of television in the 1950s when film studios ceased producing cartoons, Hanna and Barbera saved the field of animation through talent, innovation, and hard work. At a time when General Motors sold 50% of all cars in the U.S., the television program 60 Minutes referred to Hanna-Barbera as "the General Motors of animation," even though Hanna-Barbera would eventually go even further by producing nearly 2/3 of all Saturday morning cartoons in a single year.
Hanna-Barbera Productions was formed in 1957 by Hanna and Barbera, who were very successful animators and producers at MGM Studios. As a result of their work on the Tom and Jerry animated film shorts, MGM received seven Academy Awards for animation – more than Walt Disney himself.  Hanna and Barbera left MGM when the studio stopped production on animated films. Capitalizing on the changing viewing habits of audiences, the partners achieved immediate success on TV with The Huckleberry Hound Show and Yogi Bear in 1958, followed by the groundbreaking prime-time series, The Flintstones, in 1960. Throughout the next 40 years, Hanna-Barbera produced an astonishing 1,246 hours of original animation in 249 individual cartoon series for television.
When Cartoon Network was formed in 1992, Hanna-Barbera supplied most of the programming. Hanna-Barbera was eventually absorbed by Warner Bros., but their animation legacy remains available in syndication and on DVD. The impact of Hanna-Barbera's cartoons is evident in today's popular culture, from Fred Flintstone hawking vitamins and Fruity Pebbles cereal to the ongoing creation of new Scooby-Doo television series, comic books, and animated and live-action movies.
The exhibition will focus primarily on the "golden years" of Hanna-Barbera, from the premiere of their first television cartoon, The Ruff and Reddy Show, in 1957 and The Huckleberry Hound Show in 1958 to the debut of Scooby-Doo, Where Are You! in 1969. Hanna and Barbera's early work on Tom and Jerry will be explored, in addition to the scores of TV and film animation and live-action projects created by the studio between 1970 and 2001. Included within the exhibition will be original animation art, sketches, model sheets, photographs, archival materials, toys and other commercial products, and an interactive installation that will draw from the vast library of characters created by Hanna-Barbera.  An exhibition video, produced by Norman Rockwell Museum, will include commentary from veteran Hanna-Barbera animators Tony Benedict, Jerry Eisenberg, Willie Ito, and Bob Singer. An exhibition catalogue will include a foreword by Jayne Barbera, daughter of studio founder Joe Barbera, and essays by animation historians Jerry Beck and Michael Mallory.
All HB characters and related elements © & ™ Hanna-Barbera. TOM AND JERRY and all related characters and elements © & ™ Turner Entertainment Co. (s16)
1937-1957: THE RISE OF TOM AND JERRY AND THE DECLINE OF ANIMATED SHORTS
While working at MGM, Barbera asked Hanna "why don't we do a cartoon of our own?"  Barbera laid out a picture and Hanna timed it.  It was a cat and mouse.  Barbera recalled, "The minute you see a cat and mouse on the screen, you know it's comedy." While some of their colleagues enjoyed the cartoon, their producer Fred Quimby hated it, saying "Don't make any more of them – you don't want to put all your eggs in one basket."
Tom and Jerry's auspicious cinematic debut was in the animated short Puss Gets the Boot (1940).  This cartoon provided Barbera a chance to work again with his old friend from New York, Harvey Eisenberg, who created the layouts. Though recognizable as Tom and Jerry, the characters were named Jasper and Jinx in this cartoon.  It wasn't until the second cartoon, The Midnight Snack (1941), that Tom and Jerry received their now-famous monikers.
Producer Fred Quimby, a former theater manager who was now head of the MGM cartoon studio, did not envision a future for Jasper and Jinx and opined (correctly) that cartoons featuring a cat and mouse were not a new idea.  Fortunately for Hanna and Barbera, a Loews, Inc. distributor from Texas wrote to MGM following the release of
Puss Gets the Boot
asking when they would see more cat and mouse cartoons.  According to Barbera, Quimby yelled out "Hey fellas, make some more cat and mouse cartoons."
Puss Gets the Boot went on to win an Oscar nomination for Short Subjects, Cartoon, as did their third Tom and Jerry short the following year, The Night Before Christmas (1941).  Over the next several years, Hanna and Barbera's Tom and Jerry shorts went on to win seven Academy Awards and were nominated for an additional six.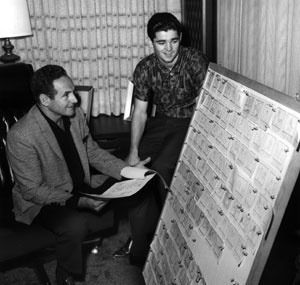 PLANNED ANIMATION
The closure of film animation units in the mid to late 1950s forced William Hanna and Joseph Barbera to reinvent the way animation was presented to the general public. Just as they were unsure about animating a cat and mouse duo in 1938, creating an animation studio devoted to television cartoon production would take talent, innovation, and hard work.  In an 1987 interview, Barbera recalled, "Instead of $45,000 for five minutes like we had at MGM, we got $2,700.  When we first sold Ruff and Reddy, Bill and I were taking in $40 a week for ourselves. I did the storyboards at home.  My daughter Jayne colored in the drawings."