Setsuko and Simon Winchester To Discuss The Yellow Bowl Project at Norman Rockwell Museum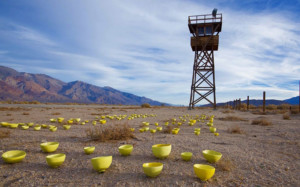 Setsuko Sato Winchester, photo of Manzanar, California.
All rights reserved.
Stockbridge, MA, March 2, 2017—Artist Setsuko Sato Winchester will present a talk about The Yellow Bowl Project, her new conceptual work exploring freedom, at the Norman Rockwell Museum on Saturday, March 25, starting at 5:30 p.m. 
During World War II, the U.S. government opened ten concentration camps to incarcerate 120,000 people of Japanese ancestry who had been forcibly removed from the West Coast. In 2015, Ms. Winchester, a Japanese-American, began a journey to visit all the remains of these camps, most of them now in desolate ruins. The Freedom from Fear/Yellow Bowl Project, consisting of 120 ceramic tea bowls created by the artist and photographed in the camps and related iconic landscapes, focuses on this challenging aspect of American history.
"The intent of this project is to inform and educate," notes Winchester. "[It] may throw light on a discomfiting part of American history – but I hope not to condemn or blame, but help gauge where we are in this ever-evolving experiment we call 'America.'"
Ms. Winchester will be joined and interviewed during the evening by her husband, Simon Winchester, a noted author and journalist whose cogent observations on historical events have appeared in many articles and non-fiction books. A reception will follow the program. The event, co-sponsored by Norman Rockwell Museum and Berkshire Magazine, is free for Museum members or included with Museum admission; program only costs $10.
Setsuko Sato Winchester is a former NPR journalist and ceramicist. Photographs of her Freedom From Fear/Yellow Bowl Project are currently on exhibit at the FDR Presidential Library & Museum in Hyde Park, New York, through December 31, 2017. Learn more about the artist's work at: www.yellowbowlproject.com.