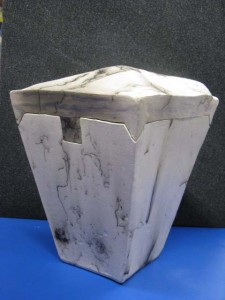 We are in process of hanging the 24th Annual Berkshire County High School Art Show, and there really are some remarkable pieces. This year's show features 118 works from 14 schools from around all of Berkshire County. Admission to the show is always free, and open during regular Museum hours; the exhibition will be on view at the Museum starting February 6th through March 7th, 2010.
When you visit, be sure to look for the amazingly light raku-ware container with the fitted top. You won't be able to touch it, as it is very fragile, but look at the workmanship… it is so well done. Another ceramic piece of note is a tile series finished in an unusual way with colored pencil on the fired textured clay.
Among the two-dimensional work you will find images that are beautifully rendered in pencil and colored pencil, along with paintings and collages that carry poignant messages. There are also images that were created using digital drawing tools, combining a variety of elements including words and pictures, or color and texture in innovative ways.
Join us in celebrating these wonderful pieces, which were created with both thought and creativity by young, developing artists. I'm sure you will have your favorite pieces to mention… there are so many great works.
Our opening reception will be on February 6, from 1 to 4 p.m., with comments by illustrator John Roman at 2 p.m. See you there!