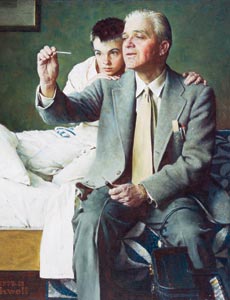 Heritage Museums & Gardens, Sandwich, MA
May 5, 2012 – September 3, 2012

The Norman Rockwell Museum has organized an exhibition of original paintings from the collection of Pfizer Inc by legendary American illustrator, Norman Rockwell. Created for use in advertising campaigns for three pharmaceutical companies and an optical company between 1929 and 1961, these outstanding works celebrate the doctor/patient relationship and portray the physician as a revered figure in mid-twentieth century American culture. Norman Rockwell's time-honored images will be juxtaposed with original works by noted contemporary illustrators who have explored issues of health and well-being for the major publications of our day.
The contemporary component is optional.