DIRECTIONS
Norman Rockwell Museum
9 Glendale Road / Route 183
Stockbridge, MA 01262
413-298-4100
Download a Printable version of Driving Directions (acrobat PDF).
Important note: Many GPS and online maps do not accurately place Norman Rockwell Museum*. Please use the directions provided here and this map image for reference. Google Maps & Directions are correct! http://maps.google.com/
* Please help us inform the mapping service companies that incorrectly locate the Museum; let your GPS or online provider know and/or advise our Visitor Services office which source provided faulty directions.
MUSEUMS FOR ALL / CARD TO CULTURE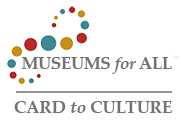 Norman Rockwell Museum is proud to participate in Museums for All and Massachusetts Cultural Council's (MCC) Card to Culture program to offer access for families of all backgrounds to visit museums regularly and build lifelong museum habits.
Museums for All is a cooperative initiative between the Association of Children's Museums (ACM) and the Institute of Museum and Library Services (IMLS). MCC's Card to Culture, joined with the Department of Transitional Assistance, allows free or discounted admission to Massachusetts residents under the Supplemental Nutrition Assistance Program.
Norman Rockwell Museum's participation in the CARD TO CULTURE program is made possible in part by Guido's Fresh Marketplace.
ACTIVE MILITARY / BLUE STAR PROGRAM

The Norman Rockwell Museum is proud to offer free admission programs to active military and their family.
Active U.S. Military welcomed with free admission to the museum year-round.  Valid military I.D. required.
Active U.S. military and immediate family receive complimentary free admission to the museum between May 18 and Labor Day.  Valid military I.D. required.
Parking
Sketching in the galleries and on campus
Visitors may use graphite pencils and drawing pads no larger than 36 x 36 inches. Pastels, crayons, ink paint, tape measurements, and easels are not permitted without prior permission.  Visitors are requested to sit on a stool or bench at least two feet from a work while sketching or writing. You are welcome to sketch and/or paint on our grounds, enjoying our beautiful Berkshire views.
Audio & IPAD Tours
We offer our Award Winning Audio Tour narrated by Peter Rockwell!
We also offer our Rockwell Digital Gallery Tour that you can view on your own smart phone or rent an IPAD. If using your smart phone, you can purchase earbuds for $1.00 at admissions or bring your own. Note: certain smartphones, such as iPhone 7, require an adapter or please bring in compatible earbuds.
Free Public Wi-Fi at the Museum!
Museum Grounds
On the Museum's scenic 36-acre site, enjoy a walk with stunning Berkshire vistas, including gardens, specimen trees, plants (identified with labels), and our sculptures created by Norman Rockwell's son Peter; meander through our field paths to the Housatonic River, or pick an apple from trees planted for each Rockwell grandchild.  Bring your own picnic or select New England favorites from our Terrace Café (open Memorial Day through late October).
Gallery Talks
Museum Store
Dining
GENERAL GUIDELINES
Welcome to the Norman Rockwell Museum! Museum policies are designed to promote the safety of the art and to assure pleasant viewing conditions for all visitors.  Please help us achieve these goals by following these guidelines:
Keep a safe distance between you and each work of art (a minimum of 12 inches).
This helps to avoid accidental touching or bumping. Note the ropes are in place as a reminder of the appropriate distance to remain behind. Please do not point too closely or touch works of art, frames, or cases. Even the slightest touch can leave harmful prints from the natural oils on our fingers.
Please walk.
Running and pushing can cause accidents and disrupt other visitors.
Food & Drink:
Eating and drinking may be done in the lobby, on the terrace and grounds, but are not permitted in the galleries for the safety and care of the art. We recycle! Please note the proper containers by the lobby restrooms and Terrace Café. Picnic tables are also available.
Photography:
Non-flash photography or video with a hand-held camera or mobile device solely for private, non-commercial use, is permitted in the galleries unless otherwise specified. Selfie sticks are not permitted in the galleries.
Personal Items:
Oversized backpacks, backpack child carriers*, or large packages are not permitted into the galleries; lockers are available for your convenience free of charge. *front-facing child carriers are permitted.
Wheelchairs and Motorized Mobility Devices:
These are welcome but must be under the operator's complete control at all times. Wheelchairs are available to borrow free of charge for use in the Museum.  Read more on accessibility…
Service Animals:
The Museum welcomes Service Dogs as recognized by the ADA and the State of Massachusetts. Therapy animals are not recognized by the ADA or State of Massachusetts and therefore not permitted in the Museum.
Pets:
While not permitted in the Museum or Studio, you are welcome to walk your pet on our grounds; please keep them leashed at all times, clean up after them, and use appropriate precautions in leaving them in the car. Stockbridge police will be notified if animals are in danger.
Cell Phones:
Please silence your phone while in the galleries or Rockwell's studio.
Noise:
Discussion in the galleries is encouraged, please keep voices respectfully low. The Museum is a place for looking, thinking, and quiet discussion.
Smoking:
Smoking, including electronic cigarettes, is not permitted in the Museum or on its grounds.
Alcoholic Beverages:
Open containers and/or consumption of alcoholic beverages on Museum property is prohibited unless by permit under town and state regulations.
VISITING WITH CHILDREN
Kids love Norman Rockwell!  Here are some tips on engaging children and having a great visit:
Scavenger/Treasure Hunt:  Have fun exploring our Rockwell collection to locate the correct painting listed on our treasure hunt sheets. A prize is awarded at our admissions desk upon completion!
Audio Tour for Children: Rockwell was a master story teller through his art work. Kids will enjoy hearing his paintings come to life with our Award Winning Tour!
Creativity Center:  Practice your artistic skills or just have fun coloring and reading in our Creativity Center where crayons, worksheets, and children books are provided.
Outdoor Fun: There's plenty to do on our 36-acre site! Climbable sculptures created by Peter Rockwell are a must see, along with pathways, fields, gardens, and river walk.
Talk about good Museum behavior with your child. All children under 10 years of age, must be accompanied and under adult supervision at all times while in the Museum and on the grounds.  Running, pushing, shoving, or other physical acts endanger the artworks, other visitors/employees, and are not permitted.  We are happy to provide the large lawns and climbing sculptures outside for active spaces.  Tree climbing is unsafe, especially the apple trees, as branches easily break.
Infants/Child Carriers/Strollers: Infants can be in carriers worn on the front of an adult.  Please remember your proximity to the artwork.  Carrying infants or children in back carriers or on shoulders is not permitted. Strollers are available to borrow free of charge for use in the Museum.
Changing Tables: Available in the main level restrooms.
Special needs: We welcome and encourage people of all ages and abilities.  Please let us know how we can make your visit comfortable, safe, and fun.  Advance notice is appreciated!
Upcoming Children's Programs/Events
November 25 @ 10:00 am
-
4:00 pm