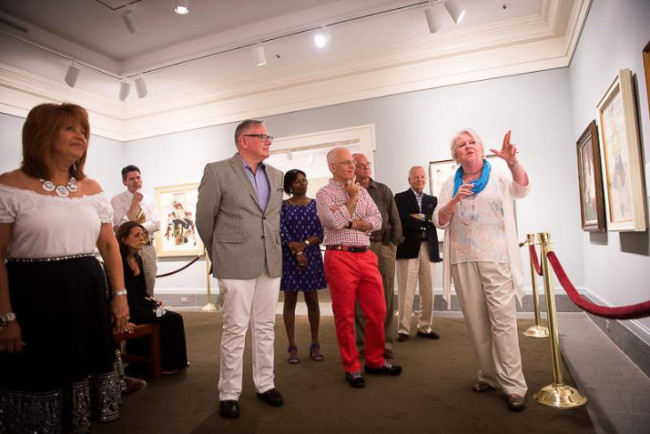 Groups rave about the Gallery Talks and Highlight Tours by our knowledgeable
guides offering deeper insight and little known facts.
GROUPS LOVE NORMAN ROCKWELL MUSEUM
Located in historic Stockbridge, Massachusetts, is one of the most popular New England destinations for groups. The Museum holds the largest and most significant collection of original Rockwell art, including enduring favorites from Rockwell's Saturday Evening Post covers, together with changing exhibitions of works by American illustrators past and present. See what's coming up here.
A visit to Norman Rockwell Museum is an enriching and memorable experience for groups. Enjoy our 10 large galleries, gift shop, and beautiful 36-acre campus featuring Rockwell's original studio, as well as sculptures by his son Peter Rockwell.
The Museum welcomes groups of 15 or more at a discounted admission rate of $18 per person, with complimentary admission for your group leader and driver (non-transferrable).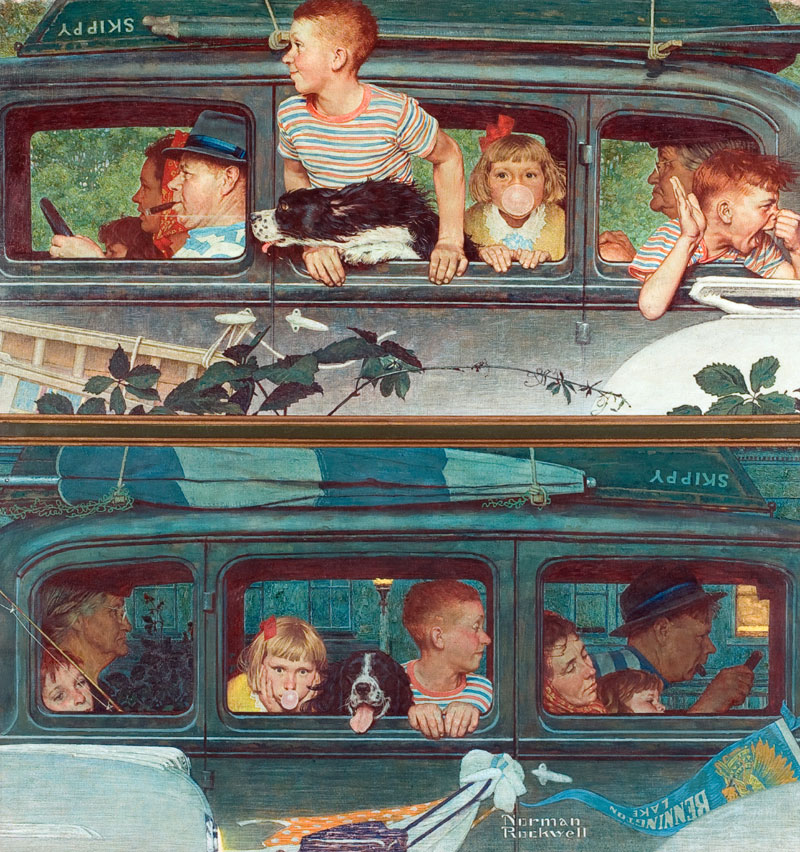 Norman Rockwell (1894-1978), Going and Coming, 1947. Cover illustration for The Saturday Evening Post, August 30, 1947. From the collection of Norman Rockwell Museum. © 1947 SEPS: Curtis Licensing, Indianapolis, IN. All rights reserved.
Groups should allow approximately two hours for their visit. Guided tours of the Museum can be arranged for an additional fee (see options below). The Museum provides wheelchairs, strollers, and lockers free of charge. The Museum and Rockwell's Studio are fully accessible and air-conditioned. There is ample free parking for buses and vans. To help plan your group's activities, check our Calendar of Events for exhibitions and programs on your proposed visit date.
All information is subject to change. Please contact us directly for updates:
GroupContact@nrm.org
413.931.2221
Camp groups $5 per person.
School group prices vary according to program. Click here for more school related information
Highlights of the Collection Tour
Enjoy a specialized one-hour tour led by your own Museum guide. Investigate artworks on view in the Norman Rockwell permanent collection galleries or the exciting world of illustration in the changing exhibition galleries. Guides will inspire interactive discussion with the group.
Fee: $100.00 first group of 20pp. $75.00 additional groups of 20pp per visit plus Museum Group Admission.
NEW Welcome Video for Groups!
Download and play our Welcome video on your bus trip to the Museum; a fun way to get acclimated and ready for a wonderful visit. Helpful tips, FAQs, and relevant background information are sure to enhance your group's visit.
Gallery Talks
Groups are welcome to join in our daily gallery talks, included with admission*. Let our expert guides introduce you to the art and life of Norman Rockwell and the special highlights of our collection. *Please note that during peak visitation periods, space limitations may restrict large group participation in talks; please discuss with the Visitor Services office.

Offered daily at 11 a.m., 12:30 p.m. and 2:30 p.m.
Audio & Digital Guide
Learn about the Museum's collection from Peter Rockwell, Norman Rockwell's youngest son, and other friends of the Museum. Our award-winning audio tour explores the themes of Rockwell's paintings and the importance of his work within American art, history, and culture. A great way to enhance your group's visit.
Fee: $5 per person plus Group Museum Admission.
Site Walk & Talk Tour (seasonal)
Explore the stunning grounds of Norman Rockwell Museum—36 acres of scenic Berkshire landscape. Your tour includes Rockwell's Studio, the Peter Rockwell sculpture walk, and the exterior of the Linwood mansion. Your guide will give an overview of the site and share its rich and colorful history. Approximately 45 minutes, non-strenuous.
Fee: $100.00 first group of 45pp. $75.00 additional groups of 25pp per visit plus Museum Group Admission.
Meet Rockwell's Models
First Friday of most months* at 3:00 p.m. (see calendar) Find out what it was like to pose for America's favorite illustrator from Rockwell's own models, who share their personal experiences.
Free with Museum admission.
Plein Air Art Experience
Enjoy the Berkshire vistas that surround you. We invite you to create your own artworks on our beautiful 36 acre site.
 Contact Visitor Services for further information.
Curator-Led Tours
Share in the expertise and behind-the-scenes knowledge of one of the Museum's curators. Approximately 45 minutes.
Fee: $200.00 first group of 25pp.plus Museum Group Admission. Booked based on availability of curatorial staff.