Special Events – Celebration of Illustration Gala!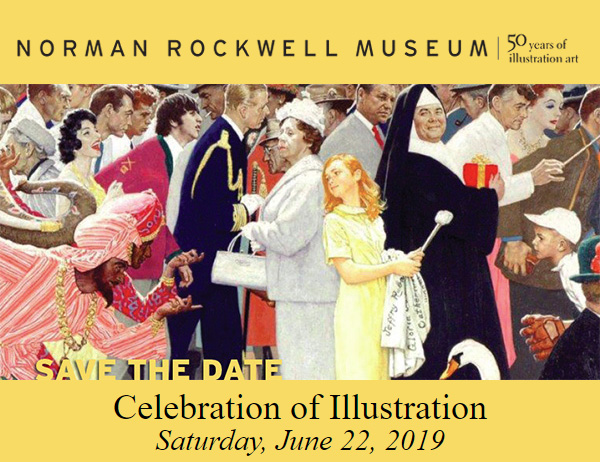 50th ANNIVERSARY
GALA
Celebration of Illustration
Saturday, June 22, 2019
INVITATION SOON
For more information, please contact Bailey Girvan at BGirvan@nrm.org  or call 413-931-2264.
Upcoming Special Events
April 9th, 8:30-10 a.m. – Annual Business Members' Breakfast
Business Members are cordially invited to an Appreciation Breakfast at Red Lion Inn. Hear how one business is leveraging its membership and network with representatives of other businesses. Meet other local business members and enjoy breakfast on us!
May 19th, 5:30-7:30 p.m. – Rockwell Society Reception: Rube Goldberg and His Machines
Rockwell Society members are invited to an after-hours exclusive cocktail reception. Come mingle and create your own Rube Goldberg device, following prompts, and using the materials we assign! Meet your fellow Rockwell Society members and test your creativity.
June 4th, 2019 – October 27, 2019 – Four Freedoms at Caen Mémorial Museum in Caen, France
June 7th, 5:30 – 7:30 p.m. – 50th Anniversary Summer Exhibitions Member/Donor Preview Reception
June 22nd, 6:30 – 11 p.m. – Celebration of Illustration, NRM's 50th Anniversary Gala
Join us for an interactive evening featuring today's illustrators, activities, small plates and cocktails inspired by the artists and friends of Norman Rockwell Museum. The 50th Anniversary celebration is sure to be a night you won't soon forget, with a dance party to follow.  President's and Chairman's Circle members receive complimentary individual tickets to the Gala. Tickets may be upgraded.
July 24th, 12 – 1:30 p.m. – Rockwell Society Annual Director's Luncheon
Director/CEO Laurie Norton Moffatt is pleased to host Benefactor's Circle and above Rockwell Society members for a private luncheon and interesting guest speaker. Join us for an interesting afternoon and the company of your fellow Rockwell Society Benefactor's Circle members.  Invitation with details will be sent prior to the event.

 August 10th,  3:00 – 7:00 p.m. – Inaugural Collective Arts Brewing/NRM Contest Party
 Norman Rockwell Museum & Collective Arts Brewing in collaboration to support the next generation of artists, are excited to announce a national call to art! Art college illustration, and narrative art students, 21 and older, across the country are invited to participate in this unique competition. Our goal is to develop lasting connections and create real world opportunity for young artists. Participating students will engage in a client based relationship with the Norman Rockwell Museum and Collective Arts Brewing.
August 29th, 5:30 – 7 p.m. – Rockwell Society Annual Curator's Talk featuring Justine Fletcher from Coca Cola
Join us for a reception and welcome to the Head Archivist from Coca Cola, Justine Fletcher, who will share her stories about the infamous "Missing Rockwells" as seen on Antiques Roadshow. This event exclusively for Curator's Circle and above.