Join this group of talented individuals and contribute your time while gaining exciting educational opportunities and a broad understanding of museum work and Norman Rockwell's contribution to the field of illustration!
Norman Rockwell Museum offers internships for undergraduate, graduate, and postgraduate students, providing opportunities to acquire educational experience in an art museum that houses the original artwork of Norman Rockwell, one of the nation's greatest artists. Norman Rockwell's iconic images, appreciated by audiences from around the world, capture the scope of 20th-century American life.
Internships are unpaid and may be arranged to accommodate any semester throughout the year ranging from six to twelve weeks depending on school requirements and museum needs. Hours vary depending on placement and availability and include evening and weekend hours as necessary.
Intern benefits include:
Free admission to the museum and the other cultural organizations the museum currently partners with.
Participation in special educational programs with leading artist, curators, and thinkers
25% Museum Store discount
Behind-the-scene museum tours
Magnificent 36-acre park-like campus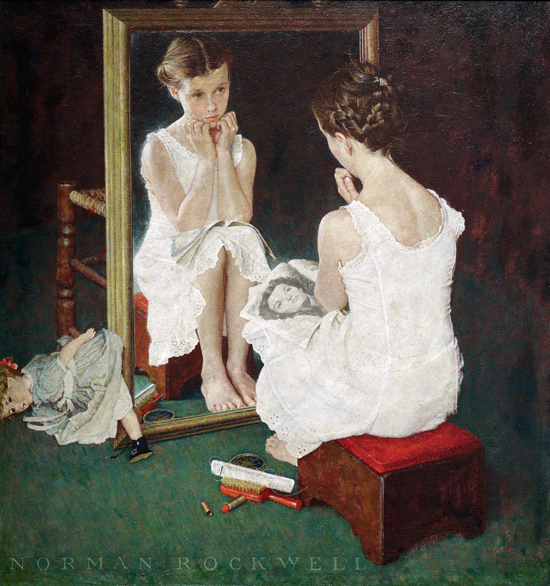 Norman Rockwell (1894-1978), Girl at Mirror, 1954. Cover illustration for The Saturday Evening Post, March 6, 1954. From the collection of Norman Rockwell Museum. © 1954 SEPS: Curtis Licensing, Indianapolis, IN. All rights reserved.
Available Internships for 2020
THE WALT REED DISTINGUISHED SCHOLAR INTERNSHIP
Rockwell Center for American Visual Studies, Norman Rockwell Museum
Now accepting applications for 2020

The Rockwell Center for American Visual Studies offers a named, paid internship in honor of illustration historian, gallery owner, and author Walt Reed in recognition of Mr. Reed's lifelong commitment to scholarship relating to the art of illustration. This internship provides a unique opportunity for third and fourth year college and graduate level students interested in pursuing arts and museum careers to gain practical experience within a nationally accredited organization dedicated to the art of illustration in all its variety.
The intern will spend eight to ten weeks focusing on a project or projects established within the Curatorial/Exhibitions Department. The internship requires at least a four-day-a-week commitment including occasional weekend days.
The intern will receive a stipend of $2,500 in support of their work.
Application Timeline:
January 31, 2020                             Applications Due
February 21, 2020                           Walt Reed Internship Announced
Summer 2020                                    Internship Period
To apply, please provide the following information:
Applicant Letter of Interest
Resume
Two Letters of Reference
Send Applications To:
Jana Purdy, Curatorial Project Manager, jpurdy@nrm.org, 413-298-4100 ext. 227
Stephanie Haboush Plunkett, Deputy Director/Chief Curator,
splunkett@nrm.org; 413-298-4100, ext. 208
About Walt Reed
Walt Reed (1917-2015) was the world's foremost scholar and historian of illustration art. Mr. Reed was trained as an illustrator at Pratt Institute in Brooklyn and the Phoenix Art Institute in New York City, and freelanced as a book illustrator prior to joining the instructional staff of the Famous Artists School in Westport, Connecticut. There he worked with some of America's most prominent illustrators, including Norman Rockwell, Steven Dohanos, Robert Fawcett and Albert Dorne. Reed served as editor for North Light Publications from 1972 to 1976. In 1974, he founded Illustration House, Inc., a gallery specializing in the field of illustration and dedicated to the preservation of this vital form of American art. His many books on the subject of illustration include The Illustrator in America; Harold von Schmidt Draws and Paints the Old West; John Clymer, An Artist's Rendezvous with the Frontier West; An Artist's Rendezvous with the Frontier West; Great American Illustrators; The Magic Pen of Joseph Clement Coll; The Art of Tom Lovell—an Invitation to History; and Harvey Dunn: Illustrator and Painter of the Pioneer West. Reed also designed the Bicentennial 50 State Flag stamps for the U.S. Postal Service in 1976 and was a consultant on several subsequent stamp projects.
About The Rockwell Center for American Visual Studies
The Rockwell Center for American Visual Studies at the Norman Rockwell Museum is the nation's first research institute dedicated to the integrative study of American illustration and its impact in our world. The Rockwell Center's goal is to enhance and support scholarship relating to this significant art form, exploring the power of published images and their integral role in society, culture, and history, and the world of art―from the emergence of printed mass media in the mid nineteenth century to the innovations of digital media today.
 Finance/Accounting Internship
Summer – Open
Fall – Open
Winter – Open
This is an opportunity to learn and work on a wide range of important accounting functions including month-end financial reports, accounts receivable, accounts payable, annual audit and the creation of new reports. Project opportunities include:
Project management development
Policy and procedure manual development
Candidates should be business, finance, management or accounting majors. Proficiency in Microsoft Office applications, especially Excel and familiarity with financial databases are helpful. Attention to detail, the ability to multi-task, confidentiality and excellent communication skills are all essential.
Marketing & Communications Internship
Summer – Open
Fall – Open
Winter – Open
Full or part time, an internship for creative and energetic individuals, inspired and motivated to be actively involved in spreading the word about Norman Rockwell and the art of illustration! Seeking self-starters with great initiative, able to work with the team and independently. Meet artists, press, and connect with marketing and museum colleagues and vendors, and regional community. Social media, HTML, Word, Excel, WordPress, and InDesign experience ideal, but not necessary. Internship credit available – and great resume builder. Project opportunities include:
Advertising: media research, media planning, results analysis, ad copywriting, design reviews, online advertising monitoring and evaluation.
Marketing: explore and support outreach to target markets; collaborative opportunities; innovative promotions; visitor surveys, compilation and analysis; email marketing.
Public relations: assist with press research, release writing, on-line listings, updates to on-line press resources, blog posts.
Social media: expand and assist with developing Museum's presence on various channels; investigate opportunities, quantify results and success.
Website: research, comparative analysis and benchmarking with other cultural organizations and destinations, google analytics, create blogs, quality control and design suggestions, online surveys.
Graphics: assist with creation of in-house projects, especially for gala, store, café, and cross-promotions internally and externally.
Photography; candid, documentary, and product photos needed. Assist with organizing and categorizing photo library.
Digital Engagement Internship
Summer – Open
Fall – Open
Winter – Open
The Digital Engagement internship is available within the Digital Engagement and Learning Department; part time with flexible hours between 10am-5pm during the workweek for an approximate 10-week period.
The Digital Engagement Intern will be offered educational opportunities to work on production and research projects with various digital platforms. Projects may include:
User Interface (UI) and User Experience (UX) design.
Content and media research and creation.
Media asset management.
Website development
Web metrics and analysis.
Audio and video production assistance.
Individuals must be self-starters and results oriented with great entrepreneurial spirit with the ability to work on an assortment of projects concurrently either independently or as part of a team.
Candidates should have a strong background in or working toward a degree in computer science and/or digital media production. Working knowledge of HTML5 and JavaScript development, database management, and/or media production and management is strongly recommended.
Development Internship
Summer – Open
Fall – Open
Winter – Open
The Development Office works with individuals, corporations, foundations, and government agencies to support every facet of the Museum. The development internship will provide firsthand experience in institutional giving, an important and high-demand aspect of non-profit fundraising. The intern will learn how to increase charitable contributions by working on various projects and participating in research and fundraising strategies.
Intern projects and learning experiences may include:
Train to work on research, marketing, and fundraising event projects.
Learn and understand development processes such as solicitation mailings, processing donations, and generating membership renewals and acknowledgements.
Work on special project assignments to increase development job function skills such as maintaining paper files including corporate and business files, in-kind contributions files, special project files, government grants files, and foundation files; coordinate materials to supplement grants and foundation, corporate, and individual proposals and applications
Be present at special events, openings, corporate events, membership cultivation activities, luncheons, etc., as requested.
Strong interpersonal skills and precise attention to detail are required. Must be computer literate and have knowledge of and ease with Microsoft Office. Must effectively interact with members of the Development staff, as well as other museum departments. Experience conducting online research preferred. Please include a writing sample with your application.
Graduate students in museum studies, non-profit management, arts administration, or library science are encouraged to apply.
Visitor Services Internship
Summer – Open
Fall – Open
Winter – Open
This internship is an excellent opportunity for an undergraduate and graduate student studying Hospitality and Tourism. It includes a variety of activities to best serve the diverse visitation during a busy seasonal operation. This opportunity is available to individuals wishing to contribute their time and abilities to the service of the museum's visitors, including general visitors, bus tour groups, school groups, visitors with special needs, and others. Interns provide important support for the Norman Rockwell Museum's staff, volunteers, and visitors. The internship program focuses on valuable hands-on experience, ongoing training sessions, and formal instruction where needed. Learning opportunities include:
Greeting tour busses
Assist in Audio and Digital tour  instruction
Manage crowd control
Website review-Visitor tools
Updating Restaurant lists
Poster/Flyer distribution (mileage paid)
Assisting with Social Media- Facebook Live
Special projects such as audience surveys and benchmarking research with other cultural institutions
Strong organizational, customer service skills, and the ability to work independently are necessary.  Students work under the Manager of Visitor Services and Director of Visitor Services.  One weekend day is required.
How to Apply
Complete the application form available here. Select one area of interest on the application.
Write a letter of intent outlining your reasons for wanting to intern at the Norman Rockwell Museum.
Email your application, letter of intent, a copy of your resume, and two work-related references to Employment@nrm.org. Please put "Internship Application" in the subject line.
Once the applications are reviewed, you will be contacted by the Museum informing you of your status. Typically one intern for each area will be accepted. Selected candidates must be able to interview at the Norman Rockwell Museum unless there are exceptional circumstances. In such cases, a phone and/or web-based interview may be possible.
Download an application here >
For additional information, please contact:
Holly Coleman
Director of Human Resources
413.931.2228
Norman Rockwell Museum
P.O. Box 308
Stockbridge, MA 01262
Although housing is not available, we may be able to assist in finding affordable housing and part-time employment within the Berkshire community.
Read the Museum's mission statement >
College Credit: Interns seeking college credit are responsible for making all arrangements with their institutions prior to their arrival. Norman Rockwell Museum is not able to provide financial compensation.
Application Deadlines 2020:
Summer – submit by April 30
Fall – submit by August 30
Winter – submit by November 30