Introduction:
ProjectNORMAN
(New Online Rockwell Media Art & Archive Network) is preserving and making the Norman Rockwell Museum art and archival collections accessible to researchers, curators, students and the general public. The decade-long project, begun in 2003, advances collections care and management, and accessibility to Norman Rockwell's work and cultural importance. ProjectNORMAN , is a ten-year, comprehensive online publishing project to preserve, catalogue, computerize and digitize its collection of original artworks and archival objects, making them accessible to researchers worldwide.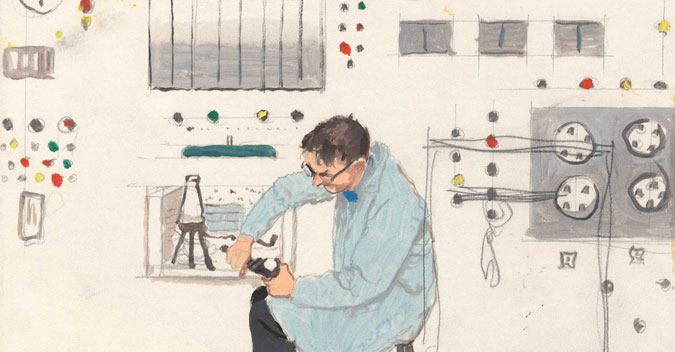 Major projects to date:
The acetate negative collection
The digitization of archival collections began with film-based materials in 2005, with a Save America's Treasures grant from the National Endowment for the Arts/National Parks Service. The film negatives in Rockwell's files served as the artist's references for individual paintings and drawings. They were identified, organized and re-housed into archival enclosures, scanned, and entered into the Museum's collections management database. The physical film-based objects were sealed in air-free, PH-neutral materials and placed in long-term storage in a conservation-approved frost-free freezer.
The enormous task of retrieval, organization, cataloging into the collections management database, scanning, and permanent storage for the negatives took two full years. By fall 2007, all of the images were uploaded into the system and all of the sheet and roll film was rehoused into freezer storage.
Audio reel-to-reel recordings
Understanding the fragility of magnetic tape, Museum staff migrated all reel-to-reel recordings to an electronic format. The eleven tapes within the collection feature an important lecture by Norman Rockwell delivered at the Art Center College of Design in Los Angeles in 1949, and eight excerpts from his television appearances on programs including The David Frost Show in 1970.
Norman Rockwell: a digital catalogue
The Museum now has digital accession records on all of the artwork in its collections as well as digital images associated with the records. This was due to support from a 2006 grant awarded by the Institute of Museum and Library Services which enabled the hiring of two fulltime cataloguers. They completed an updated physical inventory of the Museum's collections of artwork in 2006-2007 in preparation for expanded entries into new collections management software. The cataloguers also entered each of the 4,000 records and images from Rockwell's catalogue raisonne, Norman Rockwell: A Definitive Catalogue (Norman Rockwell Museum: 1986) and all of the 672 addendum records of the artist's documented work into the collections management database. The addenda records, compiled since the publication of the Definitive Catalogue, include new works attributed to Norman Rockwell.
After the grant period ended, one of the cataloguers was retained fulltime, who completed the subject cataloging of all digital records for artworks within the collections management software. These subject terms were drawn from the Library of Congress Thesaurus for Graphic Materials.
Norman Rockwell's Stockbridge studio
In 2007, Museum staff members completed the physical inventory and digital photography of over 3,000 two-and three-dimensional objects in Norman Rockwell's studio, from paintbrushes to furnishings, and associated these images with their digital accession records within the collections management database.
Archival arrangement and description
Through a 2008 grant from National Endowment for the Humanities, the Museum was able to hire its first professional archivist in 2009. The focus of the archivist's work has been a two-year project to arrange and describe Norman Rockwell's correspondence collections, and, through an NHPRC basic processing grant, to create collection level MARC and EAD records of all archival collections. The end products of the archivist's work will be digital finding aids, enabling ease of access to both staff and outside researchers. These finding aids will be made available via the Museum's website, and in national union catalogs such as WorldCat.
The Stockbridge models project
The Stockbridge Community Preservation Committee has provided annual funding since 2008 towards the research and preservation of archival collections that include information or images regarding Norman Rockwell's Stockbridge models. The project, which incorporates physical organization, digitization, and oral history interviews, is in its fourth and final year, and has cemented the Museum's role as a leader in its local community.
Public Access Implementation Plan
In 2009, a grant was awarded from the Institute of Museum and Library Services to assist with the planning and implementation of the Museum's on-line collections. Scheduled to be completed by the end of 2010, the grant funded the purchase of software which converted the internal collections management system into a customized, searchable, on-line database.
Looking ahead:
Digitization, archival processing, and entry into collections databases is ongoing. However, already this initiative has enabled researchers, scholars, art historians, collectors, educators, and students to view primary source materials on a digital platform.
Additionally, ProjectNORMAN continues to advance internal humanities programming at the Museum, making it easier for its own staff to prepare national exhibitions, symposia, and scholarly publications, and to stimulate national collaboration, investigation, and scholarship about American illustration art.
The Norman Rockwell Museum would like to thank the many supporters and sponsors of ProjectNORMAN, including:
National Endowment for the Humanities; National Historical Publications and Records Commission; Institute of Museum and Library Services; Save America's Treasures; National Endowment for the Arts; Henry Luce Foundation; Town of Stockbridge Community Preservation Committee; and several generous private corporate and family foundations.