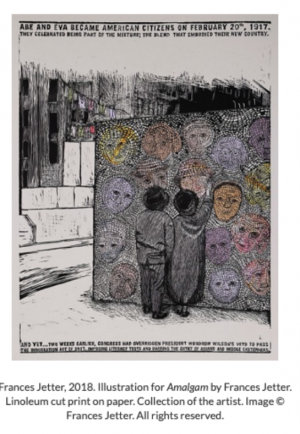 In Walnut Creek, Calif., a young mother walks into the library and finds a refuge. Yuyi Morales came with her young son Kelly from Mexico to the Bay Area, where his father's family lived.
"Migrantes, you and I," she writes in her award-winning book, "Dreamers." "The sky and the land welcomed us in words unlike those of our ancestors."
In the illustration she holds her young son, and the red ribbon in her hair adds a touch of color to a grey day. That welcome can have an edge to it. In the sky, words form backwards like fingers writing on a fogged window — say something. Speak English.
When she came to California, at first she spoke only Spanish. At the library she could could learn English. She and her son could look at picture books. Her own illustrations brim with the ideas they found, constellations and fish swimming off the reef, and monarch butterflies that migrate more than a thousand miles, from the Rocky Mountains to the pine-oak forests of Michoacan.
"We are two languages," she writes, exploring her new home with her son. "We are resilience "
She lives in Mexico now, a Caldecott Honor artist and six-time Pura Belpre winner
and she is joining artists Frances Jetter, David Macaulay and James McMullan in a group show, "Finding Home: Four Artists' Journeys," opening Sunday at the Norman Rockwell Museum, where it will be on view through May 20.
Immigrant Stories unfold in new exhibit at Norman Rockwell Museum, Berkshire Eagle, November 7, 2019