The Spirit of Giving Illustrated
November 16, 2019 through February 9, 2020

This holiday season, classic Rockwell artworks from our permanent collection will feature his 1923 Christmas Trio, a bundled-up group of Dickensian carolers and musicians giving the gift of music, and Christmas Homecoming, a festive family scene brimming with smiles, will be joined by never-before-exhibited images from two private collections.
Visitors will enjoy their encounter with Sprite Boy, who offers up a chilled bottle of Coke. This impish elfin figure adorned with a bottle cap was developed in 1942 by Chicago artist Haddon Sundblom. Known for his ebullient Coca-Cola Santa, Sundblom took inspiration from Clement Moore's famous poem "A Visit from St. Nicholas" when creating his bright-eyed, rosy-cheeked icon, which was emulated by Rockwell and many other published artists. A heartwarming vision of Santa quietly filling the stocking of a sleeping child by beloved nineteenth century author/illustrator Kate Greenaway will be on view along with Harold Anderson's department store Santa, who embodies the spirit of giving by sharing his sandwich with a hungry dog on a cold winter's day.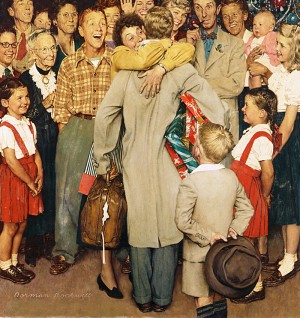 Christmas Homecoming, Norman Rockwell. 1948. Oil on canvas, 35 ½ x 33 ½". Cover illustration for The Saturday Evening Post, December 25, 1948. From the permanent collection of Norman Rockwell Museum. ©1948 SEPS: Licensed by Curtis Publishing, Indianapolis, IN
ABOUT THE ARTISTS
Kate Greenaway was born in Hoxton, London on March 17, 1846 to John and Elizabeth Greenaway, a woodblock printer and seamstress who were determined to give their offspring better childhoods than they had. Though both parents worked hard to provide for their children, the Greenaway family did fall on hard times, which forced them to move from place to place while Kate was young. Many people characterized Kate as an "odd" child, who differed from her siblings in that she spent a great deal of time using her imagination, to escape the stresses of her childhood. Kate is frequently quoted as saying, "I had such a very happy time when I was a child, and curiously, was so very much happier than my brother and sister, with exactly the same surroundings. I suppose my imaginary life made me one long continuous joy—filled everything with a strange wonder and beauty."  Learn more…
Born in New York City in 1894, Norman Rockwell always wanted to be an artist. At age 14, Rockwell enrolled in art classes at The New York School of Art (formerly The Chase School of Art). Two years later, in 1910, he left high school to study art at The National Academy of Design. He soon transferred to The Art Students League, where he studied with Thomas Fogarty and George Bridgman. Fogarty's instruction in illustration prepared Rockwell for his first commercial commissions. From Bridgman, Rockwell learned the technical skills on which he relied throughout his long career. Learn more…
The son of Scandinavian immigrants, Haddon Sundblom is best known for his illustrations of Santa Claus for Coca-Cola advertisements. He illustrated Coke's Santa from 1931 to 1964, though Sundblom's Santa is so entwined with Christmas and Coke, the company continues to use his paintings to promote their product. So important was the relationship between Sundblom and Coca-Cola that his version of Santa remains the most recognizable.  Learn more…
RELATED EVENTS
There are no upcoming events at this time.
MEDIA
There is no media about this exhibition at this time.
VENUE(S)
Norman Rockwell Museum, Stockbridge, MA      November 16, 2019 through February 9, 2020
RELATED PRODUCTS
There are no related products for this exhibition at this time.
DIRECTIONS
Norman Rockwell Museum
9 Route 183
Stockbridge, MA 01262
413-298-4100 x 221
Download a Printable version of Driving Directions (acrobat PDF).
Important note: Many GPS and online maps do not accurately place Norman Rockwell Museum*. Please use the directions provided here and this map image for reference. Google Maps & Directions are correct! http://maps.google.com/
* Please help us inform the mapping service companies that incorrectly locate the Museum; let your GPS or online provider know and/or advise our Visitor Services office which source provided faulty directions.