In Memorium;
Marion Simon, Trustee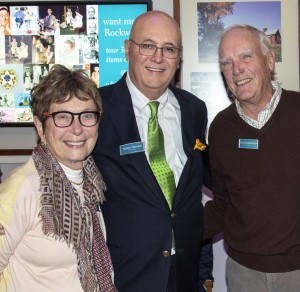 Anyone who met Marion Simon knew immediately two things: she lived her life to the fullest and spent most of her time and resources doing good in the world. (Left to right: NRM Board Members: Marion Simon, Robert Horvath, and David Klausmeyer. Photo by Rebecca Barrow.)
Marion and I met shortly after the death of her husband, Len, when she was seeking some new outlets. She and Len had been working as part of a collaborative group which founded a chapter of VIM (Volunteers in Medicine) which recruited retired physicians to treat uninsured people.  VIM Berkshires became the 30th VIM facility nationally, the first in New England and is still the only one in Massachusetts. We immediately connected through her previous work with museums at the Eastman House in Rochester, and she was filled with ideas for Norman Rockwell Museum.
Marion joined the National Council in 2011 and one of the first things she did was put her network to work and help host an event in New York for the Museum's collectors. Marion loved amplifying ideas and eagerly volunteered to assist with a project partnering with the United Nations. An exhibition was organized by the Museum to commemorate the 70th anniversary of the United Nations and the reopening of the General Assembly following a major renovation. Norman Rockwell created an inspiring drawing to illuminate the idea of the United Nations  which was rendered in an oversized striking image of the Golden Rule which shines brilliantly from the walls of the UN in a glass tile mosaic. Marion lived just around the corner and welcomed the Museum's friends and leadership to her home following the exhibition opening.
Before long she fell in love with the Museum's work with children, and wanted to lead as a trustee. One of her first contributions was to form and chair an Education Committee of the board to provide support and ideas to the Museum's education programs and audiences. The lively discussions and idea generation were a reflection of Marion's interest in making a difference.
Marion was a joyful and effective philanthropist. As a former fundraiser, Marion understood the connection between great ideas and connecting the resources to make them happen. Her enthusiasm when describing an education project was compelling and easily convinced people to ask how to help. Her own and her family's generosity were instrumental in advancing the Museum's mission. A veteran world traveler, Marion loved taking trips with her children and grandchildren. One of her last dreams was to travel to Normandy to see Norman Rockwell Museum's exhibition Enduring Ideals: Rockwell, Roosevelt and the Four Freedoms in its beautiful installation at Le Memorial de Caen. She participated fully with a group of exhibition sponsors and museum patrons to the American Cemetery and Allied Beach Landing sites just days before her passing.
Marion did everything with purpose and selfless generosity. Norman Rockwell Museum Community will miss her greatly and sends our condolences and warmest wishes to her family.
Laurie Norton Moffatt
Director/CEO
Marion's obituary can be found here.