September 2019 Day-by-day Calendar of Programs and Events at Norman Rockwell Museum
Images available upon request
Press contact:
Margit Hotchkiss
Chief Marketing Officer
presscontact@nrm.org;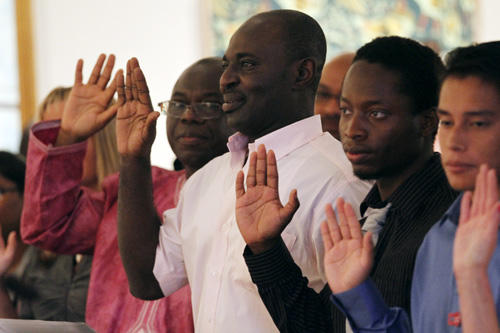 Exhibitions Through October 27, 2019
Woodstock to the Moon: 1969 Illustrated
From man's first steps on the moon to a gathering of 400,000 concertgoers on a farm in Upstate New York, 1969—the year of the Museum's founding—witnessed momentous cultural transition. Culled from the Museum's collection and private and public collections around the country, this exhibition illuminates how Rockwell and other illustrators portrayed their times and reflected popular culture during the final year of a tumultuous decade.
Norman Rockwell: Private Moments for the Masses
This exhibition offers a behind-the-scenes look at the autobiographical elements in Rockwell's work, examining his carefully constructed fictional scenes for the covers and pages of American publications.
Inspired: Norman Rockwell and Erik Erikson
Discover how artist Norman Rockwell and psychotherapist Erik Erikson, both giants in their fields, fueled and influenced aspects of each other's work.
For the People: Memories of the Old Corner House
Commemorative installation for the 50th Anniversary of the founding of Norman Rockwell Museum at The Old Corner House on Main Street, Stockbridge.
Through October 31
A Day in The Life: Norman Rockwell's Stockbridge Studio
Explore Norman Rockwell's original Stockbridge studio, reinstalled to look as it did in 1960, when the artist was working on his iconic Golden Rule painting.
Available DAILY
Norman Rockwell's 323 "Saturday Evening Post" Covers
Revisit all 323 Saturday Evening Post covers created by Norman Rockwell, who considered the magazine to be the "greatest show window in America."
ArtZone
Explore your "inner Rockwell" by creating your own works of art in the Museum's creativity center. Free for Museum members and children 18 and under, or included with Museum admission.
Featured Exhibition Gallery Talks
Daily through October 27, 10:30 a.m and 2:00 p.m.
Make the most of your visit and let our expert guides introduce you to our special exhibit Inspired: Norman Rockwell and Erik Erikson gallery talks at 10:30 a.m. and Woodstock to the Moon: 1969 Illustrated gallery talks 2:00 p.m. The gallery talks are about 15 minutes in length and are FREE with Museum admission.
Rockwell Gallery Talks
Enjoy daily gallery talks on the art of Norman Rockwell starting at 11 a.m., 12:30 p.m. and 2:30 p.m. Daily gallery talks of the Museum's special exhibitions will be held at 10:30 a.m. and 2 p.m. Free for Museum members and children 18 and under, or included with Museum admission.
SEPTEMBER PROGRAMS & EVENTS BY DATE
Thursdays, through October 31
Historic Property Walks
2 p.m.
Enjoy a guided walk on the Museum's 36-acre site and learn about Peter Rockwell's sculptures, the indigenous Mohican Indians, our view of Monument Mountain, and the historic Linwood house, an 1859 Berkshire Cottage. End at Norman Rockwell's own Stockbridge Studio.
Fridays, September 13, October 11
Meet a Rockwell Model
3 p.m.
Find out what it was like to pose for America's favorite illustrator from Rockwell's own models, who will share their personal experiences.
Friday, September 20,
United States Citizenship Naturalization Ceremony
10 a.m.
Join us to honor new U.S. citizens who take their oath against a backdrop of Norman Rockwell paintings. Presented in collaboration with the Berkshire Immigrant Center and the Literacy Network of South Berkshire. Please note ceremony seating reserved for new citizens and their families; visitors may observe from adjacent galleries. Admission is free for the new citizens and their families; Museum members, or with regular Museum admission. Sponsored by Berkshire Bank Foundation.
Saturday, September 28
Artist Talk & Booksigning – Wendell Minor: Getting to Know Norman Rockwell
5 p.m.
Jump into the process of creating a children's picture book with Wendell Minor, whose beautifully illustrated story, Hi, I'm Norman, employs a first-person narrative to engage young readers with Rockwell's life and career. The artist's striking visual narratives have appeared on nearly 2000 book covers and in over 50 children's books. Original artworks will be on view. Refreshments and a book signing will follow the program. Tickets: $25, $15 members.
ADMISSION DETAILS
Norman Rockwell Museum is open daily, except on New Year's Day, Thanksgiving, and Christmas. Hours:  November-April: 10-4 Monday through Friday, and 10-5 weekends; May-October: 10-5 every day. General public admission is $20 for adults, $18 for seniors,  $17 for military veterans (with valid ID), $10 for college students, and free for children 18 and under. For more information, call 413.931.2221, or visit www.nrm.org