Norman Rockwell Museum Hosts
"Muppets on Parade: Sesame Street at 50"
Sesame Workshop Creative Director to Speak and Demonstrate "Still Performance" with Armatured Muppet
Sesame Street and Norman Rockwell Museum Celebrate 50th Anniversaries
Images available upon request
Press contact:
Margit Hotchkiss
Chief Marketing Officer
presscontact@nrm.org;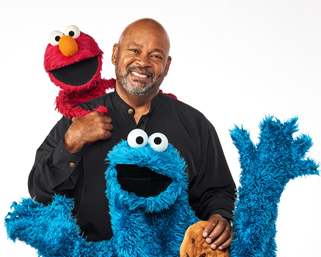 Photo of Louis Henry Mitchell with Elmo™ and Cookie Monster puppet™ Courtesy of Sesame Workshop. Sesame Workshop® Sesame Street®, and associated characters, trademarks, and design elements are owned and licensed by Sesame Workshop. © 1970 Sesame Workshop. All Rights Reserved.
WHAT: Louis Henry Mitchell, Creative Director of Character Design at Sesame Workshop, will offer a behind-the-scenes glimpse of one of the most beloved children's programs of all time and explore the elements of character design that bring Sesame Street's Muppets to life. During this family friendly talk Mitchell will demonstrate how he creates still performances during photo shoots using an armatured Muppet.
Mitchell began working at Sesame Street in 1992 and he has provided creative direction in many ways, from directing photo shoots to designing storyboards, characters, and even the Big Bird balloon for the Macy's Thanksgiving Day Parade. He is the designer of Julia, Sesame Street's new Autistic character, and personally directed the building of this important new addition.
WHY: Founded in 1969, both Sesame Street and Norman Rockwell Museum celebrate their 50th anniversary this year. The Museum's exhibition Woodstock to the Moon: 1969 Illustrated feature many Sesame Street illustrations and Cookie Monster puppet. Norman Rockwell was one of the greatest influences on Louis Henry Mitchell's work, which continues to this day.
WHEN: Tuesday, July 16
4:30 p.m. Lemonade on the Terrace
5:00 p.m. Talk/Performance in the Main Gallery
Tickets: $15 members, $25 non-member. Children 18 and under free.
https://www.nrm.org/event/muppets-on-parade/