Celebrate the 50th Anniversary of the 1969 Moon Landing
at the Norman Rockwell Museum Experience 'One Giant Leap for Mankind' through Original Art, Photographs,
and Archival Footage on Display at the Museum
Images available upon request
Press contact:
Margit Hotchkiss
Chief Marketing Officer
presscontact@nrm.org;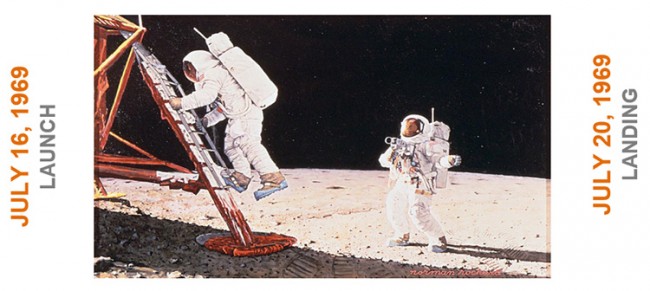 Norman Rockwell (1894-1978), The Final Impossibility: Man's Tracks on the Moon 1969. Collection of the National Air and Space Museum, Smithsonian Institution. ©Norman Rockwell Family Agency. All rights reserved.
WHAT
The Norman Rockwell Museum invites the press and public to celebrate the 50th anniversary of the Apollo 11 moon landing with a visit to the special exhibition Woodstock to the Moon: 1969 Illustrated. In addition to Rockwell's original oil painting of the first human step on the moon, created for Look magazine and by special arrangement with NASA, the exhibition includes a rich selection of historically significant artifacts and memorabilia that bring to life this historic achievement and its worldwide impact.
A special gallery talk will focus on Rockwell's painting: The Final Impossibility: Man's Tracks on the Moon
WHEN
Thursday, July 18, 2019
5 – 7 pm
Moon Landing Family Night
Explore, create, and celebrate the historic
Apollo 11 mission. Family-oriented gallery
chats, art-making, dance, and lawn games.
 Saturday July 20, 2019
10 a.m. – 5 pm
Moon Walk 50th Anniversary
Special Gallery talk at 2 pm
Woodstock to the Moon: 1969 Illustrated is on view through October 27, 2019.
WHERE
Norman Rockwell Museum, Stockbridge, MA
ADMISSION
Programs are free with Museum admission: $20, $18 for seniors, $17 for military veterans, $19 for students, free for children 18 and under.
ROCKWELL'S PAINTING
On July 16, 1969, Apollo 11 launched into space, embarking on a historic mission; four days later, on July 20, the first human steps were taken on the moon. Commissioned for Look magazine's December 30, 1969, issue and by special arrangement with NASA, Rockwell created the stunning depiction of that moment with his painting The Final Impossibility: Man's Tracks on the Moon, depicting Neil Armstrong standing on the moon's surface, with co-pilot Edwin E. (Buzz) Aldrin, Jr. descending from the lunar module "Eagle." Rockwell captured the historic moment when Armstrong radioed the words that would be etched into the world's collective consciousness: "That's one small step for man, one giant leap for mankind."
 Thanks to a special loan from the collection of the National Air and Space Museum, Smithsonian Institution, Rockwell's original oil painting is currently on view in the Museum's exhibition Woodstock to the Moon: 1969 Illustrated. The exhibition includes numerous objects related to the moon walk, including a photograph, taken by astronaut Neil Armstrong of astronaut Edwin E. (Buzz) Aldrin Jr., walking on the moon, a scale-model NASA lunar lander from the 1960s, illustrations by artists Wendell Minor and John Berkey and archival footage of the actual moon landing and first steps are playing in the gallery.
Rockwell and the Moon Landing
Shortly after the safe return of the astronauts and their Eagle capsule, Norman Rockwell was invited to the NASA Manned Spacecraft Center in Houston, Texas, in August of 1969, to conduct research and take photos for the commissioned illustration Moon Landing. Rockwell had already worked with the NASA Art Program team twice before, creating imagery that included a1967 "precursor" painting of what the moon landing might look like, entitled "Man's First Step on the Moon."   A stickler for minute details, for his commissions with NASA, Rockwell met the astronauts; toured mission control, training grounds and full-size lunar test modules. For his 1965 painting Grissom and Young, he even pleaded for access to the actual space suit.
According to the history of NASA's art program, Rockwell "desperately wanted a spacesuit so he could get all the details in his painting of Grissom and Young suiting up for the Gemini 3 mission. But NASA officials refused on the grounds that there was a lot of secret technology in the suits and they couldn't release one. Dean (James, Dean, Director of NASA's Art Program) worked as the go-between, and it was not looking good.
"'I had Deke Slayton mad at me on one side and Norman Rockwell aggravated at me on the other.' Dean recalled.
"The compromise was that a technician accompanied the suit up to Rockwell's studio and sat with it every day as Rockwell worked. The technician's reward was to be included in the piece as one of the people helping the astronauts."1
For more on Rockwell's relationship with NASA and the NASA Art Program;
https://www.nasa.gov/50th/50th_magazine/arts.html
https://www.airspacemag.com/daily-planet/nasa-art-returns-to-washington-179412305/
https://airandspace.si.edu/collection-objects/norman-rockwell-and-friend
About the Norman Rockwell Museum
Celebrating its 50th Anniversary in 2019, the Norman Rockwell Museum is dedicated to education and art appreciation inspired by the legacy of Norman Rockwell. The Museum holds the world's largest and most significant collection of art and archival materials relating to Rockwell's life and work, while also preserving, interpreting, and exhibiting a growing collection of art by other American illustrators throughout history. The Museum engages diverse audiences through onsite and traveling exhibitions, as well as publications, arts and humanities programs, including the Rockwell Center for American Visual Studies, and comprehensive online resources. www.nrm.org/
Located on 36 park-like acres in Stockbridge, Massachusetts, Rockwell's hometown for the last 25 years of his life, the Museum is open seven days a week, year-round; closed Thanksgiving, Christmas, and New Year's Day. Museum hours from May through October are: 10 a.m. to 5 p.m. daily, open until 7 p.m. on Thursdays during the month of August; from November through April: 10 a.m. to 4 p.m., Monday through Friday, 10 a.m. to 5 p.m. on weekends and holidays. Rockwell's studio is open May through November 12, 10 a.m. to 5 p.m.
Museum admission is $20, $18 for seniors, $17 for military veterans, $10 for students, and free for children 18 and under.
Norman Rockwell Museum welcomes EBT cardholders and active U.S. military members with free admission throughout the year. Additionally, we are a Blue Star museum and offer active U.S. military personnel and their immediate family, complimentary admission from Memorial Day through Labor Day.
Visit the Museum online at www.nrm.org.
CONTACT: Margit Hotchkiss
Chief Marketing Officer
presscontact@nrm.org; 413.931.2240
1 By Rebecca Maksel, airspacemag.com. May 27, 2011
https://www.airspacemag.com/daily-planet/nasa-art-returns-to-washington-179412305/