Woodstock to the Moon: 1969 Illustrated
June 8 through October 27, 2019

In celebration of Norman Rockwell Museum's 50th Anniversary, we look back at the many ways illustrators portrayed news events and reflected popular culture in 1969.  Norman Rockwell's own work reflected the changing times with his iconic depiction of the moon landing, an album cover he painted for rock musicians, and a tribute to the final issue of The Saturday Evening Post.  Following one of the darkest years in post-War America, in which Martin Luther King, Jr. was slain, a presidential hopeful was assassinated, the U.S. military faced setbacks in the war in Vietnam with the Tet Offensive and the My Lai Massacre, and college students led campus protests, the events of 1969 symbolized a time of hope and contrasts.
The year began when a new president was inaugurated, promising to bring troops home from Vietnam.  A "small step for a man" on the moon was followed by a gathering of 400,000 concertgoers reveling in "three days of peace and music" at Woodstock.  The exhibition will include the famous concert poster as well as other inventive and psychedelic art as depicted in album covers and posters of bands such as Led Zeppelin, The Who, and the Grateful Dead.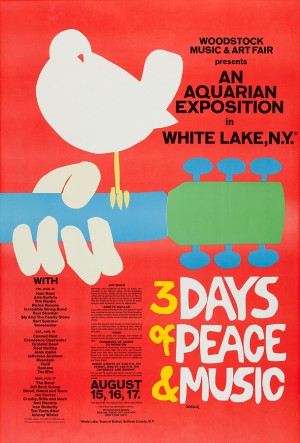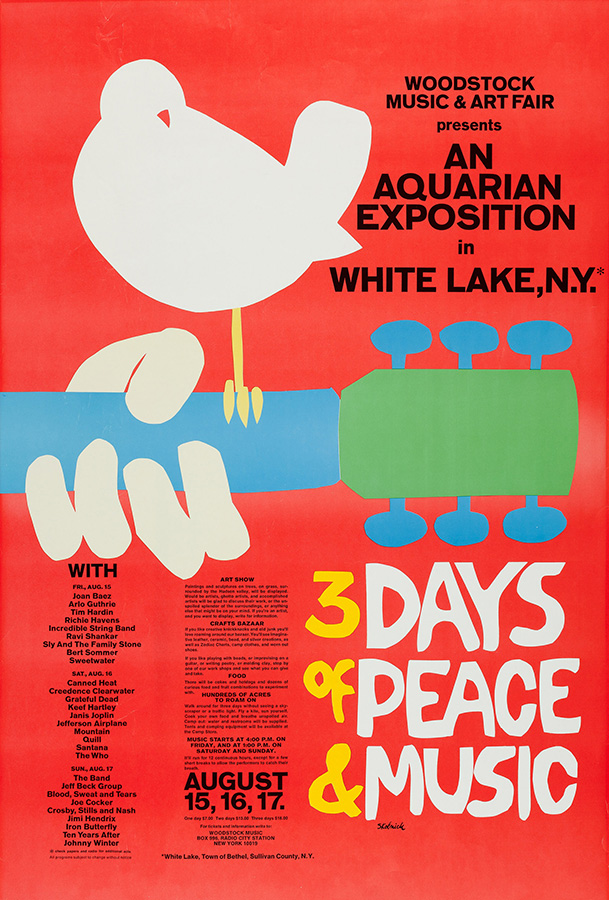 Arnold Skolnick, Concert poster for the Woodstock festival, August 1969. 'WOODSTOCK' and the Dove & Guitar Logo are registered trademarks of Woodstock Ventures LC and are used under license.
Children experienced illustration through animation in the revolutionary new children's television series, Sesame Street, and in Saturday morning cartoons with a dog named Scooby-Doo.  Eric Carle and William Steig produced their award-winning children's books, The Very Hungry Caterpillar and Sylvester and the Magic Pebble, while Frank Frazetta, Jack Gaughan, Jeff Jones, and others gained fame painting popular science fiction book covers.
The magazine National Lampoon was founded, providing a satirical view of current events for a new generation of readers.  Created by writers and comedians who would go on to create Saturday Night Live and classic films such as Animal House, Caddyshack, and Vacation, the magazine relied heavily on illustrations by Edward Gorey, Boris Vallejo, R.O. Blechman, Roz Chast, Gahan Wilson, Neal Adams, and others.
This exhibition will combine original illustrations with vintage archival material to transport you to a groovier era.  An additional gallery will revisit the early days of Norman Rockwell Museum, from its humble beginnings when it opened its doors at The Corner House in Stockbridge in May 1969 through its expansion into a vital center which informs the public of Norman Rockwell's life and career, while showcasing the rich history of American illustration.
Major sponsors:
Dena M. Hardymon; Brenda and Jeffrey Bleustein;
Audrey and Ralph Friedner
and
TD Bank


ABOUT THE ARTISTS
Artists include: Arnold Skolnick, Randy Tuten, D. Bread, Greg Irons, Eric Carle, William Steig, Frank Frazetta and Norman Rockwell among many others. More information forthcoming.
VIDEO
RELATED EVENTS
There are no upcoming events at this time.
VENUE(S)
Norman Rockwell Museum, Stockbridge, MA      June 8 through October 27, 2019
DIRECTIONS
Norman Rockwell Museum
9 Route 183
Stockbridge, MA 01262
413-298-4100 x 221
Download a Printable version of Driving Directions (acrobat PDF).
Important note: Many GPS and online maps do not accurately place Norman Rockwell Museum*. Please use the directions provided here and this map image for reference. Google Maps & Directions are correct! http://maps.google.com/
* Please help us inform the mapping service companies that incorrectly locate the Museum; let your GPS or online provider know and/or advise our Visitor Services office which source provided faulty directions.