Norman Rockwell Museum and Illustrator Grace Lin Celebrate Chinese New Year with Family Day
Manager of Media Services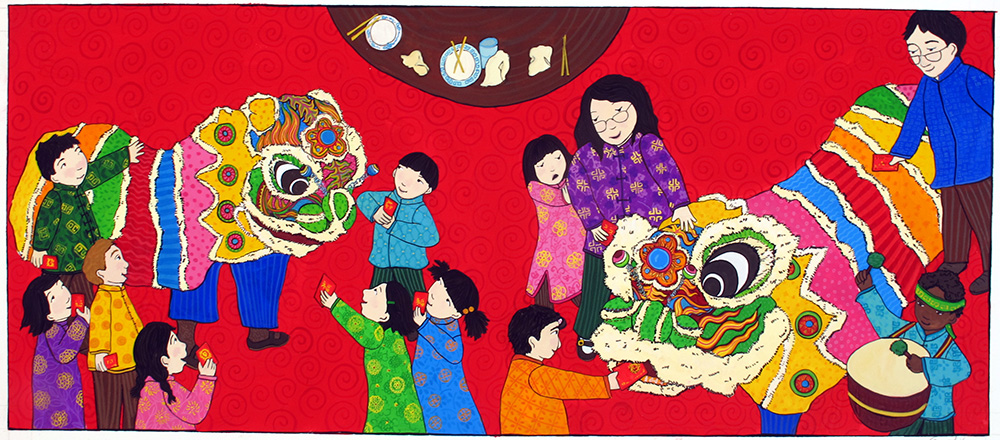 Grace Lin (American, b. 1974) …they brought in the lions., c. 2008..
Illustration for Bringing in the New Year by Grace Lin, 2008. Gouache on paper. Courtesy of R. Michelson Galleries. © 2008 by Grace Lin. All rights reserved.
Stockbridge, MA, February 5, 2019—In conjunction with its current exhibition Cultural Traditions: A Holiday Celebration, Norman Rockwell Museum will present Celebrating Chinese New Year, a family day featuring illustrator Grace Lin, on Saturday, February 9, from 1 to 4 p.m.
Newbery Award-winning illustrator and author Grace Lin, whose original art for the picture book Bringing in the New Year is featured in the Cultural Traditions exhibition, will present a talk about her work at 1 p.m., followed by a book signing. From 1 to 4 p.m., make your own festive lantern, and explore the exhibition with curator Barbara Rundback. The event is free for Museum members and children 18 and under, or included with regular Museum admission.
Bringing in the New Year was recognized as a Champion of Change for Asian American and Pacific Islander Art and Storytelling by President Barack Obama. The picture book tells the story of a family celebrating the customs and traditions of the Chinese New Year. Lin's bright and decorative illustrations, rendered in colorful gouache watercolor, mirror the festive holiday. Learn more about Grace Lin and her work at www.gracelin.com.
Cultural Traditions: A Holiday Celebration
Extended through February 24, 2019
This fall/winter season, Norman Rockwell Museum explores the commonality and distinctiveness of people through the art and stories found in children's holiday picture books, created by six award-winning illustrators. Cultural Traditions: A Holiday Celebration features over 40 original artworks representing traditional winter holidays, including: Harriet Ziefert's Hanukkah Haiku (2008), illustrated by Karla Gudeon; Clement Clarke Moore's The Night Before Christmas (2006) illustrated by Russian-born illustrator Gennady Spirin; The Night of Las Posadas (1999) written and illustrated by Tomie dePaola; Andrea Davis Pinkney's Seven Candles for Kwanzaa (1993), illustrated by Brian Pinkney; Bringing in the New Year (2008), written and illustrated by Grace Lin; and Dusk, written and illustrated by Uri Shulevitz. Inviting families to experience the traditions of the world around the holidays serves as a platform for understanding, tolerance, kindness, and humane action.