Norman Rockwell Museum Presents Four Freedoms Forum: The Transformative Power of Art
Manager of Media Services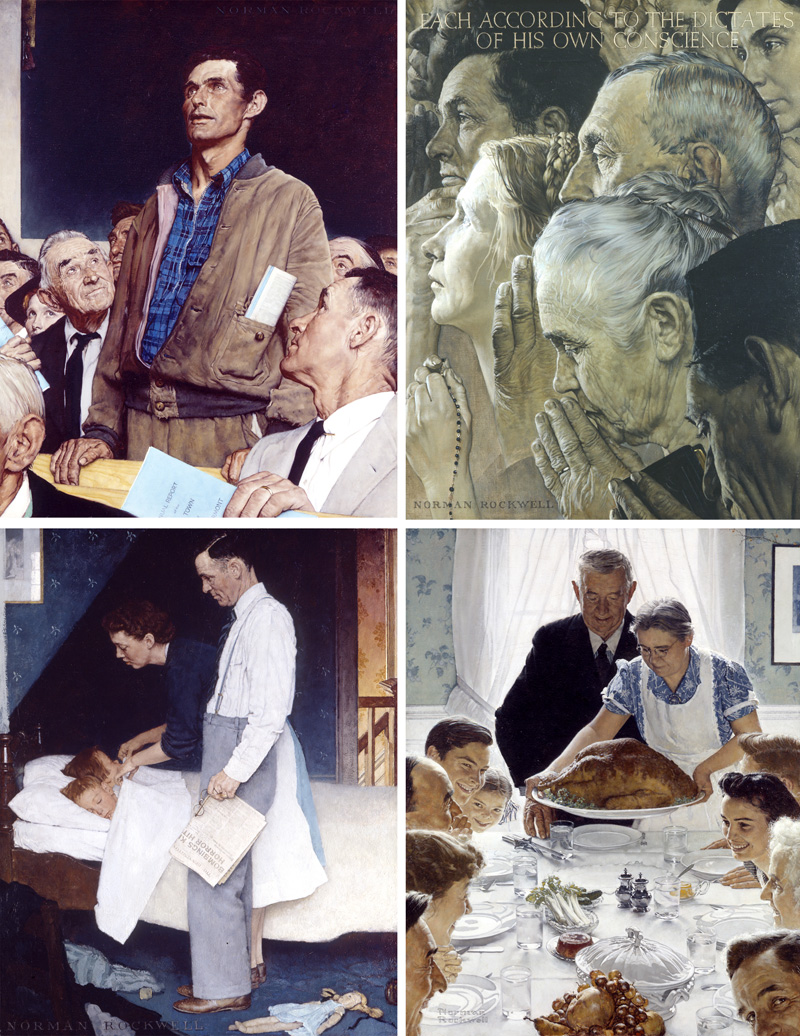 Norman Rockwell (1894-1978), The Four Freedoms, 1943. Norman Rockwell Museum Collections. ©SEPS: Licensed by Curtis Licensing, Indianapolis, IN
Stockbridge, MA, February 14, 2019—As its international traveling exhibition of Norman Rockwell's Four Freedoms opens in Washington, D.C. this month, Norman Rockwell Museum will present The Transformative Power of Art, the latest of its Four Freedoms Forums, to be held at its Stockbridge campus on Thursday, February 21, starting at 5:30 p.m. This Town Hall-style conversation, inspired by Rockwell's iconic paintings, will explore the ways in which imagery inspires us, invites us to question the world around us, and affects change. 
Led by award-winning photojournalist and author Jane Feldman, expert commentators will offer observations and inspire community discourse. Refreshments and a reception will follow. Featured speakers will include award-winning photojournalist and author Jane Feldman; Eric Carle Museum Director Alexandra Kennedy; and artist Melanie Mowinski. Community conversation at the Four Freedoms Forums is free and open to the public. 
Jane Feldman is an award-winning photojournalist. A former New York City fashion photographer and producer, whose dedication to human rights led her to international projects with Amnesty International and to portraits of Nelson Mandela, Archbishop Desmond Tutu, and the Dalai Lama. She is the author of nine children's books for Random House in addition to her work on Jefferson's Children. Her work has appeared in The New York Times, the Boston Globe, TIME, PBS's Frontline, CBS Sunday Morning, the History Channel, and many other magazines. In addition to a variety of special projects, Jane works with clients in New York City, the Berkshires and on location around the world. Learn more: www.janefeldman.com
Alexandra Kennedy is the Executive Director of The Eric Carle Museum of Picture Book Art. She recently celebrated her tenth year overseeing operations for the popular illustration art museum located in Amherst, Massachusetts. She previously worked with Disney Publishing Worldwide, where she held the position of vice president and editorial director of U.S. Consumer Magazines, including FamilyFun and Wondertime, and was presented with the Disney Publishing Worldwide Leadership Award in 2004, the Launch Editor of the Year Award from MIN Magazine in 2006, and the Exceptional Women in Publishing Award from Women in Periodical Publishing in January 2009. Kennedy has an M.F.A. in Poetry from the University of Massachusetts. 
Melanie Mowinski is an artist and educator, living in the Berkshires. In 2011, Mowinski founded PRESS: Letterpress as a Public Art Project, a hybrid gallery, teaching, and studio space centered around an operating Vandercook Universal III. From 2013-2015, PRESS served as one of the downtown hubs for students from the Massachusetts College of Liberal Arts (MCLA), where Mowinski is a Professor of Art. She received an M.A.R. in Religion and the Visual Arts from Yale University in 1999, where she was the Katsuo Miho Scholar in Peace Making. She earned her M.F.A. in Book Arts/Printmaking from The University of the Arts (UArts) in Pennsylvania in 2006. Learn more: melaniemowinski.com
About Four Freedoms Forums:  Town Hall Meetings at the Norman Rockwell Museum
Join us to share your thoughts on the most compelling issues of our day. This series of Town Hall conversations inspired by Norman Rockwell's Four Freedoms paintings will explore aspects of our democracy and important social concerns in a rapidly changing and increasingly global world. Noted commentators will offer observations and inspire community discourse, with a reception to follow. 
The tradition of Town Hall meetings has it roots in the founding of our nation where small New England communities would gather to invite citizen opinion and vote on matters of importance to the town. A town meeting is a form of direct democratic rule, used primarily in portions of the United States since the 17th century, in which most or all the members of a community come together to legislate policy and budgets for local government. The Four Freedoms Forums are free and open to the public.