Norman Rockwell Museum Presents 33rd Annual Berkshire County High School Art Show
Manager of Media Services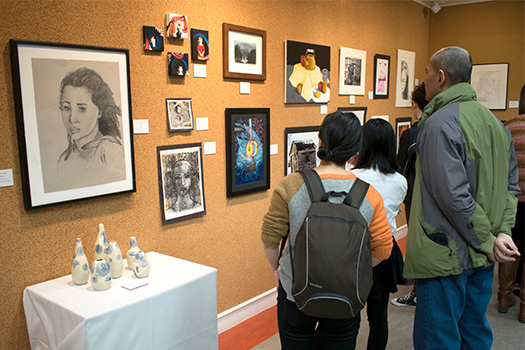 Photo: Norman Rockwell Museum
Stockbridge, MA, January 4, 2018—In celebration of Norman Rockwell's 125th birthday, Norman Rockwell Museum will present the 33rd annual Berkshire County High School Art Show, with a special exhibition opening to be held on Saturday, February 2, from 2 to 4 p.m. Visitors will have the opportunity to meet the young artists, and at 2:30 p.m. hear a lecture from acclaimed illustrator Gregory Manchess, whose work is also currently on view at the Museum. 
In the tradition of Norman Rockwell, who began his professional career as a teenager, the High School Art Show celebrates the creative talent found in Berkshire County's local high schools. Original works in all media—from painting and drawing to photography, ceramics, three-dimensional assemblage, and digital art—will be featured in the exhibition, which is on view through March 4, 2019. 
The Berkshire County High School Art Show is generously sponsored by Berkshire Bank. Admission to the exhibition and opening is free (does not include regular Museum admission).
As part of Norman Rockwell Museum's ongoing commitment to area youth and their teachers, the Museum is now free to all elementary, middle and high school teachers from Massachusetts, Connecticut, Vermont, and New York State, with school ID. To learn more, contact the Museum at education@nrm.org.