NORMAN ROCKWELL MUSEUM TURNS 50!
FOR IMMEDIATE RELEASE
January 29, 2019
Margit Hotchkiss
Norman Rockwell Museum
MHotchkiss@nrm.org  | 413.931.2240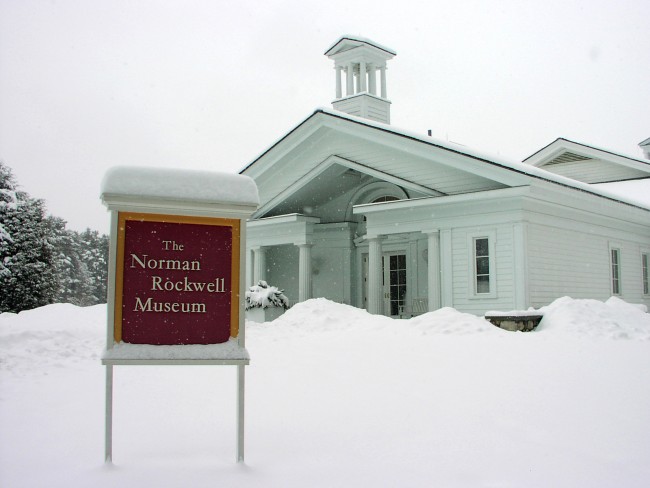 Photo: Norman Rockwell Museum
MEDIA ADVISORY
NORMAN ROCKWELL MUSEUM TURNS 50!
Museum commemorates milestone with suite of exhibitions
exploring the man, his art, his time
Yearlong roster of public programs and events
explores the power of illustration to inspire and foster change
WHAT                  This summer, the Norman Rockwell Museum celebrates 50 years as the nation's leading center for illustration art with a suite of three special exhibitions that explore Rockwell's art, life, and legacy, and the year 1969, as well as an installation of photographs, new media, and artifacts that together evoke Stockbridge's Old Corner House, where the Museum was first established. Together, these will shed new light on the Museum's journey from Rockwell's desire to put his art collection in public trust, to its present-day distinction as a major resource for the study and appreciation of American Illustration.
WHEN                  Featured anniversary exhibitions: June 8 through October 27, 2019 Yearlong programs, events, and additional exhibitions throughout 2019
EXHIBITIONS      Woodstock to the Moon: 1969 Illustrated Visit the exhibition page…
From man's first steps on the moon to a gathering of 400,000 concertgoers on a farm in Upstate New York, 1969—the year of the Museum's founding—witnessed momentous cultural transition. Culled from the Museum's collection and private and public collections around the country, this exhibition illuminates how Rockwell and other illustrators portrayed their times and reflected popular culture during the final year of a tumultuous decade. Seminal works in the exhibition include Rockwell's iconic depictions of the first moonwalk and of key events in the civil rights movement, presidential portraits, images of the war on poverty and the war in Vietnam, and his first rock album cover. Works by contemporaneous illustrators and designers will include the famous Woodstock concert poster by Arnold Skolnick, and examples of the inventive psychedelic art created that year for album covers, magazines, and posters.
Norman Rockwell: Private Moments for the Masses Visit the exhibition page…
This exhibition offers a behind-the-scenes look at the autobiographical elements in Rockwell's work, examining his carefully constructed fictional scenes for the covers and pages of American publications. With such beloved works as Art Critic (1955), The Runaway (1958), Triple Self Portrait (1960), and other iconic pictures, as well as rarely seen early works, candid photographs, personal effects and correspondence, and date-book diary entries, the exhibition reflects upon Rockwell's observations and state of mind—sometimes at odds with his scenes of familial bliss and small-town charm. Private Moments for The Masses coincides with the special re-release of Rockwell's 1960 autobiography, My Adventures as an Illustrator: The Definitive Edition, published by Abbeville Press.
Inspired: Norman Rockwell and Erik Erikson Visit the exhibition page…
In February 1959, Norman Rockwell appeared on Edward R. Murrow's celebrity-interview television show, Person to Person, and described how much he and his family loved living in Stockbridge, never mentioning that the reason they moved from Southern Vermont to the charming New England town was because it was the location of the Austen Riggs Center, the renowned psychiatric institute where Rockwell's wife, Mary, received medical care and where, several years earlier, at a challenging time in his own life, Rockwell, himself had entered into therapy with Erik Erikson, a developmental psychoanalyst who went on to great recognition―he is perhaps best known for coining the term "identity crisis"—and came to psychology from the world of art. This exhibition will explore the relationship of these two giants in their fields, who inspired each other's creativity in unique and important ways. Work on view will include images of Erikson's own art, Rockwell artworks that were directly influenced by Erikson, and a collection of Rockwell portraits of Erikson and other clinical staff from Austen Riggs. Inspired: Norman Rockwell and Erik Erikson is organized by the Museum in collaboration with the Austen Riggs Center, which celebrates its 100th anniversary in 2019.
For up-to-date details on Norman Rockwell Museum's 50th anniversary celebration, visit the Museum's website at www.nrm.org.
About the Norman Rockwell Museum
Celebrating its 50th Anniversary in 2019, the Norman Rockwell Museum is dedicated to education and art appreciation inspired by the legacy of Norman Rockwell. The Museum holds the world's largest and most significant collection of art and archival materials relating to Rockwell's life and work, while also preserving, interpreting, and exhibiting a growing collection of art by other American illustrators throughout history. The Museum engages diverse audiences through onsite and traveling exhibitions, as well as publications, arts and humanities programs, including the Rockwell Center for American Visual Studies, and comprehensive online resources. www.nrm.org/
Located on 36 park-like acres in Stockbridge, Massachusetts, Rockwell's hometown for the last 25 years of his life, the Museum is open seven days a week, year-round; closed Thanksgiving, Christmas, and New Year's Day. Museum hours from May through October are: 10 a.m. to 5 p.m. daily, open until 7 p.m. on Thursdays during the month of August; from November through April: 10 a.m. to 4 p.m. Monday through Friday, 10 a.m. to 5 p.m. on weekends and holidays. Rockwell's studio is open May through November 12, 10 a.m. to 5 p.m.
Museum admission is $20, $18 for seniors, $17 for military veterans, $10 for students, and free for children 18 and under.
Norman Rockwell Museum welcomes EBT cardholders and active U.S. military members with free admission throughout the year. Additionally, we are a Blue Star museum and offer active U.S. military personnel and their immediate family, complimentary admission from Memorial Day through Labor Day.
Visit the Museum online at www.nrm.org.
Images available upon request.
###