Norman Rockwell Museum To Present Real and Imagined: A Master Painting Class with Illustrator Gregory Manchess
Manager of Media Services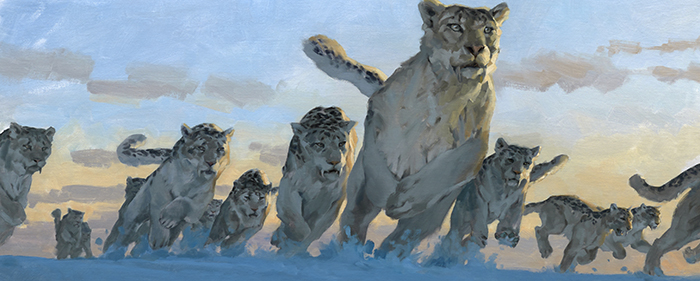 Gregory Manchess, Leopards Ambush, 2017. Oil on linen, 15 x 37 in. Illustration for Above The Timberline by Gregory Manchess,
Saga Press, 2017. ©Gregory Manchess. All rights reserved.
PLEASE NOTE: This workshop has been filled to capacity. You can still add your name to the waiting list by contacting the Museum at 413.931.2221 or register@nrm.org
Stockbridge, MA, December 14, 2018—In conjunction with its current exhibition Gregory Manchess: Above the Timberline, Norman Rockwell Museum will present a master painting class with Gregory Manchess on Saturday, January 12, from 10 a.m. to 3 p.m.
The award-winning illustrator, known for his work for National Geographic and the new Coen Brothers film The Ballad of Buster Scruggs, believes in communicating emotionally with the viewer through his art. Manchess will lead participants in an exploration of the art of realist painting inspired by the imagination, as shown in his first fully painted novel Above the Timberline, the subject of the Museum's current exhibition. Light and shadow, color strategies, figure construction, and tonal design will be discussed and demonstrated, and all levels are welcome. Admission to the one day art workshop is $45, $35 for Museum members, and advance registration is required by contacting the Museum at 413.931.2221 or register@nrm.org.
Award-winning illustrator and painter Gregory Manchess has worked for nearly forty years on advertising campaigns, magazines, and book covers. His work has appeared on covers and for feature stories in National Geographic Magazine, TIME, Atlantic Monthly, and The Smithsonian. The artist's masterful figure work has led to numerous commissions for stamps by the U.S. Postal Service, including the Mark Twain stamp and the recently released March On Washington stamp. Learn more about his work at www.manchess.com.
Gregory Manchess: Above the Timberline
On view through February 24, 2019
In his first fully illustrated novel Above the Timberline, renowned artist Gregory Manchess follows the grand tradition of classic adventure stories, providing both art and story for a tale set in a futuristic world where it has snowed continuously for 1,500 years. Manchess's expressive paintings, inspired by the Golden Age of illustration, bring to life the story of the fictional Wesley Singleton, son of the famed polar explorer Galen Singleton. Wesley searches for his stranded father in a lost city while responding to elements both adversarial and welcoming—and finding his own sense of identity and family along the way. 
Norman Rockwell Museum's exhibition takes visitors on a journey through this imaginative tale with 30 paintings, as well as props, archival materials, photographs, and behind-the-scenes videos exploring the artist's process, the exhibition explores the art and ideas that inform this vivid tale. Life-sized sculptures of characters (including polar bears) will also be on display.