Norman Rockwell Museum To Celebrate Cultural Traditions with Members and Donors Holiday Party
Manager of Media Services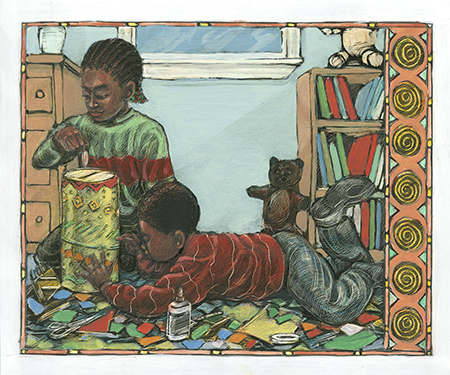 Brian Pinkney, For ujamaa we save up our coins for one whole year to buy a family gift that everyone can share..., c. 1993.
Ink and oil pastels on scratchboard. Illustration for Seven Candles for Kwanzaa by Andrea Davis Pinkney, 1993.
©Brian Pinkney. All rights reserved
Stockbridge, MA, November 26, 2018—In conjunction with its new exhibition Cultural Traditions: A Holiday Celebration, Norman Rockwell Museum will host a seasonal holiday party for its members on Friday, December 14, from 5:30 to 7:30 p.m. The family-friendly celebration will feature holiday food from around the world, a chance to take in the holiday exhibitions, and activities for the whole family. The special Members and Donors event will also include the opportunity to build a holiday lantern, symbolizing the common theme of light in all traditions, and participate in a festive outdoor Lantern Parade. For more information on becoming a member or making a gift to Norman Rockwell Museum, visit www.nrm.org/join-support
Cultural Traditions: A Holiday Celebration
On view through February 10, 2019
This fall/winter season, Norman Rockwell Museum explores the commonality and distinctiveness of people through the art and stories found in children's holiday picture books, created by six award-winning illustrators. Cultural Traditions: A Holiday Celebration features over 40 original artworks representing traditional winter holidays, including: Harriet Ziefert's Hanukkah Haiku (2008), illustrated by Karla Gudeon; Clement Clarke Moore's The Night Before Christmas (2006), illustrated by Russian-born illustrator Gennady Spirin; The Night of Las Posadas (1999), written and illustrated by Tomie dePaola; Andrea Davis Pinkney's Seven Candles for Kwanzaa (1993), illustrated by Brian Pinkney; Bringing in the New Year (2008), written and illustrated by Grace Lin; and Dusk, written and illustrated by Uri Shulevitz. Inviting families to experience the traditions of the world around the holidays serves as a platform for understanding, tolerance, kindness, and humane action.