Magic Tree House Author Mary Pope Osborne To Give Talk on the Art of Storytelling at Norman Rockwell Museum
Manager of Media Services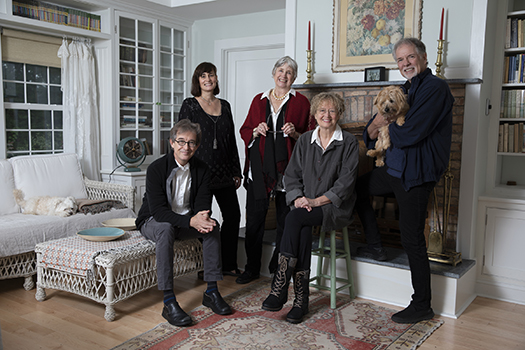 Magic Tree House creative team. Photo by Christina Rahr Lane. Courtesy: Berkshire Magazine.
Stockbridge, MA, December 18, 2018—The Norman Rockwell Museum and Berkshire Magazine will present a special talk with author Mary Pope Osborne and her Magic Tree House Team at the Museum on Thursday, January 10, starting at 5:30 p.m. Osborne, who lives part-time in the Berkshires and whose family home is in Great Barrington, will share her creative process and storytelling ideas for the award-winning Magic Tree House series of children's books.
The first Magic Tree House book, published in 1992, introduced the world to Jack and Annie, a brother and sister who discover a magic tree house filled with books. Members of Osborne's Magic Tree House Team, representing non-fiction writing, illustration, screenwriting, songwriting, and film production, were highlighted in the Winter issue of Berkshire Magazine. Locally, a mini-musical, "Showtime with Shakespeare: A Magic Tree House Adventure," based on Osborne's book Stage Fright on a Summer Night, is touring with Berkshire Theatre Group's year-round program, BTG Plays! The musical will be performed at 22 Berkshire elementary and middle schools, Chicopee Library, and The Eric Carle Museum.
At the January 10th talk at the Norman Rockwell Museum, Osborne and her creative team, which includes non-fiction writer Natalie Boyce, playwright Jenny Laird, and musicians Will Osborne and Randy Courts, will discuss the process of bringing the series to life across multiple different mediums, including images, plays, and songs. The evening will include live music and discussion with this creative team working to engage children worldwide through their adventure stories. The event, intended for ages 12 and up, is free for Museum members and children 18 and under, or with regular Museum admission.
The creator of the Magic Tree House series, Osborne is an ardent advocate and supporter of children's literacy, and the award-winning author of more than 100 books for children and young adults, including novels, retellings of mythology and folklore, picture books, biographies, and mysteries. From 1993 to 1996, Ms. Osborne served as president of the Author's Guild, the country's leading organization for published authors. She has traveled extensively in the U.S. and abroad, visiting schools and speaking on issues related to children's literacy. Osborne has donated over 350,000 books to underserved children across the country through her Gift of Books, and Classroom Adventures Program. Learn more at magictreehouse.com.