Norman Rockwell Museum To Present Wonder of the Holidays:
An Afternoon with Illustrator Jerry Pinkney
Manager of Media Services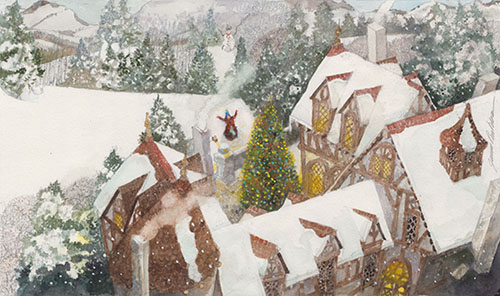 Jerry Pinkney, illustration for "The Christmas Boot" by Lisa Wheeler. Collection of R. Michelson Galleries.
©Jerry Pinkney Studios. All rights reserved.
Stockbridge, MA, November 20, 2018—Norman Rockwell Museum will present Wonder of the Holidays, an afternoon with Caldecott Award-winning illustrator Jerry Pinkney on Saturday, December 8, from 1 to 4 p.m. Pinkney will share his illustrated stories of holiday wonder, warmth, and cheer by three noted authors, including: The Christmas Boot by Lisa Wheeler; The All-I-Ever-Want Christmas Doll by Patrick McKissack; and A Home in the Barn by Margaret Wise Brown. A demonstration, book signing and drop-in art activities will follow. The afternoon event is free for Museum members and children 18 and under, or with regular Museum admission.
Jerry Pinkney's art has captivated the imaginations of readers throughout the world. The illustrator of more than 100 children's books, he has earned the field's highest honors, including the Caldecott Medal, Caldecott Honor Medals, and Coretta Scott King Awards. His books include The Lion and the Mouse, The Tortoise and the Hair, The Tales of Uncle Remus, The Old African, Minty, The Little Match Girl, The Patchwork Quilt, God Bless the Child, and many others. Mr. Pinkney is also the 2016 recipient of Norman Rockwell Museum's Artist Laureate Award. His work has been previously featured in the Norman Rockwell Museum exhibitions Witness: The Art of Jerry Pinkney and Jerry Pinkney: Imaginings. Learn more at www.jerrypinkneystudio.com.