Norman Rockwell Museum Presents Paintings in Song—The Four Freedoms
Manager of Media Services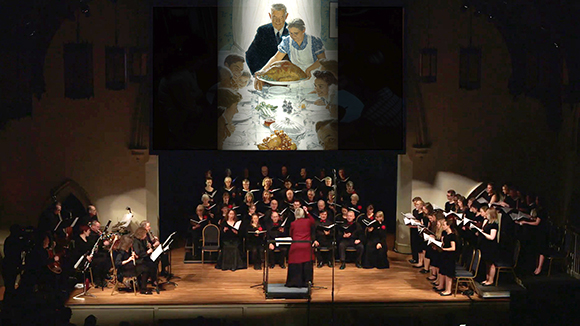 Photo of Crescendo by Norman Rockwell Museum.
Stockbridge, MA, November 9, 2018—Norman Rockwell Museum will celebrate the 75th Anniversary of Norman Rockwell's Four Freedoms with the musical performance Paintings in Song, to be held at the Museum on Saturday, November 24, starting at 5:30 p.m.
Inspired by Norman Rockwell's art, Paintings in Song is being performed by choral ensemble Crescendo, led by artistic director Christine Gevert and Berkshire-based composer John Myers.
"John Myers' composition is a very well-rounded blend of styles," notes Gevert. "Classical eras—from the Renaissance to the 20th Century—seamlessly alternate with some of the most beloved genres of American jazz and pop, from the decades in which Norman Rockwell's paintings were created. Both the adult and children's chorus parts give a voice to Rockwell's characters, bringing his art and message vividly to life."
Paintings in Song will highlight the continued cultural relevance represented in Rockwell's Four Freedoms and other significant works. The event is free for Museum members and children 18 and under, or included with regular Museum admission.
Enduring Ideals: Rockwell, Roosevelt & the Four Freedoms
Organized by Norman Rockwell Museum, Enduring Ideals: Rockwell, Roosevelt & The Four Freedoms is the first comprehensive traveling exhibition devoted to Norman Rockwell's iconic depictions of Franklin Delano Roosevelt's Four Freedoms: Freedom of Speech, Freedom of Worship, Freedom from Want, and Freedom from Fear. The traveling exhibition will illuminate both the historic context in which FDR articulated the Four Freedoms and the role of Rockwell's paintings in bringing them to life for millions of people, rallying the public behind the War effort and changing the tenor of the times. In telling the story of how Rockwell's works were transformed from a series of paintings into a national movement, the exhibition will also demonstrate the power of illustration to communicate ideas and inspire change. For more information and the tour schedule: www.nrm.org/enduringideals