Norman Rockwell Museum Presents Frank E. Schoonover: American Visions
Exhibition Offers Expansive Look at Adventure Illustrator's Creative and Geographic Journey
Opens November 10, 2018
Manager of Media Services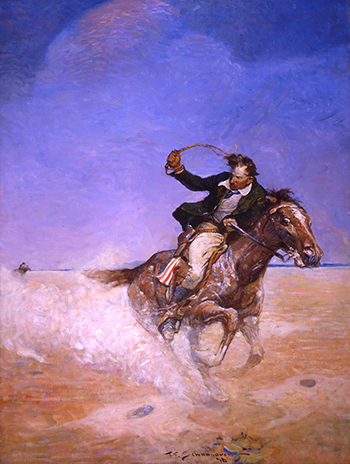 Frank E. Schoonover (1877-1972), "Abe Catherson (Pony Express Rider)," 1916.
Illustration for "The Range Boss" by Charles Alden Seltzer, A.C. McClurg & Company.
Oil on canvas, 36 x 27 in. Private collection.
Stockbridge, MA, November 1, 2018— This fall and winter, the Norman Rockwell Museum explores the art of adventure through the work of celebrated illustrator Frank E. Schoonover (1877–1972). With more than 80 original works, Frank E. Schoonover: American Visions will trace the creative journey and eventful life of this influential Golden Age illustrator, one whose vivid, dynamic work was deeply informed by his own numerous wilderness voyages, undertaken to fulfill his belief that artists should live what they paint—an adage often repeated by his noted teacher, acclaimed illustrator Howard Pyle (1853–1911).
Organized by the Norman Rockwell Museum and curated by Stephanie Haboush Plunkett, the Museum's Deputy Director and Chief Curator, the exhibition will include works on loan from the Brandywine River Museum of Art, the Schoonover family, and other public and private collections. It is on view from November 10, 2018, through May 27, 2019.
Ms. Plunkett states, "The Norman Rockwell Museum is honored to explore the inspiring accomplishments of this gifted artist. A contemporary of Norman Rockwell, Frank E. Schoonover fearlessly and successfully ventured into uncharted worlds—in both his life and his art—bringing them into vivid focus for generations of enthusiastic readers."
Museum Director/CEO Laurie Norton Moffatt adds, "Frank E. Schoonover: American Visions continues the Museum's exploration of the artistic lineage of past masters of illustration. We look forward to sharing the breadth of Schoonover's remarkable and prolific career with our visitors, and are grateful to the public and private collections that have generously loaned works to this exhibition."
Frank E. Schoonover: American Visions will include major oil paintings, historical book illustrations (drawn from among the 200+ books he illustrated), and dramatically staged adventure paintings created for such classic stories as Kidnapped, Robinson Crusoe, Swiss Family Robinson, and Ivanhoe. These will be supplemented by drawings, photographs, handwritten daybooks, props, and personal effects that will illuminate Schoonover's prolific career, life, and times, including his years as a student of Pyle His own long teaching career and his role in establishing the Delaware Art Museum will also be explored.
Throughout the exhibition, visitors will sense the influence of Schoonover's excursions to the American West, Jamaica, Europe, and Canada, all of which enabled him to provide access to places to which most would never venture. (On one trip, in 1903, he trekked some 1,200 miles in the Canadian north almost entirely by snowshoe, dogsled, and canoe.)
Frank E. Schoonover: American Visions is generously sponsored by Bonham's Auction House.
The exhibition will include a richly illustrated exhibition catalogue will include essays by Norman Rockwell Museum's Chief Curator Stephanie Plunkett; Chairman Robert Horvath; President Alice Carter; the artist's grandson John Schoonover; art collector Andrew J. Sordoni III; and Christine Podmaniczky, Curator, N.C. Wyeth Collections and Historic Properties, Brandywine Conservancy & Museum of Art.
An audio tour will feature the artist's grandson, John Schoonover, discussing his grandfather's art and career.
Learn more about the exhibition and related programming at www.nrm.org. Hosted by Norman Rockwell Museum, Frank E. Schoonover's catalogue raisonné can be viewed at www.frankschoonover.org.