"Reimagining The Four Freedoms" Illustrator Bri Hermanson To Speak at Norman Rockwell Museum
Manager of Media Services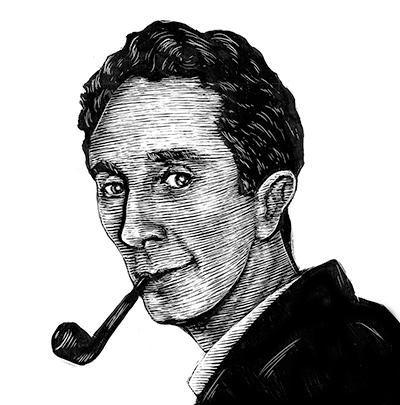 Bri Hermanson, portrait of Norman Rockwell. ©Bri Hermanson. All rights reserved.
Stockbridge, MA, October 10, 2018—As part of its "Inspired By Rockwell" lecture series, Norman Rockwell Museum will present a talk with illustrator Bri Hermanson on Saturday, October 20, starting at 5 p.m. A renowned scratchboard illustrator, Hermanson's work can be seen in the Museum's current traveling exhibition Reimagining The Four Freedoms. 
"Norman Rockwell's work is classic, but also imparts enduring lessons for illustrators working in the field today," notes Hermanson. "We are tasked with carrying an impossible torch—one that is just as important now as it was in Rockwell's day. Our challenge is bringing fresh perspectives to the familiar, reexamining life with empathy and curiosity, and distilling it all into a singular image. Rockwell set the gold standard that I aspire to. His inspiration fuels creative decision making in my own illustration process, influencing everything from composition to character."
Ms. Hermanson will discuss how Rockwell's work has inspired her to craft her own narrative images within the cultural context of a changing world, creating artwork that is both human in its subject matter and in the connections it forges with her audience. Additionally, in a hands-on demonstration using ink and clayboard, she will take visitors through her intricate scratchboard process. 
In addition to Reimagining The Four Freedoms, Bri Hermanson has created works for such clients as Houghton Mifflin, SKYY Vodka, Xerox, and the Southern Poverty Law Center. Learn more about her work at brihermanson.com.
The talk is free for Museum members, children 19 and under, or included with regular Museum admission; program only, $10.
Inspired by Rockwell: Three Artists Speak
Join us for three engaging conversations with noted illustrators about their artistic inspirations, and the lessons they have learned from master visual storyteller Norman Rockwell.  Free for Museum members, or included with regular Museum admission; program only, $10.
Featured illustrators:
Bri Hermanson
Saturday, October 20, 5 p.m.
Mark Romanowski
Saturday, November 10, 5 p.m.
Dan Howe
Saturday, December 8, 5 p.m.