Norman Rockwell Museum Selected for Barr-Klarman Massachusetts Arts Initiative
Manager of Media Services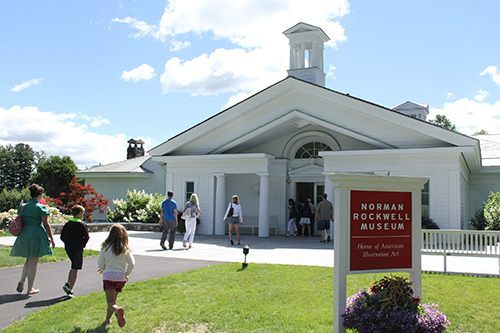 Stockbridge, MA, October 3, 2018—Norman Rockwell Museum has been selected to participate in the Barr-Klarman Massachusetts Arts Initiative. A partnership between two Boston-based foundations – Barr and The Klarman Family Foundation – the initiative is a $25 million, six-year investment in 29 arts and cultural organizations from across Massachusetts. Norman Rockwell Museum's engagement in the initiative involves grants totaling $612,000 over the next three years.
"We are honored to receive this transformative gift, which arrives at an important time in the history of our Museum," notes Norman Rockwell Museum Director/CEO Laurie Norton Moffatt. "On the advent of our fiftieth anniversary in 2019, this support will help as we plan for a much needed expansion of our services, to better share the art of Norman Rockwell and American Illustration with the public."
"Organizations like the Norman Rockwell Museum are at the cultural hearts of their communities," adds San San Wong, Director of Arts & Creativity for the Barr Foundation. "They are sites of public assembly and dialogue, often working to foster understanding and connection across cultural differences. It is our privilege to support Norman Rockwell Museum in this journey to further strengthen its financial health and capacity to adapt to change – that it might deepen and continue this work for years to come."
"Arts organizations, including Norman Rockwell Museum, play a critical role in the health of our communities," said Laura Sherman, Director, Greater Boston Grantmaking for The Klarman Family Foundation. "We are committed to strengthening this cohort of 29 arts organizations across the Commonwealth that have the ability to connect and enliven communities through culture, tradition and creative expression, and we are proud to be a part of this initiative."
Participating organizations in the Barr-Klarman Massachusetts Arts Initiative receive flexible, multi-year operating support grants, in addition to training and technical assistance from TDC, a nonprofit consulting and research firm.
For more information about the Barr-Klarman Massachusetts Arts Initiative page, including the full list of participating organizations, visit: www.barrfoundation.org/what-we-do/barr-klarman-massachusetts-arts-initiative
About the Barr Foundation
The Barr Foundation's mission is to invest in human, natural, and creative potential, serving as thoughtful stewards and catalysts. Based in Boston, Barr focuses regionally, and selectively engages nationally, working in partnership with nonprofits, foundations, the public sector, and civic and business leaders to elevate the arts, advance solutions for climate change, and connect all students to success in high school and beyond. Founded in 1997, Barr now has assets of $1.7 billion, and has contributed more than $838 million to charitable causes. For more information, visit barrfoundation.org or follow @BarrFdn on Twitter and Facebook.
About The Klarman Family Foundation 
The Klarman Family Foundation seeks to identify areas of unmet need and advance solutions to addressing them. Underlying all of the Foundation's work is a passionate belief in the promise and importance of creative thinking, strategic leadership and strong organizations to help bring about change. As a way to learn and create greater impact, the Foundation values acting in partnership with other funders. Its work spans regionally, nationally and internationally and focuses on advancing understanding of the biological basis of health and illness; supporting the global Jewish community and State of Israel; expanding access to vital services and enrichment opportunities in Greater Boston; and ensuring a healthy democracy. Established in 1990 by Beth and Seth Klarman, the Foundation is located in Boston, MA. For more information, visit klarmanfoundation.org.