Norman Rockwell Museum To Host Four Freedoms Festival Day
Manager of Media Services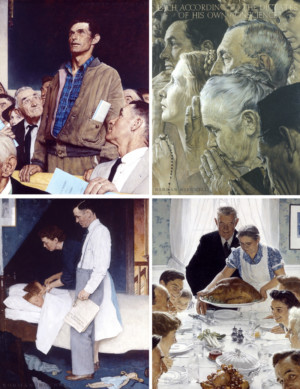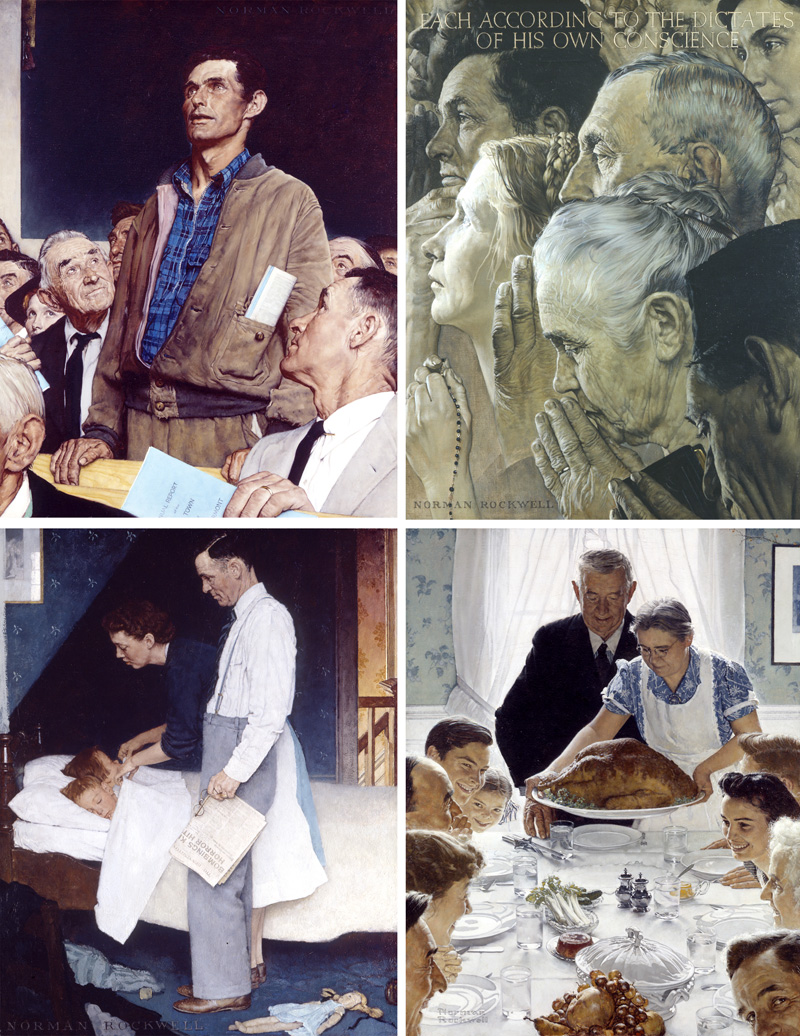 Norman Rockwell (1894-1978), The Four Freedoms, 1943.
Norman Rockwell Museum Collections.
©SEPS: Curtis Licensing, Indianapolis, IN
Stockbridge, MA, August 27, 2018 –In celebration of the 75th anniversary of Norman Rockwell's Four Freedoms paintings, currently on an international tour, Norman Rockwell Museum will host a special Four Freedoms Festival Day on Saturday, September 8, from 1 to 4 p.m. The celebration will include related talks, tours, and performances.
At 1 p.m., join James J. Kimble, Ph.D., Professor of Communication at Seton Hall University, and co-curator of the exhibition Rockwell, Roosevelt & The Four Freedoms, for a look at the historic talk and images that have endured since their creation during the World War II era.
From 1 to 4 p.m. enjoy a showing of The Cummington Story, a short documentary created in 1945, showing the gradual absorption of members of a refugee hotel into a New England town.
At 2 p.m., learn about propaganda posters created in Russia during World War II, with Natalia Smirnova, Assistant Professor at the University of Connecticut, followed by a performance of the music of folk singer Woody Guthrie at 2:30 p.m. with songwriter and performer Wes Buckley.
At 3 p.m. join the Albany Berkshire Ballet for the debut of their ballet based on Norman Rockwell's Four Freedoms, followed by a gallery talk about the paintings at 3;45 p.m. with Norman Rockwell Museum's Curator of Education Tom Daly.
The festival is free for Museum members, or included with regular Museum admission.
Enduring Ideals: Rockwell, Roosevelt & the Four Freedoms  
Organized by Norman Rockwell Museum, Enduring Ideals: Rockwell, Roosevelt & The Four Freedoms is the first comprehensive traveling exhibition devoted to Norman Rockwell's iconic depictions of Franklin Delano Roosevelt's Four Freedoms: Freedom of Speech, Freedom of Worship, Freedom from Want, and Freedom from Fear. The traveling exhibition will illuminate both the historic context in which FDR articulated the Four Freedoms and the role of Rockwell's paintings in bringing them to life for millions of people, rallying the public behind the War effort and changing the tenor of the times. In telling the story of how Rockwell's works were transformed from a series of paintings into a national movement, the exhibition will also demonstrate the power of illustration to communicate ideas and inspire change. For more information and the tour schedule: www.nrm.org/enduringideals