Changing Times: Norman Rockwell's Art for Look Magazine
CURRENTLY ON VIEW UNTIL MAY 1, 2018
In the 1960's, leaving behind his beloved story-telling scenes, Norman Rockwell threw himself into a new genre—the visual documentation of social issues. He had always wanted to make a difference with his art, and as a highly marketable illustrator, he had the opportunity to do so. Humor and pathos—traits that made his Saturday Evening Post covers successful— were replaced by a direct, pared down, reportorial style more appropriate for magazine editorials.
After ending his forty-seven year career with The Post, in 1963, Rockwell sought new artistic challenges. His first assignment for Look—The Problem We All Live With—portrayed a six-year-old African-American girl being escorted by four U.S. marshals to her first day at an all-white school in New Orleans, a gentle assertion on moral decency. In 1965, Rockwell focused on the murder of three civil rights workers in Philadelphia, Mississippi, and in 1967, he chose children, once again, to illustrate desegregation, this time in our nation's suburbs. In the years that followed, Rockwell reported on the space race, depicting the moon landing before and after it happened, and he painted portraits of the most prominent political candidates of his time. In an interview later in his life, Rockwell recalled that he once had to paint out an African-American person in a group picture since The Post's policy dictated showing people of color in service industry jobs only. Freed from such restraints, Rockwell seemed to look for opportunities to correct the
editorial prejudices reflected in his previous work.
A bi-weekly magazine, Look was published from 1937 to 1971, reaching its peak circulation in 1969 with 7.7 million readers per issue. Of the leading general interest magazines, Look had a circulation second only to Life, but it outsold The Saturday Evening Post, which stopped its presses in 1969. Despite its popularity, Look, like many other American magazines of the mid-twentieth century, suffered advertising revenue losses as corporations moved to feature their products on the newer medium of television. At the time, a slack economy and rising postal rates also conspired to make print publications like Look an endangered species.
ABOUT NORMAN ROCKWELL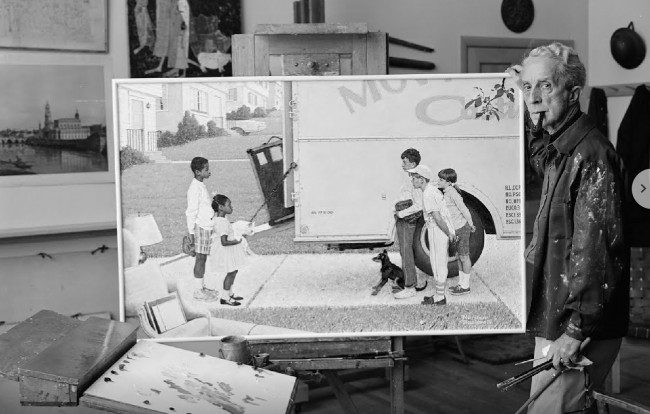 Norman Rockwell posing with his painting "New Kids in the Neighborhood", 1967
Photograph – Louis Lamone (1918-2007)
© Norman Rockwell Family Agency. Norman Rockwell Museum Collection. All Rights Reserved.
Born in New York City in 1894, Norman Rockwell always wanted to be an artist. At age 14, Rockwell enrolled in art classes at The New York School of Art (formerly The Chase School of Art). Two years later, in 1910, he left high school to study art at The National Academy of Design. He soon transferred to The Art Students League, where he studied with Thomas Fogarty and George Bridgman. Fogarty's instruction in illustration prepared Rockwell for his first commercial commissions. From Bridgman, Rockwell learned the technical skills on which he relied throughout his long career.
Rockwell found success early. He painted his first commission of four Christmas cards before his sixteenth birthday. While still in his teens, he was hired as art director of Boys' Life, the official publication of the Boy Scouts of America, and began a successful freelance career illustrating a variety of young people's publications.
RELATED EVENTS
There are currently no programs or events related to this exhibition…check back soon!
MEDIA
There is currently no media related to this exhibition…check back soon!
VENUE(S)
Norman Rockwell Museum, Stockbridge, MA   –   Currently on View