Norman Rockwell Museum Presents Reimagining The Four Freedoms  
New York Capital Region Students Celebrate 75th Anniversary of Rockwell's Iconic Paintings with a Look at What Freedom Means Today
Manager of Media Services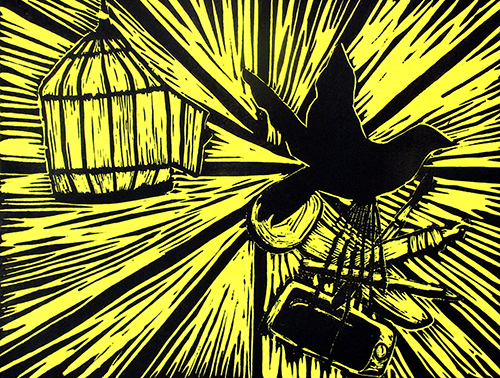 Tasneem Abdalla, "Freedom of Creativity," 2018. Niskayuna High School, grade 9. ©Tasneem Abdalla.
Stockbridge, MA, March 7, 2018—In celebration of the 75th anniversary of Norman Rockwell's Four Freedoms paintings, set to embark on an international tour, Norman Rockwell Museum is once again teaming up with New York's Capital Area Art Supervisors to present an exhibition of student artwork, exploring what freedom means for a new generation. Reimagining The Four Freedoms is on view at the Museum from March 16 through April 8, 2018.
Reimagining The Four Freedoms will display original artworks, created in a variety of mediums, by high school students from the Capital District of New York State. Works from students enrolled in Studio in Art classes in Albany, Rensselaer, and Schenectady County will be on view. Each work will relate to a freedom most important to the individual student. Participating school districts include: Bethlehem, East Greenbush, Guilderland, Mohonasen, Niskayuna, Rensselaer, and Scotia-Glenville.
"This year's exhibition is extra special," notes Sheila Elario, a retired K-12 instructional administrator for Art and Design at Guilderland Central School District and member of the Capital Area Art Supervisors, who organized the exhibition. "Students had a chance to reexamine past works and were given a voice in how they view their world around them. In looking at the body of work, we can see that each students' values and interpretation of the Four Freedoms has changed significantly, and yet there are ideas that have changed little over the past 75 years."
A special closing reception for the artists and public will be held on Sunday, April 8, from 2 to 4 p.m. Norman Rockwell's original Four Freedoms paintings will be on view at the Museum through April 2018.
About Capital Area Art Supervisors
The mission of the Capital Area Arts Supervisors is to ensure that all regional K-12 students experience creative and critical thinking for life-long learning through visual arts education as a means to fostering personal growth, community involvement, and social and career development.
Enduring Ideals: Rockwell, Roosevelt & The Four Freedoms
Opening May 25 at New-York Historical Society
This year, the first comprehensive exhibition devoted to Norman Rockwell's iconic depictions of FDR's Four Freedoms—Freedom of Speech, Freedom of Worship, Freedom from Fear and Freedom from Want—begins its international tour in New York City. Opening at the New-York Historical Society on May 25, Enduring Ideals: Rockwell, Roosevelt & the Four Freedoms explores how the 1943 paintings came to be embraced by millions of Americans, providing crucial aid to the War effort and taking their place among the most indelible images in the history of American art. It is, in effect, the story of how the images were transformed from a series of illustrations into a national movement that united the country behind a common cause.
The exhibition, which provides a rare opportunity to see Rockwell's images together outside their permanent home in Stockbridge, Massachusetts, will illuminate both the historic context in which FDR articulated the Four Freedoms and the role of Rockwell's paintings in bringing them to life for millions of people, changing the tenor of the times. It will additionally show how the Four Freedoms paintings were precursors to a sequence of works spanning three decades in which Rockwell addressed significant social concerns, from civil rights to the nation's role and responsibilities at home and abroad.
Organized by the Norman Rockwell Museum, Enduring Ideals has been co-curated by Stephanie Haboush Plunkett, Deputy Director and Chief Curator, Norman Rockwell Museum, and James J. Kimble, Ph.D., Associate Professor of Communication & the Arts, Seton Hall University. Additionally, a National Advisory Board, comprising scholars, artists, and museum professionals, has provided guidance and expertise for the exhibition.
To date, the exhibition tour comprises The New-York Historical Society, New York City, NY, May 25 – September 2, 2018; The Henry Ford, Dearborn, MI, October 13, 2018 – January 13, 2019; The George Washington University Museum and The Textile Museum, Washington, D.C., February 9 – May 6, 2019; Mémorial de Caen, Normandy, France, June 4 – October 27, 2019; Museum of Fine Arts, Houston, TX, December 15, 2019 – March 22, 2020; and Norman Rockwell Museum, Stockbridge, MA, September – November 2020.
Major support for Enduring Ideals: Rockwell, Roosevelt & the Four Freedoms has been generously provided by Jay Alix | The Alix Foundation and George Lucas Family Foundation, and by national presenting sponsor The Travelers Companies, Inc. Additional support is provided by an anonymous donor, Michael Bakwin, Helen Bing, Elephant Rock Foundation, Ford Foundation, Annie and Ned Lamont, National Endowment for the Arts, and Ted Slavin. Media sponsors include: Curtis Licensing, a division of The Saturday Evening Post, and Norman Rockwell Family Agency.