Enchanted: A History of Fantasy Illustration
June 14 through September 7, 2020

Fictional worlds of magic and adventure come to life through fantasy illustration. Myths, legends, fables, romance, and epic battles involving swords and sorcery occur in a world unfamiliar to us. Unlike science fiction, which is based on fact, fantasy presents an impossible reality—a universe where dragons breathe fire, angels and demons engage in combat, and magicians craft spells. As visionary author Arthur C. Clarke noted, "Science fiction is something that could happen…Fantasy is something that couldn't happen."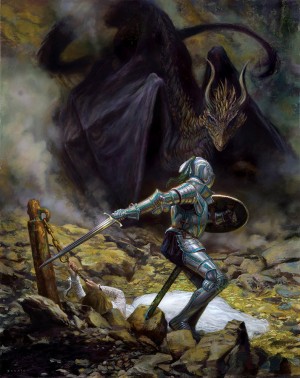 Donato Giancola, St. George and the Dragon, 2010, © Donato Giancola
For thousands of years, mankind has depicted analogous fantastic themes in numerous cultures. Noted scholar of mythology, Joseph Campbell, claimed that mankind creates fantasy to help us understand the universe and our existence, delineate good and evil, and teach us how to thrive through adversity. Representations of dreams and nightmares, fictional creatures, and gods and monsters are made real through visual portrayals in fantasy art. Fantasy illustration interprets the imagination of the "undiscovered self."
Enchanted: A History of Fantasy Illustration explores fantasy archetypes from the Middle Ages to today. The exhibition will present the immutable concepts of mythology, fairy tales, fables, good versus evil, and heroes and villains through paintings, etchings, drawings, and digital art created by artists from long ago to illustrators working today. Mythology explores the adventures of Apollo and Thor, Perseus rescuing Andromeda with the head of Medusa, and the labours of Hercules; fairy tales depict the worlds of elves, fairies, and mermaids, and conjure dreams of Little Nemo in Slumberland, Alice in Wonderland, and Cinderella; heroes and villains follow the exploits of Arthurian legends, Prince Valiant, Conan the Barbarian, and The Lord of the Rings; and haunting images of sorcerers and witches, and battles between angels and demons embody the struggle between good and evil.
The exhibition Enchanted: A History of Fantasy Illustration is organized by the Norman Rockwell Museum in Stockbridge, MA, and will be on view here from June 6 through September 7, 2020.
ABOUT THE ARTISTS
Artists showcased in the exhibition include Gustave Doré, Abbott Handerson Thayer, Palmer Cox, Arthur Rackham, Winsor McCay, Joseph Clement Coll, N.C. Wyeth, Edmund Dulac, Howard Pyle, J. Allen St. John, Margaret Brundage, Virgil Finlay, Hal Foster, Frank Frazetta, Kelly Freas, Roy Krenkel, Rose O'Neill, Gustaf Tenggren, Julie Bell, Thomas Blackshear, Brom, Tony DiTerlizzi, Bob Eggleton, Scott Fischer, Donato Giancola, James Gurney, Scott Gustafson, the Brothers Hildebrandt, Jeff Jones, Gregory Manchess, Jean-Baptiste Monge, Glen Orbik, William Stout, David Trampier, Boris Vallejo, James Warhola, Allen Williams, Scott Brundage, Wesley Burt, Bastien Lecouffe-Deharme, Nico Delort, Anna Dittmann, Heather Edwards, Justin Gerard, Piotr Jabłoński, Tyler Jacobson, Victo Ngai, David Palumbo, Alessandra Pisano, Omar Rayyan, Annie Stegg, and many more.
RELATED EVENTS
There are no upcoming events at this time.
MEDIA
There is no media about this exhibition at this time.
VENUE(S)
Norman Rockwell Museum, Stockbridge, MA      June 6 through September 7, 2020
RELATED PRODUCTS
There are no related products for this exhibition at this time.
DIRECTIONS
Norman Rockwell Museum
9 Route 183
Stockbridge, MA 01262
413-298-4100 x 221
Download a Printable version of Driving Directions (acrobat PDF).
Important note: Many GPS and online maps do not accurately place Norman Rockwell Museum*. Please use the directions provided here and this map image for reference. Google Maps & Directions are correct! http://maps.google.com/
* Please help us inform the mapping service companies that incorrectly locate the Museum; let your GPS or online provider know and/or advise our Visitor Services office which source provided faulty directions.