Fantasy Artist Donato Giancola To Present Talk on Illustration Business at Norman Rockwell Museum
Manager of Media Services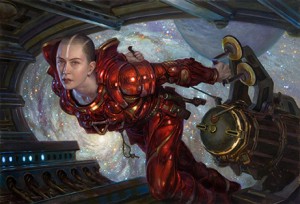 Donato Giancola, The Mechanical, 2015. 20″ x 30″ oil on panel.
©Donato Ginacola. All rights reserved.
Stockbridge, MA, March 19, 2018—As part of its Picturing The Fantastical series, Norman Rockwell Museum will present an evening lecture with illustrator Donato Giancola on Saturday, April 14, from 5 to 7 p.m. A renowned painter of fantasy themes, Giancola balances modern concepts with realism in his paintings to bridge the worlds of contemporary and historical figurative arts—from J.R.R. Tolkien's The Lord of the Rings to Botticellis' La Primavera. Known for his work for the Magic: The Gathering card game, the artist will discuss the background, education, and milestones that have advanced his fan-to-professional career, and offer observations about life as an in-demand working illustrator today. The event is free for Museum members, children 18 and under, or with regular Museum admission.
Donata Ginacola is an artist and educator, who teaches at the School of Visual Arts. Since beginning his professional career in 1993, Giancola's list of clients has grown to include major book publishers and collectors in New York to concept design firms on the West Coast: notables include The United Nations, LucasFilm, National Geographic, CNN, DC Comics, Microsoft, The Village Voice, Playboy Magazine, US Postal Service, Wizards of the Coast, Scholastic, Simon & Schuster, Tor Books, Random House, Time/Warner, Syfy, Milton-Bradley, and Hasbro. Honors include the prestigious Hamilton King Award from the Society of Illustrators, 22 Chesley Awards from the Association of Science Fiction and Fantasy Artists, three Artist Hugo Awards for outstanding professional work from the World Science Fiction Society, and six silver and two gold medals from the juried annual Spectrum: The Best of Contemporary Fantastic Art. Learn more about the artist's work at www.donatoart.com
Gaming Days at the Museum
Roleplay! Dungeons & Dragons
Saturday, April 14, and May 12, 1 to 4 p.m.
Take on the avatar of a heroic, fantastical figure and explore far-off lands with Dungeon Master Cliff Hanson during these special Dungeons & Dragons game days. Free for Museum members, or included with Museum admission. Children free to age 18. For children 12 and up.
Never Abandon Imagination: The Fantastical Art of Tony DiTerlizzi
On view through May 28, 2018
Known for his successful book series The Spiderwick Chronicles, Tony DiTerlizzi is widely celebrated for his images of such fantasy creatures as fairies, trolls, sprites, and goblins. Never Abandon Imagination showcases over 150 original paintings and drawings, from the games Dungeons & Dragons and Magic: The Gathering, to his many fantasy and children's books, in addition to artworks from his childhood and college years. The exhibition highlights the artist's influences and artistic process, and includes original art from such award-winning books as The Spiderwick Chronicles; Ted; The Spider and the Fly; The Story of Diva and Flea; and The WondLa Trilogy, which have inspired a new generation of young readers. 
The exhibition is sponsored in part by The Keator Group, LLC and The Pittsfield Cooperative Bank. Additional support provided by Simon & Schuster, Disney Publishing Worldwide, Gotham Group, The Max & Victoria Dreyfus Foundation, and The Dr. Robert C. and Tina Sohn Foundation. Media sponsor: WGBY Public Television.