Norman Rockwell Museum and "Berkshire Magazine" Present An Evening with Photographer Susan Copich
Manager of Media Services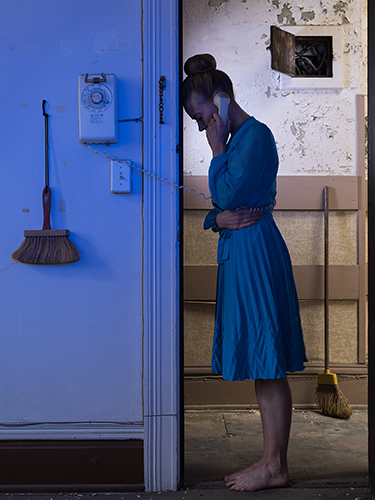 Photo ©Susan Copich. All rights reserved.
Stockbridge, MA, February 28, 2018—In celebration of International Women's Day, Norman Rockwell Museum will team up with Berkshire Magazine to present an evening with award-winning photographer Susan Copich on Thursday, March 8, from 5:30 to 7 p.m. Copich is an award-winning photographer known for her 2014 conceptual series Domestic Bliss, which gave voice to an inner "darkness" while examining family life in a humorous context.
"Her art inspires consideration of familial and female roles through irony, metaphor, and dark, edgy commentary," explains Berkshire Magazine Editor Anastasia Stanmeyer, who will provide commentary during the event. The artist's then he forgot my name series will be featured in the magazine's spring issue. 
Describing the work-in-progress, Ms. Copich notes that "what began as a project about my father evolves into what it is like to be a woman, with a look back at our history and tying it to the conversation of today, the #MeToo movement, as we move forward. The title, then he forgot my name, takes on a new interpretation."
The evening will further explore Copich's work during a conversation with the photographer, led by Norman Rockwell Museum Director Laurie Norton Moffatt.
The event is part of "Bringing It Home," a quarterly series presented by Berkshire Magazine and Norman Rockwell Museum that looks at current topics that dominate the national and world stage, and brings them home to the local community. A reception will follow the program, which is free for Museum members or included with Museum admission.