Norman Rockwell Museum Presents Distant Lands: Literary Fiction in the Classroom Educators symposium to include special guests Tony DiTerlizzi and Holly Black, creators of
The Spiderwick Chronicles  
Manager of Media Services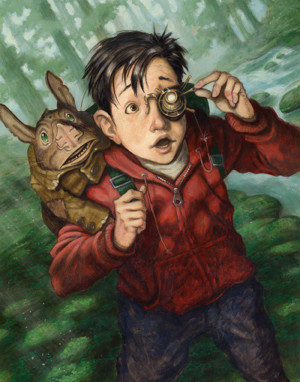 Tony DiTerlizzi, Spiderwick, 2003.
Acryla gouache on Bristol board.
Cover illustration for The Spiderwick Chronicles: The Seeing Stone, 2003.
©Tony DiTerlizzi. All rights reserved.
Stockbridge, MA, January 11, 2018—Norman Rockwell Museum will present Distant Lands: Literary Fiction in the Classroom, a symposium for educators, on Saturday, January 27, from 10 a.m. to 4 p.m. Educators are invited to learn about creative approaches to bringing literary fiction into the classroom for elementary and middle school students during this day of lectures, workshops, and readings.
Award-winning illustrator Tony DiTerlizzi and Newbery Honor author Holly Black will discuss their collaboration on the popular book series, The Spiderwick Chronicles. The creators will explain their process during a special tour of the exhibition Never Abandon Imagination: The Fantastical Art of Tony DiTerlizzi from 10:30 to 12 p.m. Lunch and a book signing will follow. Guests are asked to bring their own lunch, with beverages, snacks, and desserts provided. Tony DiTerlizzi books will be available for purchase in the Museum store, or participants can bring their own to be signed.
Following lunch at 1 p.m., librarian Alexis Brown Kennedy and art teacher Karen Romeo-Leger from Lenox Memorial Middle and High School, will discuss literary, art, and library connections for the classroom. At 2:30 p.m., participants will explore creative, hands-on methods for introducing students to literary fiction with Tim Callahan, principal from Drury High School. A game designer, Callahan will discuss aspects of classic and contemporary role-playing games that can be used with students to create fictional worlds. The one-hour session will engage educators in world-building activities that can be adapted for use with any grade level. 
The afternoon will conclude with a "test your knowledge" session, which will include a raffle giveaway. 
Admission to the event costs $35, $20 for Museum members. PDPs will be available. To register, please contact Museum educator Patrick O'Donnell at podonnell@nrm.org or call 413.931.2221.