Season's Greetings: The Holidays Illustrated
A Special Exhibition of Holiday Images from the Permanent Collection
November 24, 2017 through February 4, 2018

Season's Greetings explores the themes of Thanksgiving, Christmas, New Years, and winter fun, through a festive variety of artworks and archival objects from the Norman Rockwell Museum Collection. Original paintings and drawings by Rockwell, the artist's studio items, and imagery by illustrators working from Golden Age through today will be the focus of this festive installation highlighting the holidays as a central theme in published art.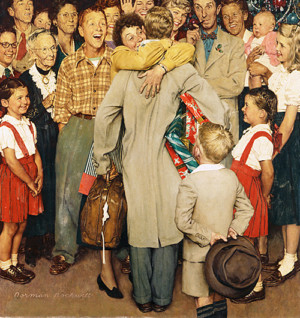 Christmas Homecoming, Norman Rockwell. 1948. Cover illustration for The Saturday Evening Post, December 25, 1948. From the permanent collection of Norman Rockwell Museum. ©1948 SEPS: Licensed by Curtis Publishing, Indianapolis, IN
Established in 1973 by Rockwell himself, the Norman Rockwell Art Collection Trust bestowed an initial 189 works by Norman Rockwell to the Museum. In 1976, the Trust was amended to include Rockwell's studio and its contents. Since then, the Museum's holdings have grown substantially through museum purchases, bequests, and gifts from avid collectors, artists' families, and noted living illustrators. This exhibition represents just a sampling of the exceptional artworks and ephemera that has been gifted to the Museum by generous donors for over forty years.
In his autobiography My Adventures as an Illustrator, Rockwell reminiscence about how his father read the stories of Charles Dickens to him as he carefully sketched the characters. Inspired by this warm memory, he created several Christmas covers for The Saturday Evening Post based on the author's tales. Christmas Trio, one of the original artworks acquired in the Trust, and presented in the exhibit, embodies the characters of Victorian England.
 The Museum staff has gained insight into Rockwell's artistic process by cataloguing the contents of his last studio, in Stockbridge, which was a treasure trove of reference photographs and drawings. Also on display, several of the source materials for Skiers, an unpublished Post cover idea, include the original concept sketch and reference photographs featuring Rockwell at work on a snowy hillside. Another studio find, a rarely seen "Merry Christmas from the Rockwell's" ink stamp, will be on view along with Rockwell family Christmas cards.
Committed to being a leader in the field of illustration, Norman Rockwell Museum has received donations of thousands of vintage tearsheets from American magazines from individuals who support this ambition. Also appearing in Season's Greeting will be original covers from The Saturday Evening Post, Collier's, and Good Housekeeping, highlighting the artistry of illustrators J. C. Leyendecker, Maxfield Parrish, and Jessie Wilcox Smith. Known for his Dick and Jane children's books, mid-century artist Robert Childress rendered a delightful picture of children tobogganing, and the late twentieth century is represented by the works of William Steig, Robert Cunningham, Jacqui Morgan, and Fred Eng.  Ice Skating in Pittsfield Commons, a donation by Berkshire painter, Laurie Cormier, is also sure to delight. Norman Rockwell Museum is grateful to all of the wonderful benefactors who made this exhibition possible.
~Barbara Rundback
Associate Registrar/Assistant Curator
ABOUT THE ARTISTS
Original illustrations and studies by Norman Rockwell,  James Mongomery Flagg, Clyde O. DeLand, Dong Kingman, Mike Mitchell,  J. C. Leyendecker, William Steig ,  Thomas Nast, Maxfield Parrish, Fred Eng, Charles Dana Gibson, Jessie Wilcox Smith, Harrison Fisher, Tom Lovell, Jon Whitcomb, Jacqui Morgan, Robert Childress, Laurie Cormier, and Robert Cunningham.
RELATED EVENTS
There are no upcoming events at this time.
MEDIA
There is currently no media related to this exhibition…check back soon!
VENUE(S)
Norman Rockwell Museum, Stockbridge, MA      November 24, 2017 through February 4, 2018