Norman Rockwell Museum Presents Rockwell Center Lecture on Newspaper Career of Ashcan School Artist John Sloan
Manager of Media Services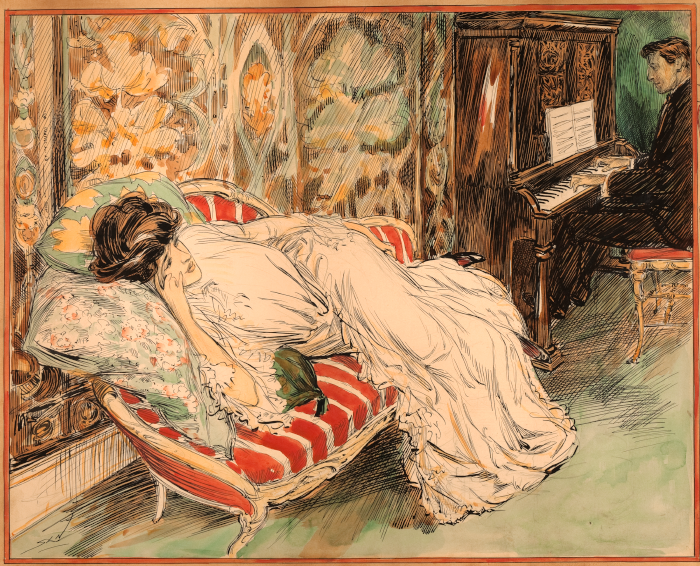 The Sunday Press Free Lessons in Music: No. 12, for the Philadelphia Press, Sunday, December 20, 1903.
John Sloan (1871-1951). Ink, watercolor, and graphite on illustration board, 16 x 20 1/2".
Delaware Art Museum, Gift of Helen Farr Sloan, 1992. ©Delaware Art Museum / Artists Rights Society (ARS), New York.
Stockbridge, MA, September 1, 2017—Rockwell Center for American Visual Studies Fellow Heather Campbell Coyle, Ph.D. will present a lecture on artist John Sloan's career as a newspaper illustrator, at Norman Rockwell Museum on Friday, September 15, starting at 6:30 p.m. Sloan was a leading member of the Ashcan School, an early 20th century art movement in the United States that is best known for scenes of New York City life. In her talk, "A Newspaperman Painting on the Side: John Sloan as Illustrator, 1892–1906," Dr. Coyle will examine the early years of Sloan's career, when he was employed as a staff artist for the Philadelphia Inquirer and the Philadelphia Press, and his transition from newspaper work to illustration in books and mainstream magazines including McClure's and Collier's Weekly. The talk considers Sloan's influences—from Japanese prints to French graphics—and the impact of his illustration career on his early work as a painter and etcher of city life. Coyle is the Chief Curator at The Delaware Art Museum, where her research is focused on three overlapping areas: American painting and illustration (1875-1945), the history of photography, and the intersection of humor and art. The talk is free for Museum members, or included with Museum admission.
About The Rockwell Center
The Museum's dedication to a deepened understanding of the art of illustration has led to the formation of the Rockwell Center for American Visual Studies. The first of its kind in the nation, this research institute supports sustained scholarship and establishes the Museum's leadership in the vanguard of preservation and interpretation relating to this important aspect of American visual culture.