Norman Rockwell Museum Presents
"Art Music: An A cappella Evening with Quintessential"
Manager of Media Services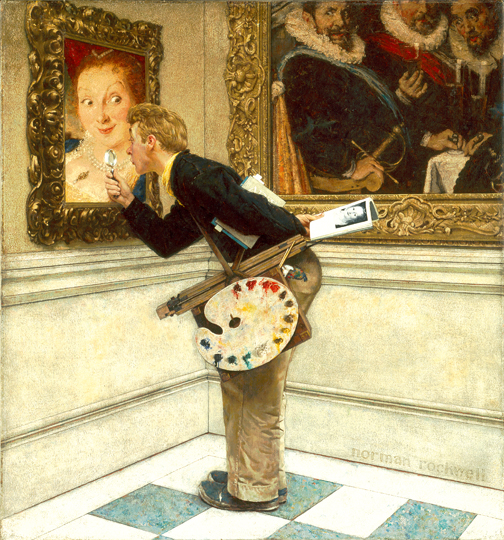 Norman Rockwell (1894-1978), Art Critic, 1955. Norman Rockwell Museum Collections.
©SEPS: Curtis Licensing, Indianapolis, IN.
Stockbridge, MA, August 29, 2017— Concluding its summer lecture and performance series, Inventing America: Art and Cultural Connections, Norman Rockwell Museum will present "Art Music: An A cappella Evening with Quintessential" on Thursday, August 31, starting at 5:30 p.m. The Berkshire-based singing group, featuring tenors Al Thorp, Jay Wise and Jim McMenamy, and bass/baritones Steve Dahlin and David Anderegg, have designed a diverse program, including rock music by The Kinks, David Bowie, Lou Reed, and John Lennon, among others. The event is free for Museum members, or included with Museum admission.
Inventing America: Rockwell and Warhol
On view through October 29, 2017
This summer, Norman Rockwell Museum presents the first exhibition to pair Rockwell (1894–1978) and Andy Warhol (1928–1987), examining their artistic and cultural influence during their lifetimes and their ongoing legacies. With 100 works of art, a selection of archival materials, and objects relating to their work and lives, Inventing America: Rockwell and Warhol will show how both of these internationally celebrated image-makers—among America's most important visual communicators—created enduring icons, and opened new ways of seeing. 
As innovators, Rockwell and Warhol each created and adapted techniques to advance their art to new ends.  Inventing America will include various objects they utilized in their artistic and technical processes, such as their projection devices and other personal effects that reflect their unique sensibilities, while archival materials and photographs will illuminate key aspects of their lives and careers. 
Inventing America: Rockwell and Warhol is generously sponsored by The Hayseed Hill Foundation, Inc. and The Red Lion Inn.