Norman Rockwell Museum Presents
Family Day with Illustrator James Warhola
Manager of Media Services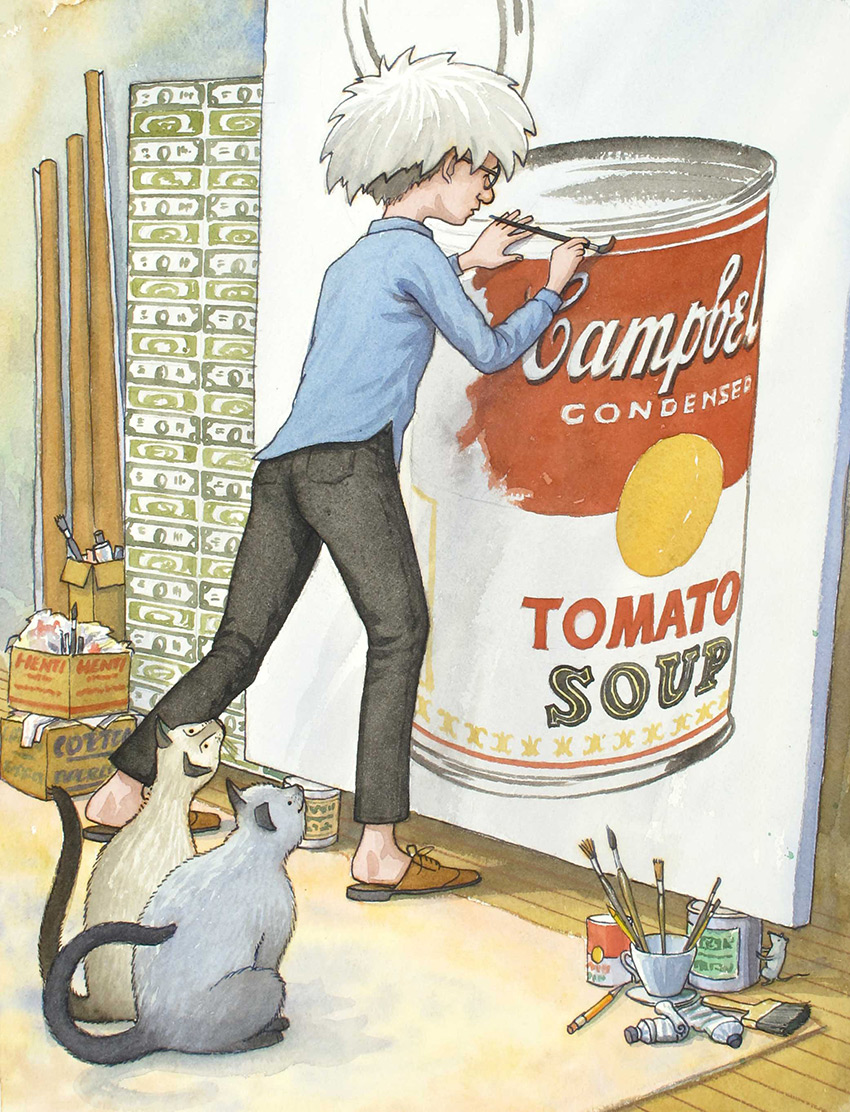 ©James Warhola. All rights reserved.
Stockbridge, MA, July 28, 2017—In conjunction with its new exhibitions, James Warhola: Uncle Andy and Other Stories and Inventing America: Rockwell and Warhol, Norman Rockwell Museum will present Uncle Andy's Cats and Other Pet Stories, a special family day on Saturday, August 5, from 1 to 4 p.m. James Warhola, the illustrator of more than two dozen children's picture books, including Uncle Andy's and Uncle Andy's Cats—and the nephew of famed Pop artist, Andy Warhol, will discuss his work and famous relative, and sign books during an afternoon filled with storytelling, art making, and talks. The event is free for Museum members, or included with Museum admission. 
James Warhola: Uncle Andy and Other Stories
On view through October 29, 2017
Born in Pittsburgh, Pennsylvania, illustrator James Warhola was influenced as a child by his artistic family—especially his famous uncle, Pop artist-Andy Warhol. From an early age, he watched his uncle create illustrations for shoes, shopping bags, and advertisements, which piqued his interest in the world of art.
Like Andy Warhol, Warhola attended Tam O'Shanter's Saturday Art Classes at the Carnegie Museum of Art, and graduated from Carnegie Mellon University. A move to New York City brought him to the Art Students League, where he refined his painting skills and set out to establish a career as a freelance illustrator. First specializing in science fiction and fantasy illustration, Warhola has since created artworks for more than 350 book jackets, including Stranger in a Strange Land by Robert Heinlein and Neuromancer by William Gibson. In 1987, he accepted his first of 35 children's book commissions, a path that offered new opportunities for expression. Warhola been a regular contributor to Mad magazine since 1980, and has been a primary illustrator for the popular Garbage Pail Kids card series.
James Warhola: Uncle Andy and Other Stories explores Warhola's career as a science fiction, fantasy, and children's book artist, including original illustrations for his acclaimed picture books, Uncle Andy's: A Faabbbulous Visit with Andy Warhol, and Uncle Andy's Cats, which document his memorable family gatherings.
Inventing America: Rockwell and Warhol
On view through October 29, 2017
This summer, Norman Rockwell Museum presents the first exhibition to pair Rockwell (1894–1978) and Andy Warhol (1928–1987), examining their artistic and cultural influence during their lifetimes and their ongoing legacies. With 100 works of art, a selection of archival materials, and objects relating to their work and lives, Inventing America: Rockwell and Warhol will show how both of these internationally celebrated image-makers—among America's most important visual communicators—created enduring icons, and opened new ways of seeing. 
As innovators, Rockwell and Warhol each created and adapted techniques to advance their art to new ends.  Inventing America will include various objects they utilized in their artistic and technical processes, such as their projection devices and other personal effects that reflect their unique sensibilities, while archival materials and photographs will illuminate key aspects of their lives and careers. 
Inventing America: Rockwell and Warhol is generously sponsored by The Hayseed Hill Foundation, Inc. and The Red Lion Inn.