NORMAN ROCKWELL MUSEUM TO PRESENT
Panel Discussion on The Art of Norman Rockwell and Andy Warhol
Manager of Media Services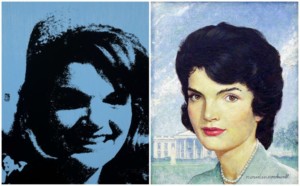 Left: Andy Warhol (1928-1987), Jackie, 1964.
Synthetic polymer paint and silkscreen ink on canvas, 20" x 17".
Williams College Musuem of Art; Partial gift of The Andy Warhol Foundation for the Visual Arts, Inc.
and museum purchase from the John B. Turner '24 Memorial Fund and Karl E. Weston Memorial Fund.
©The Andy Warhol Foundation for the Visual Arts, Inc. / Artists Rights Society (ARS), New York.
Right: Norman Rockwell (1894-1978), Portrait of Jackie Kennedy, 1963. Oil on canvas, 14" x 11".
Story illustration for "How Jackie Restyled the White House," Saturday Evening Post, October 26, 1963.
Collection of Mica and Richard Hadar. ©SEPS: Licensed by Curtis Licensing, Indianapolis, IN
Stockbridge, MA, July 5, 2017—In conjunction with its new exhibition, Inventing America: Rockwell and Warhol, Norman Rockwell Museum will present a panel discussion looking at the enduring legacy of the two twentieth century artists, Norman Rockwell and Andy Warhol, on Saturday, July 15, starting at 5:30 p.m. The talk will explore the art and impact of the two American image-makers, and discuss evolving and sometimes controversial perceptions of their work, which has garnered interest from collectors, curators, and scholars alike. The panel will include commentary from Laurie Norton Moffatt, Norman Rockwell Museum Director/CEO; Eric Shiner, Sotheby's Senior Vice President of Contemporary Art and former Director of The Andy Warhol Museum; and Charlotte Burns, Senior Editor at Art Agency and writer/reviewer for Cultured, The Guardian, and Monocle. A reception will follow the talk, which is free for Museum members or included with regular Museum admission.
Inventing America: Rockwell and Warhol
On view through October 29, 2017
This summer, Norman Rockwell Museum presents the first exhibition to pair Rockwell (1894–1978) and Andy Warhol (1928–1987), examining their artistic and cultural influence during their lifetimes and their ongoing legacies. With 100 works of art, a selection of archival materials, and objects relating to their work and lives, Inventing America: Rockwell and Warhol will show how both of these internationally celebrated image-makers—among America's most important visual communicators—created enduring icons, and opened new ways of seeing. 
As innovators, Rockwell and Warhol each created and adapted techniques to advance their art to new ends.  Inventing America will include various objects they utilized in their artistic and technical processes, such as their projection devices and other personal effects that reflect their unique sensibilities, while archival materials and photographs will illuminate key aspects of their lives and careers. 
Inventing America: Rockwell and Warhol is generously sponsored by The Hayseed Hill Foundation, Inc. and The Red Lion Inn.